Tesla Model 3: The Review
The Model 3 is Tesla's long-awaited and highly-anticipated affordable electric car. It's a four-door saloon and, in Long Range guise, can deliver up to 360 miles between charges. No fear of range anxiety then.
More On This Car
Need more information?
From £40,990 (Test car was £48,490 excluding options)
Pros:
Exceptional driving dynamics and handling

Impressive real world driving range

Minimalist interior with one large screen that is the nerve centre
Cons:
Expensive initial outlay (like most EVs) and no grant available

It takes time to familiarise yourself with the huge touchscreen

Ride can feel a little firm at times
Introduction
The Tesla Model 3 was launched in the UK in 2019 but has been given a number of updates recently. It is on sale in three formats – Standard (which is anything but standard), Long Range and Performance with prices ranging from £40,990 top £59,990.
It is a four door, five passenger saloon that sits below the Model S in the Tesla saloon line-up and is available in rear- or all-wheel drive. It boasts a sporty design and the interior is incredibly minimalistic with a large touchscreen, steering wheel and seats – that really is about it.
The Model 3 is ridiculously quick paced, dynamic to drive and offers excellent comfort levels. It is also competitively priced, which makes it such an attractive option.
On The Road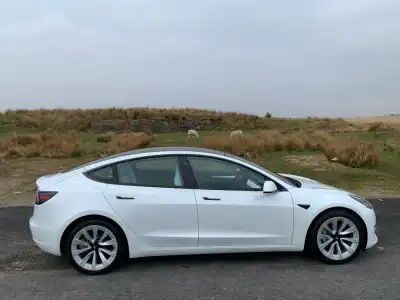 Performance
The all-electric Tesla Model 3 is available in three versions – Standard with rear-wheel drive, plus Long Range and Performance, which are both all-wheel drive with electric motors on both front and rear axles. We opted for the Long Range model with an acclaimed 360 miles between charges under WLTP testing.
With a 0-60mph sprint time of just 4.2 seconds and top speed of 145mph (all in complete silence) the Model 3 is Tesla's most affordable model and designed to appeal to the masses rather than the privileged few. And if you want extra speed then the high-end Model 3 Performance reduces the 0-60mph dash time to just 3.1 seconds.
You will be equipped with a key-card rather than traditional key and the door is opened by pressing this against the B pillar. To start the vehicle the card is placed on the central console.
With a near perfect 50/50 weight distribution and dual-motor all-wheel-drive that instantly controls the traction and torque, the Model 3 is beautifully balanced with excellent grip in all weather and driving conditions. The dual motors respond to changing conditions in as little as 10 milliseconds.
The 75kWh battery pack is positioned in the car's floor which helps with the centre of gravity and means the vehicle feels perfectly balanced and, with the total power output of 434bhp and 493Nm of torque, the Model 3 has all the zip and acceleration you could wish for.
The steering is nicely weighted and can be adjusted from Comfort, which is lighter and ideal for city centre driving to Standard, which is the best all-round setting and finally, Sport which increases the weight and is ideal for higher speeds.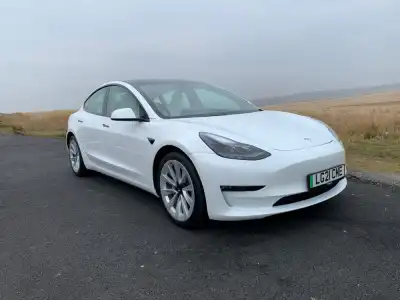 Ride Handling
All new Tesla models feature an Autopilot set-up and this was upgraded to an Enhanced Autopilot system on our test car costing an extra £3,400. This adds the likes of automatic lane changing and auto-parking. This generally worked well on well-marked roads such as motorways but the lane change feature was a little hit and miss. On more than one occasion I indicated to move lanes and simply didn't.
That aside, a very special mention to the excellent cruise control system which is one of the simplest in the business – quick to set up and very easy to adjust.
The Model 3 hits the national speed limit in a matter of seconds and cruises effortlessly on motorways. It's also nicely agile in town settings where the driver visibility is good. It does feel quite a heavy car and that becomes more apparent on the faster, twisting country lanes, with a little lean into corners. But that aside, the Tesla is great fun to push on through the tight bends and accelerate away with seemingly limitless power on tap.
Our car was riding on 19-inch sports wheels which seemed the ideal match. Go any bigger and you would run the risk of the ride becoming a little bouncy and wallowy through bends.
The braking system is far superior to many rivals and feels less urgent than other models meaning the slowing down process won't leave passengers gripping onto the sides of the seats. And with the regenerative braking, the car can be driven without touching the brake pedal at all at times.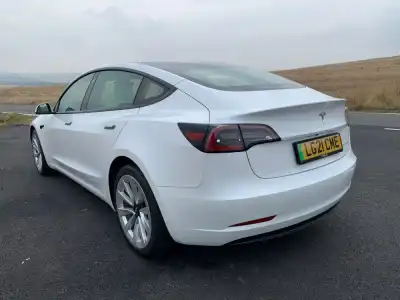 Refinement
The four-door Tesla Model 3 is the company's smaller, simpler and more affordable car and it recently received a number of improvements, including a matt black trim and more efficient tyres. Interior updates include a matt black finish that replaces the piano black surfaces, the introduction of two inductive charging pads, along with two additional high-powered USB-C ports for high-speed charging.
The interior of the Tesla is unlike any car on the planet taking minimalist design to a whole new level. You can use your smartphone as a key and all driver controls are accessed via the 15-inch landscape touchscreen. This is where you adjust your mirrors, set the speed of the wipers, finish charging and unlock the cable. In fact it does everything apart from make the coffee … for now!
It is also where you view the speed in the top right hand corner which does mean you glance away from the road rather than look at a traditional digital readout behind the steering wheel.
The pure white upholstery in our test car contrasted beautifully with the black surrounds and the all-glass roof creates a sense of light and openness throughout the vehicle.
When it comes to driver refinement, the Tesla is certainly a comfortable vehicle for longer journeys and they are very possible in the Long Range model with its impressive acclaimed 360 miles between charges. The seats offer ample support and the cabin is well-insulated against outside noise.
The ride can be a little firm at times, but that was my only negative thought after completing a 200-mile round trip, at the end of which I still had more than a hundred miles driving range left.
In The Car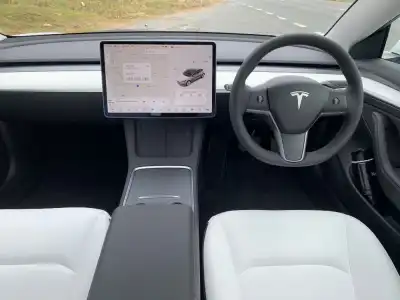 Behind the Wheel
Finding the perfect driving position is a simple process inside the Tesla Model 3 with powered seats and a fully adjustable steering wheel. The door mirrors are controlled by clicking on the touchscreen and selecting left or right and then using the steering wheel roller control to adjust.
The 15-inch landscape touchscreen is most definitely the focal point inside the car. In fairness, it's the only thing to look at apart from the steering wheel as the Tesla takes minimalist interior design to a whole new level.
The touchscreen features sharp graphics and this offers access to the likes of the navigation, cabin controls, telephone communications, media and over-the-air software updates via wi-fi. The Model 3 has received more than 20 software releases and more than 70 new features or improvements since its launch with new entertainment, games and music functions.
It is kitted out with its own Tesla infotainment system that covers Spotify – the car has its own account, but you can easily add yours to the mix, alongside media over Bluetooth. It also offers Netflix, YouTube and other systems when stationary.
To be honest, the screen initially is quite an information overload, but the longer you spend inside the Tesla, the more familiar and appealing it all becomes. I did find hitting the correct icon at speed a tad hit and miss, but other than that, it worked well.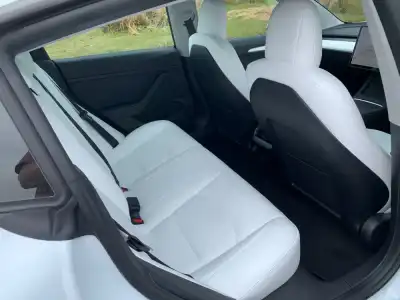 Space & Practicality
The Tesla Model 3 is a spacious four door saloon that has ample room for four adults to travel in comfort – or five if the back seat occupants don't mind rubbing shoulders.
Storage options are good too thanks to a deep boot with a 542-litre capacity and extra space beneath the bonnet where an engine would normally be found. There is a glovebox, that like the boot can be opened via the touchscreen, plus two deep cubby boxes with a sliding cover.
The practical challenge often faced by EV owners is the charging infrastructure, especially in the UK where it is poorer than much of Europe.
However, Tesla has invested heavily in the UK, and while most drivers will charge their vehicles overnight at home, there is a comprehensive network in place with superchargers on major routes that can be detected via the on-board navigation system.
A 7.4kW home charger will add about 27 miles of range every hour. However, plug into one of Tesla's 120kW superchargers and the battery will be full in the time it takes to order a cuppa at the services.
Ownership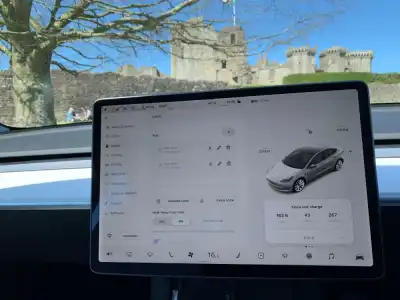 Running Costs
It's become fairly apparent these days that electric vehicles are much more economical to run than petrol, diesel or hybrid models but many potential customers are deterred by the heavy price-tag. And that's a problem that has got worse due to the Government recently announcing a reduction in its plug-in car grant which makes any cars costing more than £35k exempt.
And although it's the cheapest of the Tesla range, the costs still add up. The line-up is priced from £40,990 for the Model 3 Standard Range, to £48,490 for the Model 3 Long Range and £59,990 for the Model 3 Performance version.
Optional extras on our Long Range model included 19-inch sport wheels priced at £1,500, a black and white premium interior (£1,100) and the enhanced autopilot system costing £3,400.
However, as a company car driver, you start to recoup some of the costs thanks to its excellent Benefit in Kind tax savings rate of one per cent for the first year increasing to two per cent for the next four years. And, additionally, you can expect the electricity bill to come in much lower than fuel costs would.
Another plus point is that Tesla vehicles do no need annual services as there are far fewer mechanical parts, so routine check-ups are only necessary at specific intervals.
Insurance costs are high though with the rating for our car set at group 50.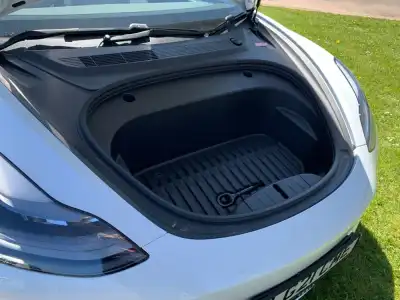 Quality & Reliability
The Tesla Model 3 comes with the company's four-year, 50,000-mile warranty with the battery cover extended to eight years or 100,000-miles. This also covers the battery for a minimum 70 per cent retention of capacity which is some indication of the American company's confidence in its product.
The build quality feels sturdy and there is no need to worry about switchgear as there isn't any. Instead, there is that huge touchscreen which is the access point to every feature on the car from adjusting the door mirrors to unlocking the charge cable.
Our test car featured pure white seats, which looked amazing, but would be completely impractical. I was even nervous about wearing jeans to drive it!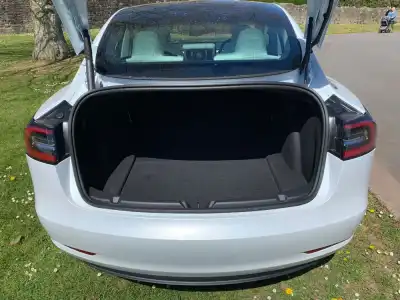 Safety & Security
Tesla claims its Model 3 was built for safety and it was spot on when put through the tough testing for its Euro NCAP safety rating. It scored a maximum five stars in adult occupancy, child occupancy, pedestrian and safety assist categories with an overall five-star rating.
The metal structure of the car is a combination of steel and aluminium for maximum strength and in a roof-crush test, the Model 3 resisted four times its own mass, even with an all-glass roof. And that, according to Tesla, is the same weight as two fully-grown adult African elephants.
It features a wealth of driver assist systems, including automatic emergency braking, blind spot monitoring, intelligent cruise control that can be set to the national speed limit or your preferred speed, along with a full suite of airbags.
Special mention too to the clever reversing camera technology. Instead of one image being displayed on the screen, the Model 3 gives a direct rear view along with images from both door mirrors for total visibility of what's going on behind the vehicle.
There are eight surround cameras to offer 360-degree vision, plus 12 ultrasonic sensors provide detection of any unseen objects. The forward-facing radar has the ability to see through fog, heavy rain and beyond the vehicle ahead for the ultimate in visibility and accident prevention.
More On This Car
Need more information?