Pros:
As funky as a compact crossover can get

Bigger powerplant with low CO2 emissions

It has better connectivity than before
Cons:
It's on the pricey side

The CVT gearbox still irritates

Rear visibility isn't great
More On This Car
Take one for a spin or order a brochure
Request a Toyota C-HR brochure
Request a Toyota C-HR test drive
Introduction
Can Toyota really be launching a new version of its C-HR? It was only ushered in a few months ago, wasn't it? Actually, no, it wasn't. The Coupe High Rider – yes that's what those initials stand for, came out in 2016. I was at the original media drive in Spain – and we were all rather enthusiastic. The C-HR is Toyota's first-ever compact crossover – and three years ago, it was a new direction for the company. So, what's this new C-HR like? Is it still a car with a cool design and decent hybrid propulsion? I took it for a drive at its press launch, this time in Portugal, to find out.
On The Road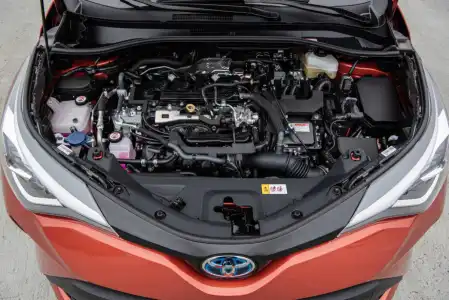 Performance
The C-HR line-up is now fully hybrid, running on a blend of petrol and electric. Each powertrain – and there are two, a 1.8-litre and a 2.0-litre - provides a hushed and responsive drive. We've seen the 1.8 in the last C-HR, so it's the new 2.0-litre that we should be excited about. Like the 1.8-litre, it runs with the support of an electric motor - a more powerful one, at that. The compact crossover isn't a plug-in, though, it's self-charging – and succeeds in being "eco-friendly" as well as energetic. Pushing out 182bhp, zero to 62mph can be achieved in a mere 8.2 seconds, and the maximum speed is a more than reasonable 112mph. Perhaps more significantly, you can expect the C-HR 2.0-litre hybrid to deliver approximately 50mpg, and CO2 emissions are low at 92g/km. The completely fresh hybrid system is lighter and more efficient, yet the battery is bigger to equal the more commanding electric motor.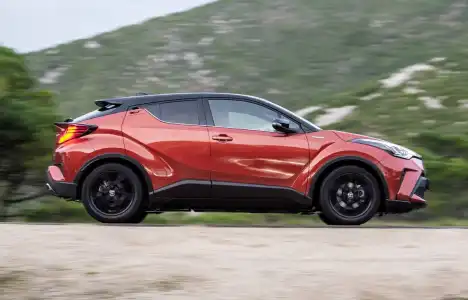 Ride Handling
The latest C-HR's suspension system has been upgraded to make the most of the enhanced new 2.0-litre hybrid unit. It complements the low centre of gravity and high bodyshell rigidity enabled by the car's GA-C platform. This platform, also used in the Corolla and Prius, has been adapted to suit the needs of the compact crossover. Behind the wheel, this translates into a low-slung driving position and a responsive drive, with the car almost going around corners on rails. There is little to no body roll whatsoever. Indeed, the 2.0-litre hybrid model benefits from new shock absorbers which give a comfortable and solid feel when driving over scarred road surfaces. This was put to the test at the car's media launch over some of Portugal's rougher rural roads. The Coupe High Rider never feels unstable, even on tarmac that has all but crumbled away.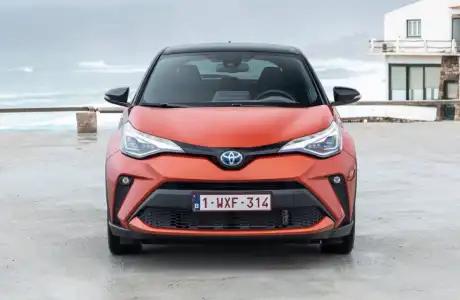 Styling
There is no doubt that the revised C-HR is more refined than the car from 2016. You can tell Toyota's engineers have gone to town on improving the three-year-old model. They've scrutinised every part that's capable of producing noise and vibration. This has led to improvements in many locations. For instance, general wind and road roar are now less noticeable than before. The suppression of this unwanted sound into the cabin is down to extra absorption pads and seals.
What's more, the C-HR's engine installation actively subdues powerplant surging, while insulation in the engine bay keeps other noises in check. So, overall, the new C-HR has a far more peaceful cabin, even at high speed. This enables you and your passengers to enjoy music, conversations or much-underrated silence.
In The Car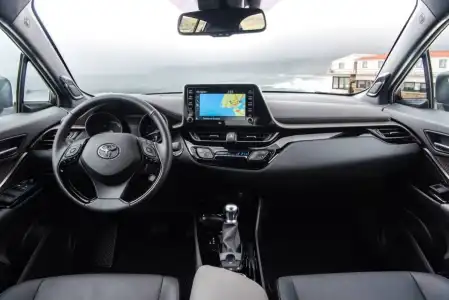 Behind the Wheel
Inside, the improved Toyota C-HR's front seats have far better bolstering, and the materials look and feel superior. All the car's door panels are now soft to the touch, and the inlays have a refined finish. The driver's seat is powered, while height adjustment is available for the front seat passenger. The cockpit encompasses intuitive switchgear, and the multimedia touch screen tilts towards the driver. Then there's that connectivity - Toyota is up to speed with this now – and what a difference it makes to plug your smartphone in and see it mirrored in the CH-R's multimedia display. But if you have an Android phone or iPhone, it won't merely synchronise; it'll amalgamate with the media system, too. The on-board technology also allows over-the-air updates, so that you have access to up-to-the-minute navigation mapping without having to download data.
Also, the touchscreen now has supplementary dials and physical buttons for things like volume control. This makes it easier to adjust functions, and it's more user-friendly when driving. Furthermore, the C-HR's digital clock is incorporated into the screen, to give the panel a neater look. The car has a JBL audio system, too. It is genuinely concert-hall-esque, with an 800W stereo amplifier and nine speakers so it will keep you entertained for miles at the wheel.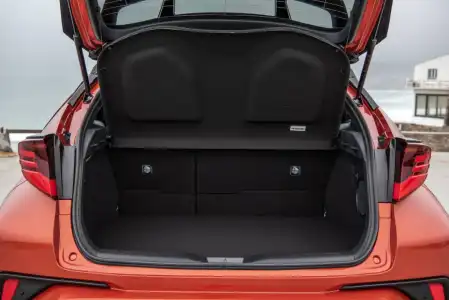 Space & Practicality
The C-HR never was the biggest compact crossover around – and nor is this new version. It really is only suitable for four adults – but that's plenty in this segment. You are well cosseted in the Toyota's cabin – but front-seat occupants get the biggest slice of the pie because things at the fore are light and spacious. This is in contrast to the darker rear half of the car, which could make passengers feel hemmed in because of the C-HR's tiny windows and broad rear pillars. The sloping roofline doesn't help, either. If you're over six-foot, you'll get your legs behind the front seats, but expect your cranium to polish the headliner. The limited visibility makes it hard for the driver, too. The view of the road ahead is excellent, but any lane-changing or parking can prove challenging – especially at night. I must admit, I developed a light sweat negotiating Lisbon's heavy traffic at sundown. You can forgive these weaknesses, though, because of the crossover's looks alone. It really is a pleasing car to gaze at.
So, the new C-HR is a fashionable car – and it's, therefore, a funky motor for a trendy small family. As I say, you'll fit four people in – and, even though it doesn't have the largest boot, you won't have a problem getting everyone's luggage into the 377-litre load area.
Ownership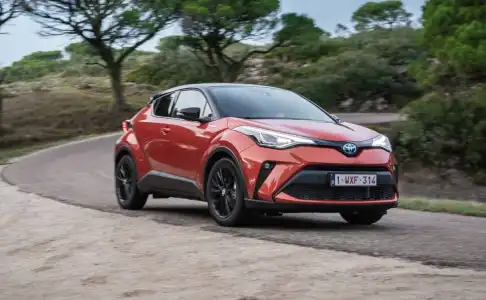 Running Costs
As well as buying the new C-HR with your heart, you'll purchase it with your head – because of its eco-friendly credentials. As a hybrid, it's always going to be more economical than a standard combustion-engine propelled car. And, even though the 2.0-litre version, tested here, doesn't house the smallest petrol powerplant, that in itself has been produced to be more efficient than many mass-produced engines. Working in conjunction with the car's electric motor, you can realistically expect 50mpg in real-world driving conditions. Toyota's official figures claim 49.56 – 54.32mpg, and CO2 is minimal at 92g/km. The compact crossover doesn't deviate much from these figures, as I found out during two days of testing. The previous C-HR's insurance group rating ranges from Group 14 to 16. However, anticipate the new 2.0-litre version to be a group or so higher. It is too soon to know exactly how much you'll fork out on insurance at this stage then, but when it comes to car tax, expect to pay £120.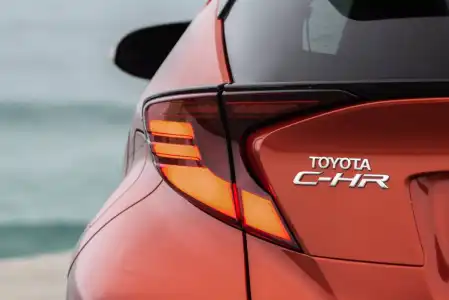 Quality & Reliability
Regarding quality and reliability, Toyota has got a first-class image. You only have to see how many cabbies drive them. Indeed, Heathrow is teeming with "for hire" motors bearing the brand's badge. Taxi drivers choose the most dependable vehicles – so that should make you feel reassured straight away. The Japanese marque clearly has faith in itself, too, as it offers a five-year, 100,000 new car mechanical warranty with its models – the new C-HR included. What's more, there's a three-year paint and surface rust warranty, and a 12-year anti-corrosion/perforation guarantee.
When it comes to the inside of the new C-HR, the seats are well-bolstered. And with the updated soft-touch door trims and the like, the interior should stand up to years of use. If you want to be fully assured of that, you can buy Toyota's "Protection+ Pack" that includes a chrome protection plate, a boot-liner, scuff plates and rubber floor mats.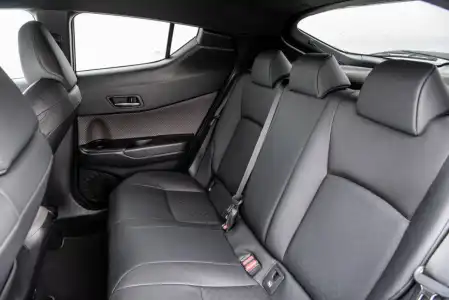 Safety & Security
Security is sorted with the new C-HR because the vehicle is fitted with an immobiliser and an alarm system. And, as is the case with pretty much all modern cars, remote central locking is standard. Regarding safety, this is something Toyota doesn't take lightly. The original C-HR carries the highest five-star Euro NCAP safety rating, and that hasn't changed with the updated version. Indeed, "Toyota Safety Sense" is factory-fitted to all versions of the C-HR. This system can help prevent a crash or help lessen the consequences if a collision is inescapable. Furthermore, top of the range models, such as the flagship £32,595 Orange Edition, driven for this review, add "Rear Cross Traffic Alert with braking function"; "Intelligent Clearance Sonar" and an "Adaptive Front Light System".
More On This Car
Take one for a spin or order a brochure
Request a Toyota C-HR brochure
Request a Toyota C-HR test drive