Pros:
Decent handling

Good ride comfort

Lots of safety tech
Cons:
Outdated infotainment system

Engine and gearbox don't combine well

Very expensive
Introduction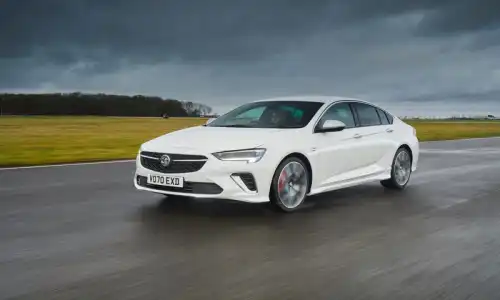 If you liked Vauxhall's performance range VXR, then you'll want to take note of the GSi. While the VXR badge has now been put on hold (it will eventually find a new home as part of Vauxhall's electric range), the GSi has now taken over as the sporty moniker of its fossil-fuelled cars.
Although the old Insignia VXR had its faults, it did pull on the heartstrings of those who appreciated Vauxhall's efforts in bothering to make it in the first place.
Now it's back - sort of.
The GSi is better than the VXR in every conceivable way. Despite having less power than its spiritual predecessor, this car lapped the infamous Nürburgring 12 seconds faster.
The engine is new, but General Motors developed it before Vauxhall's sale to what eventually became the Stellantis group.
It's a four-cylinder turbocharged petrol, producing 230PS, connected to a nine-speed automatic. The vehicle has four-wheel drive and will get from nought to 62mph in 7.0-seconds.
With that, you get 20-inch alloys, heated leather seats with lumbar support, electric-adjustable heated door mirrors, traction control and headlight washers. The car also houses a wireless phone charger, an eight-inch infotainment screen with Apple CarPlay/Android Auto, and it boasts Brembo brakes.
In terms of clever stuff, IntelliLux headlights feature 84 LEDs, and they use cameras to maximise visibility on the road. Furthermore, part of the front grille opens and closes depending on the temperature and aerodynamics, which helps with fuel economy.
On The Road
Performance
The GSi feels quick but never lightning fast.
The 7.0-second 0-62mph time is hardly groundbreaking, especially for what's being sold as a performance car. Also, the model doesn't have the traditional top speed of 155mph (it'll only manage 147mph).
The transmission changes cogs smoothly, but there's a sense that it has too much choice at its disposal. So, especially if you're pottering around in it, the journey is dominated by constant gear changes.
At least, being an automatic, you don't have to worry about it. Of course, you can shift the gears manually if you want to, but it's sluggish to respond (and sometimes appears not to respond at all), by which time you'll need to change gear again anyway.
Once up to speed, the Vauxhall is a capable cruiser and feels completely untroubled on faster roads and longer motorway journeys.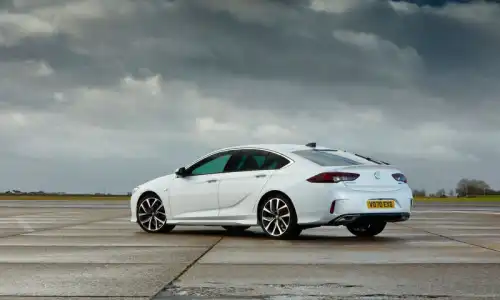 Ride Handling
You'd imagine that with wheels that are comparable with a Range Rover's, the ride comfort would be horrific.
However, it's anything but. Sure, it's on the firm side - and if you're buying a performance car, that's what you'd want anyway – but it isn't anywhere near as harsh as you might think. The Insignia provides a decent level of agility without crushing your spine, in part thanks to adaptive dampers, which are included as standard on the GSi.
The four-wheel-drive system uses Twinster torque vectoring. That means it can send different amounts of power to each wheel at any given time, prioritising the wheel with the most grip. This helps with cornering, giving you the confidence to place the car exactly where you want it on turn-in, around the bend, and at the corner exit. You can take a curve at speed and hit the apex perfectly.
The steering is light and lacks a bit of feedback, but at least it's responsive enough. Nevertheless, judging the amount of grip you've got when you're pushing limits isn't the easiest. There are different driving settings you can choose from – the Sport mode makes the steering a little heavier, although it doesn't really improve the feedback.
The other modes all adjust the sensitivity of the accelerator pedal. And, as you go up the modes towards Sport, it'll allow for a bit of extra slip and slide before the electronic systems begin to intervene.
The stopping power is impressive, too, using Brembo piston brakes, whereas the rest of the Insignia range is brake-by-wire.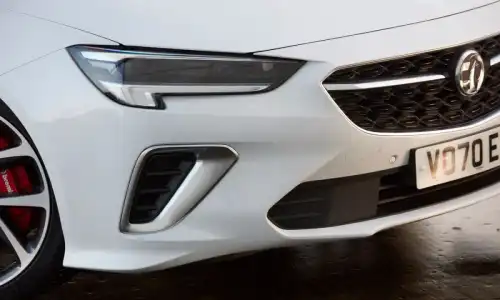 Styling
At the front, the Insignia looks quite aggressive. The roundedness of the old models has gone, and it seems more angular nowadays, which makes it look sportier.
The headlights are thinner than they used to be, and the grille is now more expansive, with air intakes surrounded by chrome detailing.
Around the side, the massive alloys stand out. What's more, a large crease in the doors extends along the bottom before rising diagonally towards the back, accentuating the chunky side skirts.
There are more air intakes at the back, with the rear lights sweeping from the side. A body-coloured spoiler has also been glued to the car's rear, while two diagonally angled exhaust pipes sit at the bottom.
It all sounds good. But, while fans will recognise the GSi as a special variant, it still looks on the restrained side.

In The Car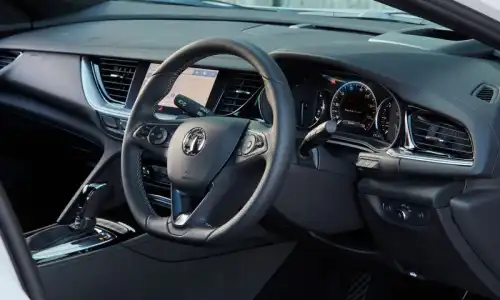 Behind the Wheel
The GSi's interior is nice, but, in truth, it's no different to any other Insignia.
We'd hoped there would be endless reminders that you're driving a special car. But there isn't anything to reassure you that your money has been well spent. The sports seats are an exception – they're very comfortable. There is also an excellent head-up display to look at, while the pedals are aluminium.
The infotainment system is okay, and, thankfully, no physical buttons have been lost to a digitised screen. But the system feels on the dated side, and the screen isn't that big.
You get a partly-digital instrument display. The dials are analogue, but a screen gives you a decent amount of additional information.
The silver trim inside improves the look, too, while the soft, plush surfaces add an aura of premium quality.
It's still a good cabin. We'd just hoped for something more unique.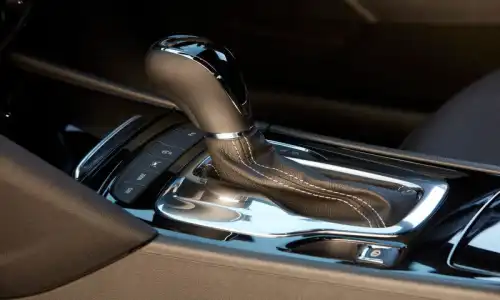 Space & Practicality
There's lots of room inside the GSi and finding a comfortable driving position isn't difficult at all.
The sloping roofline means taller passengers in the back will be challenged for headroom, but legroom is plentiful and makes up for it somewhat.
The boot's capacity is 490-litres, while the rear seats fold down individually, expanding the space to 1,450-litres, similar to its rivals.
There are a couple of USB slots in the rear, decent sized door bins and plenty of storage space in the centre console, too.

Ownership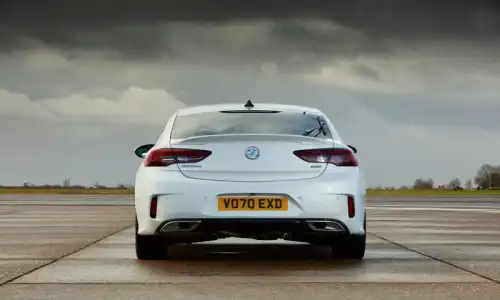 Running Costs
Vauxhall knew it needed to cut emissions, and the GSi's CO2 has been lowered to 181g/km, around a quarter less than the old VXR.
But it only manages just over 30mpg. And, given real-world figures, it will undoubtedly be less than that. So this Insignia is hardly a car you'll be buying for its fuel economy. Rivals with similar engines are more economical.
Vauxhall also offers fixed-price servicing for £160 for an interim service, £265 for a main service and £305 for a major service.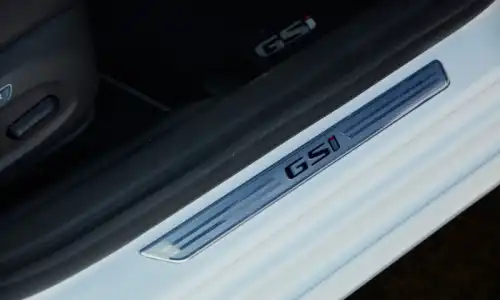 Quality & Reliability
The Insignia has performed reasonably well in recent reliability surveys, but, as a brand, Vauxhall hasn't done so well.
For peace of mind, you'll get a three-year, 60,000-mile warranty, although this is the bog-standard, and it's not a patch on some East Asian brands, which will offer five or even seven years.
Vauxhall does offer extended warranties, but they're more in the form of insurance policies with optional excesses and varying levels of cover.

Safety & Security
Euro NCAP tested the Insignia in 2017, before its recent facelift, awarding a five-star rating.
It scored 93% for adults, 85% for children and 69% for safety assists, though more safety tech has been added since then.
You get forward anti-collision detection with automatic emergency braking, lane-keep assist, blind-spot alert, traffic sign recognition, adaptive cruise control and advanced park assist.

Summary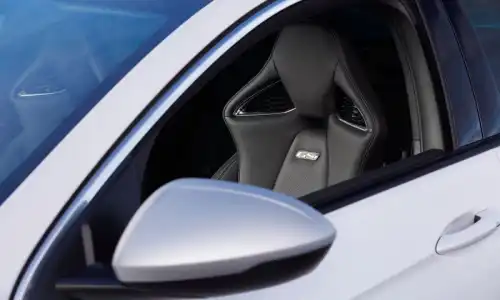 The Vauxhall GSi is decent to drive.
It is quite fun; it corners nicely, handles decently, and accelerates reasonably well, although it doesn't necessarily excel at all of them. It feels underpowered as a performance car and remains at its best as a comfortable cruiser like the rest of the Insignia range.
Whether it's worth the £38,000 plus asking price is debatable. The driveability, especially with the nine-speed gearbox, is questionable for the price tag.
The interior, although nice, isn't luxurious enough to justify such a high outlay, especially as it's touching on the price range of premium brand competitors.
If you look at the cost of an entry-level Insignia and compare it with the GSi, you'll gulp. There are other Insignias in the range – such as the SRi VX-Line – that offer almost as much for far less.
On the plus side, it seems as though the GSi's drawbacks are creating a big sell-off, so you should be able to negotiate a hefty discount at the dealer.