Pros:
Luxurious cabin with lots of equipment

Hugely capable off-road

Impressive on-road ride quality
Cons:
More expensive than the equivalent Ford Ranger

Aventura model has a low payload limit

Some trim feels a little low quality
Introduction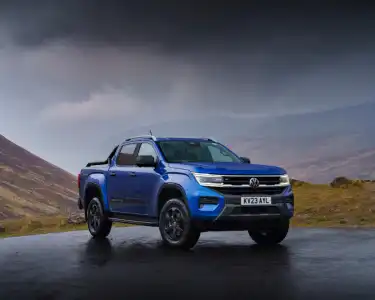 We've been without the Volkswagen Amarok since 2020, with the new model being hinted at, teased, previewed and now — finally — driven.
It's a collaboration between Ford, which has its new Ranger pickup on sale now, which means the two models share a lot, including engines, suspensions, gearboxes and more. Happily, Volkswagen has gone its own way with styling, so the two closely-related pickups look like entirely different vehicles.
The Amarok arguably looks more rugged, at least in the top-spec PanAmericana trim level that we've got to try. A darkened 'X' emblem topped by a horizontal Volkswagen grille makes for an imposing front end that gives way to chunky square-edged wheel arches along the side. Darkened side steps, mirrors, sports bar and 18-inch alloy wheels add some menace, although the bright silver roof rails seem a little incongruous. At the back, the vertical tailgate is stamped with bold AMAROK text, just to remind everybody what you're driving.
Volkswagen has two range-topping models, with this off-road focussed PanAmericana joined by a lifestyle-friendly Aventura trim. Below those sit the mid-range Style model and the entry-level Life specification.
Living With The Volkswagen Amarok
Volkswagen is positioning the Amarok as a premium product, and that's reflected in the cabin; the top of the dashboard is covered in leather, with contrast stitching running the width of the vehicle, and that's joined by faux-chrome trim highlights the air vents and some carbon-fibre-alike plastic surrounds the leather-wrapped gear selector. At the foot of the windscreen pillar, you'll also see a Harmon/Kardon badge on the speakers for the sound system, and underneath the glossy 12.0-inch infotainment screen, you'll find knurled rocker switches for quick access to some ancillary controls. It looks suitably premium and, mostly, feels it.
There are some areas that let it down; the door handles feel flimsy, there's a lot of hard plastic around the cabin once you look below steering wheel height, and those knurled switches feel far less significant than they look. But, for a pickup, this is positively luxurious.
Volkswagen has thrown everything to create that sensation, with wireless phone charging, wireless Android Auto and Apple CarPlay, heated leather seats, that premium Harmon/Kardon sound system, navigation, a digital instrument panel and a long list of safety technology all fitted to the PanAmericana as standard.
Then there's the powerplant. Forget planet-saving hybrid technology or small-capacity high0 revving engines. No, Volkswagen will attract countless pickup fans by installing a 3.0-litre V6 turbodiesel engine up front, driving the rear wheels — a simple dial engages an automatic four-wheel drive system or permanent four-wheel drive and low-range options.
It's enough to get over the moderately challenging terrain we tackled. Navigating around some farmland seemed like a realistic way of testing what most users will use their truck for, with only a tiny handful ever venturing anywhere really demanding. A centre diff is standard across the range, with only this PanAmericana benefitting from an additional locking rear diff. There wasn't much call for it on a bone-dry Oxfordshire farm, but it'll help get you a little farther when the going is more arduous.
Approach and departure angles are set at 30° and 23°, respectively, with a ramp angle of 21°. According to the onboard computers, we reached a rollover angle of 23°, which felt stable and secure.
Find some tarmac, and it's a delight. That V6 engine is smooth and powerful, although the 240hp it offers might feel a bit stingy when you look at what some other markets get. Blame emissions regulations. Still, with 600Nm of torque, it gets off the line quickly and reaches high speeds in just a few seconds.
It masks speed remarkably well, with the speedo invariably reading 10-15mph more than you think you're going, which shows how well isolated from the environment the cabin is. Long gone are the days of pickups revving noisily, jiggling around the road, and bounding across crests. Well, mostly. It's all still there, but the experience is closer to a full-size SUV than ever before.
Controls are light, but the high and flat bonnet does limit visibility, especially in town; there's a surfeit of sensors around the car, but it's still easy to lose sight of some smaller objects, so care should be exercised.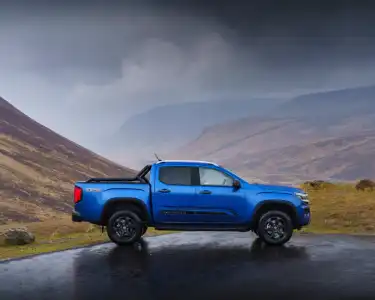 Space & Practicality
The cargo box at the back of the Amarok is a chunky thing, measuring 1,624mm long by 1,585mm wide, with a gap between the wheel arches of 1,224mm — that's wide enough to take a Euro pallet, extending the Amarok's practicality.
Payload limits just tip over a tonne, at 1,054kg, with those fitting the optional towing pack seeing it drop to 1,022kg. The PanAmericana is the pick of the range, though, as the Aventura model can only manage 877kg, making it difficult for business users to reclaim the VAT element. For maximum payload limits, the entry-level model can swallow 1,113kg of cargo.
Towing limits are set at 3,500kg across the range, except for the entry-level 170hp Life model. This has to make do with 3,420kg. Most models have a gross train weight of 6,500kg, meaning that there are no Amaroks capable of legally pulling the maximum weight while carrying the maximum payload.
The roof rails can cope with a static load of up to 350kg, although this drops to 85kg when driving.
Ownership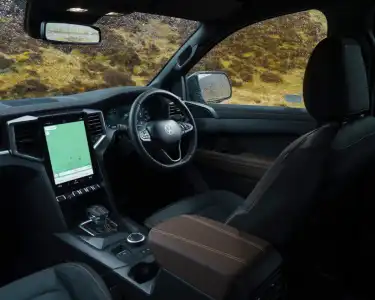 Running Costs
Fitting a 3.0-litre engine to a pickup weighing 2.3 tonnes is never going to result in a vehicle that's cheap to run, but you can encourage the Amarok to be reasonably frugal. Officially, it'll manage 28mpg, although we only average 23mpg over a range of roads — and that didn't include our off-roading. That said, gentle cruising saw the computer reading 35mpg for a while, so it can do better.
For those that want a more frugal option, the entry-level model, with its 2.0-lite 170hp engine, promises 33.6mpg.
A three-year or 100,000-mile warranty package backs each model, so any issues in the first few years of ownership shouldn't cause too many headaches.
What might be a headache is the price tag. At £46,200 plus VAT, the PanAmericana isn't cheap. It's also around £3,000 more than an equivalent Ford Ranger. That's a lot of extra to spend for something that, mechanically at least, is close to identical.
Verdict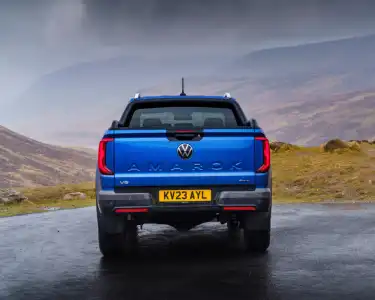 Everything we've said about the new Ford Ranger holds for the new Volkswagen Amarok. It's a hugely capable machine that's comfortable, stylish and qualifies as a commercial vehicle (well, apart from the Aventura), so it's difficult to dismiss.
You might baulk at the increase in cost against the Ranger, but there's every chance you'll get that back at resale, which will minimise the hurt. For commercial users, there's no difference in benefit in kind taxation either, making the distinction less critical.
At which point, it's difficult not to make a case for the Amarok. It's got more presence and more of a sense of occasion than the Ford while offering all the same benefits.