Pros:
Car-like cabin

Car-like performance

Van-like cargo capacity
Cons:
Automatic gearbox only available on powerful models

Road noise can boom around

Low maximum payload
More On This Car
Take one for a spin or order a brochure
Request a Volkswagen Caddy brochure
Request a Volkswagen Caddy test drive
Introduction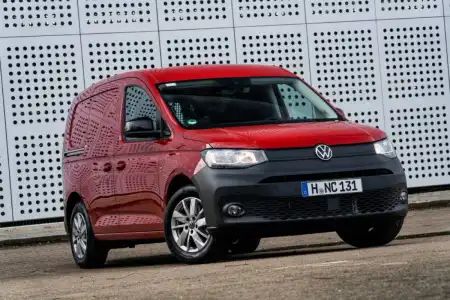 Van makers keep talking about car-like features, especially when it comes to compact vans like the Caddy. Volkswagen has taken that to new lengths by building the Caddy around the MQB platform, the same chassis that underpins the Golf hatchback.
While the larger Transporter and Crafter vans can't hide their commercial vehicle ambitions, the Caddy has an approachable and appealing aesthetic that makes it feel closer to its road car brethren and has created something of a cult following.
That keeps it enduringly popular and helps boost resale values, keeping leasing rates and other finance options more affordable, despite its high-sided sticker price.
For the city, the compact nature of the Caddy works well, while the car-derived mechanical bits make longer runs a pleasure. Could it be the perfect, if small, all-rounder?
On The Road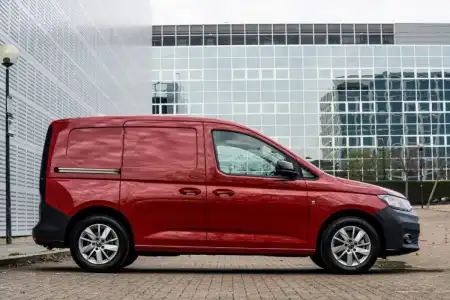 Performance
Volkswagen fit a 2.0-litre diesel engine under the bonnet, with a choice of either 75, 102 or 122hp outputs. Don't discount the entry-level engine as, thanks to some turbocharging, it still offers 250Nm of torque, which is more than enough to get the van rolling quickly even with a load on board.
The sweet spot is the mid-range model, with more power and 280Nm of torque. Our long-wheelbase model, with its six-speed manual gearbox, will power to 62mph in 13.0 seconds, which is just 2.5 seconds longer than the quickest model in the range.
The Caddy gathers speed impressively, even with a load on board, making it easy to keep up with traffic on the motorway or across the country. It's a little less flexible in town, where the turbo needs a bit of time to spin up and unleash all the torque, so diving into tight gaps needs a little planning
The 122hp model is, of course, the quickest option, and the one you'll need if you want an automatic gearbox. A seven-speed auto is available as an option on this engine, but none of the other diesel-powered vans gets the choice, which is a shame as the gearbox is at its best in the city, which is just where you don't need the extra power.
Likewise, anybody requiring four-wheel drive will need to specify the 122hp engine, and stump up an extra £4,000 or so for the benefit of improved traction.
There's also a 1.5-litre petrol model, which has similar power (114hp) and a little less torque (220Nm), but the economy suffers.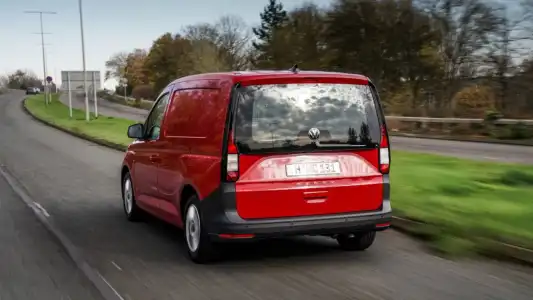 Ride Handling
As it's based on the Golf and shares an engine and gearbox with the popular hatchback, it's no surprise that the Caddy drives remarkably like a car.
At low speed, you'd struggle to identify if you're in a van or a car, with compliant suspension and light but accurate steering.
Find an open road and there's a bit of a split personality. That light steering gets better, while the gear shit matches the engine's requirements perfectly, always keeping the engine working at its highest efficiency. There's plenty of power spare, too, so a quick overtaking move can be carried out if necessary.
The suspension, however, gives the game away that you're in a van. The rear is a little stiff ready to carry hundreds of kilos of cargo. Despite using modern coil springs rather than old-fashioned leaf springs, it can bounce around a little when empty. Even a light load in the back settles it nicely though. If you leave a lot of kit and equipment in the back all the time, then it's a lovely drive.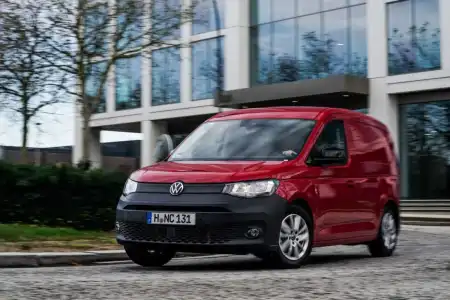 Styling
You can spot the diesel engine grumble at startup, as there's a noticeable vibration and plenty of noise, but it settles down as soon as you're on the move. From then on, there's barely any audible noise from the front of the van.
Coil spring suspension smoothes most of the road imperfections away, keeping you nicely isolated from the road, but the metal box at the back, as with most vans, can accentuate road noise.
This increases the volume in the cabin as speeds increase, especially when there's no load in there. On a motorway run, it can get noisy enough to require a spin of the volume knob on the radio, but it's never overly intrusive.
In The Car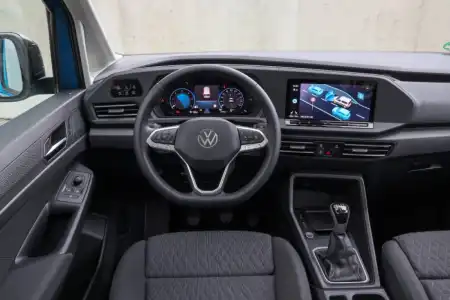 Behind the Wheel
Step into the Caddy and you'd be forgiven for thinking you've jumped into a Golf, albeit one from about eight years ago. Even then, that slightly dated feel is purely down to the plastics in use, with wipe-clean and rugged materials taking the place of the piano black gloss panels and aluminium highlights you'd find in a car.
The entry-level Commerce and mid-spec Commerce Plus models come with a basic 6.5-inch infotainment system, with a DAB radio and Bluetooth connectivity. If you want to make use of Android Auto or Apple CarPlay, you'll need to specify the 8.25-inch 'Composition system. Ad £312 inc VAT, and including an extra pair of speakers, it's a worthwhile investment.
Our test model was fitted with the 'Discover system that's standard in the Commerce Pro models, which includes a 10.0-inch screen and navigation system. It looks fantastic, with a modern glossy smartphone-esque look but, as with many Volkswagen systems, isn't that easy to use. At £1,344 inc VAT, it's also an expensive option.
It's all wrapped up by a swish dashboard that's got excellent ergonomics. It really does feel like you're in a modern vehicle, complete with USB-C sockets, smartphone connections via Volkswagen's We-Connect app, comfortable seats and, on some models, an armrest and electrically adjustable lumbar support.
You won't find much listed on a Golf's spec sheet that isn't included in the Caddy; on top of everything listed above, you'll also get cruise control, electric mirrors, steering-wheel-mounted controls and an electronic parking brake across the whole range. The mid-spec Commerce Plus van adds air conditioning and more supportive seats, making it an appealing choice.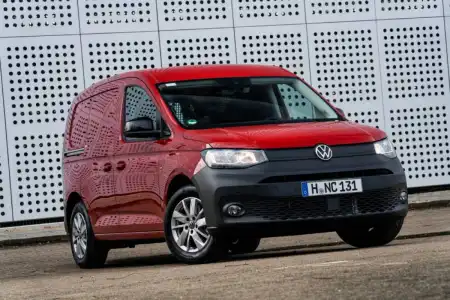 Space & Practicality
As nice as the Caddy is as transport, it's got to do the job when it comes to lugging loads.
There are two options here, the standard SWB model and a longer Maxi model. The standard model is 4,500mm long, with a load area measuring 1,797mm long and 1,614mm wide. A roof height allows a load of up to 1,272mm, giving a volume of 3.1m3.
The Maxi adds 353mm to the length, and a couple of millimetres extra height, extending the useable volume to 3.7m3. Both models will squeeze two euro pallets into the back, with plenty of spare space in the Maxi. The Maxi also benefits from a wide side door, allowing a Euro pallet to be slotted in from the side.
That makes it competitive with its rivals. The Ford Transit Connect is more compact, while the Peugeot Partner (and its threw siblings from Citroen, Toyota and Vauxhall) is larger. The Volkswagen falls behind when it comes to payload wights though, with a limit of just 700kg on the petrol-powered Commerce Maxi. Our test model, a Commerce Plus Maxi with the 102hp diesel engine, sees that drop to 668kg, which compares poorly to the 853kg from a similarly specified Transit Connect, or more than a tonne from a Peugeot Partner.
Ownership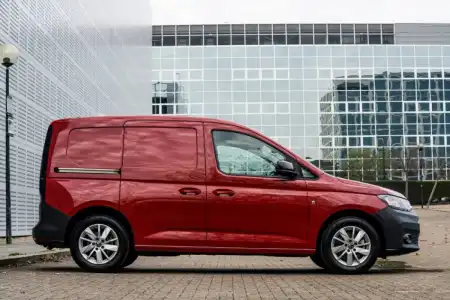 Running Costs
The fuel economy is pleasing with the Caddy, with an official figure of 57.6mpg on our 102hp test vehicle. We didn't quite hit that figure - blame a heavy right foot - but it returned close to 50mpg during our testing. That's midfield compared to its rivals. Some will be slightly more frugal, some slightly less frugal.
Depreciation should be lower on the Caddy than its rivals, giving it a total cost of ownership advantage. That's balanced a little by a higher purchase price and reasonably expensive servicing. Data from AutoTrader shows suggests the Caddy will set you back 36.56 pence per mile in total, which compares very favourably to the Peugeot Partner's 35.88 or the Ford Transit Connect's 35.61ppm when comparing similar specifications over three years and 60,000 miles.
While fleet managers will appreciate the entry-level models, owner-operators and SME's will likely want to look at the mid-spec Commercle Plus we've got here, thanks to its im[ressive equipment and improved comfort. You'll get the extra back in savings on lease deals or resale, too.
A three-year or 60,000-mile warranty matches its competitors.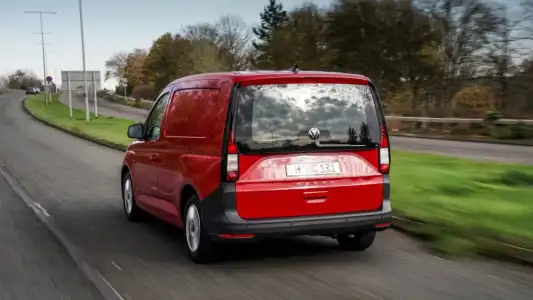 Quality & Reliability
Volkswagen backs the Caddy with a three-year or 60,000-mile warranty, which exactly matches its competitor's offerings.
As it's based on underpinnings that have been tried and tested across countless cars - and even brands - then it's safe to assume any niggling issues have been resolved. In terms of overall reliability, Volkswagen products don't drift too far from the average, so there's nothing specific to be concerned about.
The perception of quality is high, though. Only time will tell, but we assume that the cabin will remain firmly free from squeaks and rattles, or even bits being snapped off, long after other competitors have started to show their age.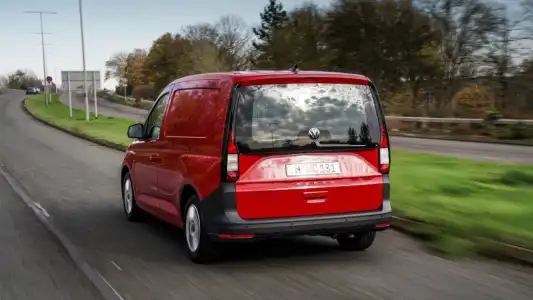 Safety & Security
With so much shared with the Golf hatchback, it's pleasing to see Volkswagen has carried over a lot of the safety equipment too. The Caddy comes with automatic emergency braking to help avoid a collision, driver fatigue monitoring, and an array of driver aids from traction control to electronic brake distribution.
Parking sensors are fitted to the rear of the Commerce Plus, with the Commerce Pro getting them at both ends. A reversing camera is optional at all levels.
The Commerce Pro is also fitted with a Thatcham-approved alarm system, with in-cab monitoring and tow away protection You can fit this to other models for just £360 inc VAT, while the entry model can be boosted by this, rear parking sensors and air conditioning for £1,272 inc VAT.
Summary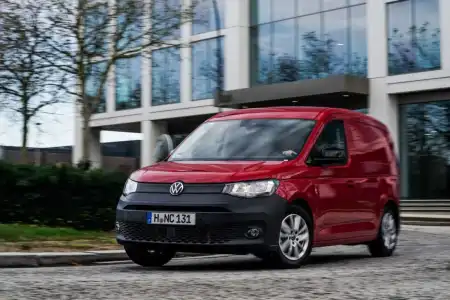 Arguably the most appealing compact van on the market, with real car-like behaviour and comfort. Only a low maximum payload lets it down, so it's not the best bet for those carrying heavy loads, but good equipment, excellent safety and strong residual values make a strong case for everybody else.
More On This Car
Take one for a spin or order a brochure
Request a Volkswagen Caddy brochure
Request a Volkswagen Caddy test drive