Pros:
Quiet to drive

Smooth and well-finished

Nippy from a standstill in that electric car way
Cons:
Won't be VW's flagship EV for long...

Not particularly exciting

Rivals might be better value
More On This Car
Take one for a spin or order a brochure
Request a Volkswagen Golf brochure
Request a Volkswagen Golf test drive
Introduction
The new Volkswagen e-Golf is refreshed and recharged for 2020 and even comes with an attractive price reduction. It is there to give customers an option of a decent-sized electric car in the Volkswagen range while we're all waiting for the new ID.3 to come around. But that doesn't mean you should rule it out as a viable option now. Knowing Volkswagen as we do, this should be a car that really takes the fight to the Nissan Leaf and the BMW i3, and could even do a better job than the pair of them.
On The Road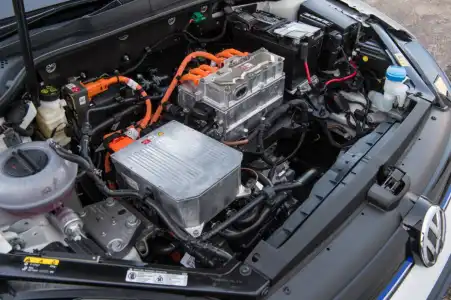 Performance
There are just three main components in the drivetrain of the e-Golf, so we're not going to get into too much detail here. There are very few mechanical parts in an electric car, and the simplicity is an appealing aspect to these cars. In terms of performance, what most people will care about is the range and how often you need to charge it. But electric cars like the e-Golf do have this enjoyable burst of acceleration available from low or no speed at all. This is because electrical power is activated immediately. There's basically no delay between pressing the accelerator and power being deployed to the ground – and there's also no torque build-up. It makes these cars great fun to drive, and they surprise quite a few people with their ability to shoot off their marks.
We know, we know… you want to know about the range. Well, it's officially listed as 143-miles, so if you can get, say, 124-miles on a single charge then you'll be doing pretty well out of it.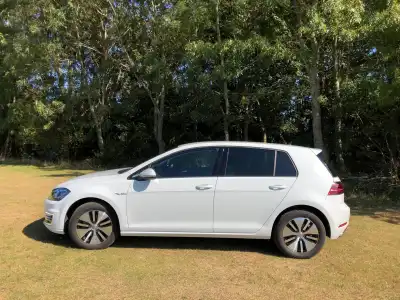 Ride Handling
Here's where the fact that this is a Volkswagen Golf really pays off. It's comfortable, quiet (in part thanks to a near-zero powertrain noise) and rides with the composure and stability that a standard Golf does. The e-Golf feels tremendously grown-up and classy in the way it handles and drives; similar in a sense to the way the BMW i3 does, but over a broader footprint. And along with the cabin materials and light steering feel, it feels like a quality product.
Batteries do give additional weight that you can sense in corners when driving with a little more gusto, but that isn't what this car is about. While it's still fun to drive, it's going to be driven in a gentler way in a more ungentle environment – cities. In these sorts of locations, you can't push your luck. So, the fact that this Golf behaves with composure and refinement at low speeds, or in mundane scenarios, makes it attractive as an everyday car. As always, with something named a 'Golf', this is a very impressive car when it comes to the driving.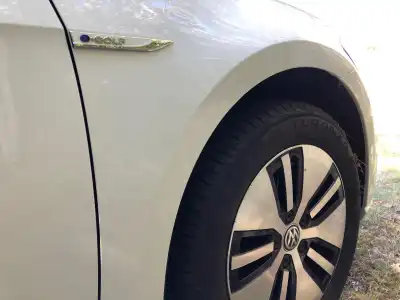 Styling
Well, being a Volkswagen, it isn't really going to be allowed to be unrefined. There are no surprises here, and if you're familiar with the current Golf range – one of the best small cars on the market – then you kind of know what you're letting yourself in for here. Inside the car, a lovely interior finish compliments excellent insulation. Furthermore, the absence of noise from a combustion engine helps make this hatchback feel even more refined than a 'normal' Golf.
In a world where vast sums of money are spent on reducing the sound levels caused by combustion engines, the benefits of an electric-only power source hit you right in the face when you drive the e-Golf. It makes for a relaxing drive, so long as you don't need to take a journey that pushes the limits of its maximum range, of course.
In The Car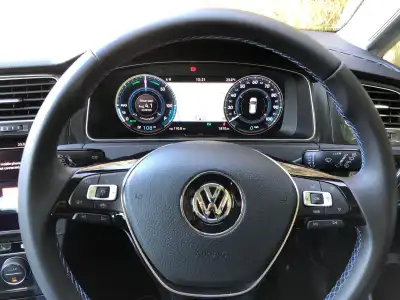 Behind the Wheel
It is more of the same great taste behind the wheel of the e-Golf. This is virtually identical to any other Golf in the Volkswagen line-up; everything is laid out where you'd expect to find it and the controls are all easy to use. It feels reassuring and comfortable, and you never get any feelings of frustration from the ergonomics - something that isn't always the case in modern vehicles. Despite the advancements in engineering and technology, sometimes designers still forget to put things where they ought to be – even in cars many more times as expensive as this e-Golf.
To differentiate the e-Golf from its petrol and diesel-powered siblings, you get electric blue stitching and trim inside the interior, just in case you happened to forget you were driving something powered by electricity. It might not be very original, but it looks good and everything you feel or touch in the cabin – barring some hard to reach places – feels nice to touch and made with a certain standard in mind.
In a boost to the overall quality and comfortable feeling, every e-Golf comes with lumbar support as standard and can connect with Apple and Android smartphones. Climate control and a digital cockpit are also part of the equipment provided. Leather seating is an option, although the cloth ones, supplied as standard, will satisfy most customers' needs.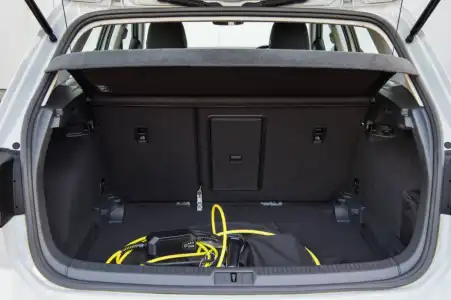 Space & Practicality
For the most part, there's no penalty in terms of space and practicality for choosing this electric e-Golf over a standard Golf. The dimensions are almost the same, except for the boot, which has lost a few litres of space to incorporate some bits and pieces an electric car needs to run. Aside from that small reduction, there's really no difference to this and the regular Golf. This is great, as it means there's plenty of space in the boot and in the backseats for passengers, whether they're adults or children.
If you need to carry around more than the e-Golf can carry, you probably just need a larger car. This is a machine built for people who don't have to lug around big loads, but who occasionally need to move friends and family members, as well as the odd big shop or trip to IKEA. It is not massive, sure, but it's got more than enough space to live with easily in most everyday situations.
Ownership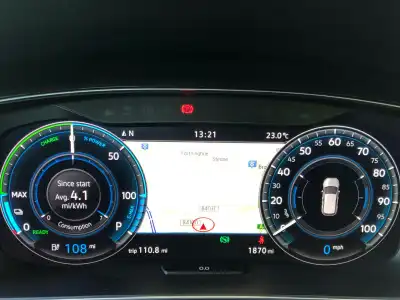 Running Costs
No longer will you need to fork out a few notes when you fill up your car with petrol! Volkswagen makes the bold claim that the e-Golf costs just 4p per mile to run compared with the 14p per mile that a petrol Golf does, and that it costs roughly £5 to charge from zero using a home charger. Of course, the downside to this is that it takes longer to top up than a petrol or diesel car. You could find yourself needing hours to fill this car up rather than a few minutes – though some chargers can now send the battery to 80% charge from zero in just 45-minutes.
Servicing can be carried out at all Volkswagen dealerships, meaning that you shouldn't have to go far out of your way to get it looked after either. This is useful, considering the car's range!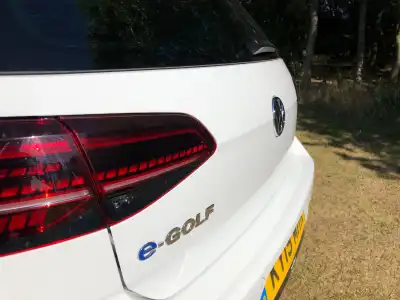 Quality & Reliability
There are not any major concerns when it comes to Volkswagen quality or reliability. The majority of the automaker's products have an excellent reputation for quality, and they've proven themselves over extended periods in terms of reliability, too.
The benefit of an e-Golf is that with so few moving parts, you're unlikely to encounter failures in the powertrain as often as you would in a traditionally powered car - with its greater number of moving (and therefore, wearing) components. Question marks over the long-term reliability of vehicle batteries remain, but electric cars are more likely to be replaced like appliances than combustion-engine powered automobiles. As with any new electric vehicle, we'd be surprised if somebody kept the car longer than the finance agreement or lease deal. This is purely because technology in this area is now moving so fast that they'll probably want to upgrade.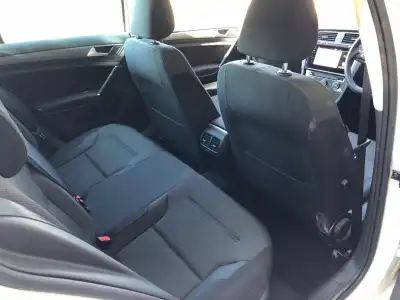 Safety & Security
There are no areas you should be concerned about with regards to safety and security here. The e-Golf bagged a full five-star Euro NCAP crash safety rating, with an impressive score of 94% for adult occupants.
As with all modern vehicles, you'll get a lovely selection of airbags to cushion you in the event of an impact, as well as stability control systems and braking assistance. You will also have the option of specifying some extras, like traffic sign recognition, blind-spot monitoring systems and even lane-keeping assistance.
Ultimately, if you're worried about the safety features in the e-Golf, you probably shouldn't be driving at all. This is about as safe as things get in this sector, and the testing scores reflect that.

See the latest used Volkswagen Golf offers.
More On This Car
Take one for a spin or order a brochure
Request a Volkswagen Golf brochure
Request a Volkswagen Golf test drive