Pros:
Satisfying to drive

Well-built

Great image
Cons:
Not overly roomy

Pricey - rivals might be better value
More On This Car
Take one for a spin or order a brochure
Request a Volkswagen Golf brochure
Request a Volkswagen Golf test drive
Introduction
It is over 40 years since the Golf – Europe's best-seller – made its debut in Britain. It has become a sensation, in turn inventing its class and becoming the yardstick with which others are likened.
Now, the eighth incarnation of this extraordinary motor promises to build on the massive success of its forerunners through incisive, sophisticated design outside and in; better efficiency with decreased emissions; up-to-the-minute technology; and the hallmark qualities of refinement and reliability that are entwined with the Volkswagen marque.
On The Road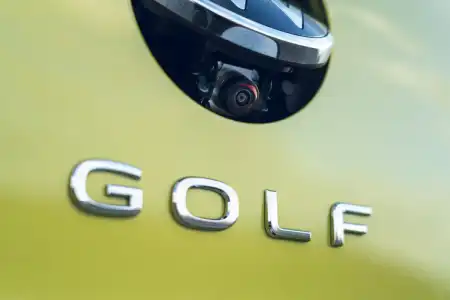 Performance
There are loads of engines in the new Golf. All you need to know is that if you want it, VW will provide it - apart from a pure electric version. Why's that? Well, the VW ID.3 model takes care of that side of things.
Power on the "bread and butter" units spans from 110-150hp, and you can choose between diesel, petrol, mild hybrid, plug-in hybrid as well as performance versions of those, labelled GTD, GTI and GTE. Oh, then there's the 320hp Golf R, which has only just gone on sale.
Gearbox-wise you get a six-speed manual, but if you don't like left foot action, then there are six or seven-speed DSG auto transmissions on offer. It all depends on which powerplant you opt for.
For this review, we tested the new Golf R-Line 1.5-litre eTSI 150hp, fitted with a seven-speed DSG 'box. The mild-hybrid car's turbocharged petrol engine also uses a 48 V lithium-ion battery and 48 V belt starter generator instead of an alternator and starter. The generator also serves as an electric motor that improves pulling power.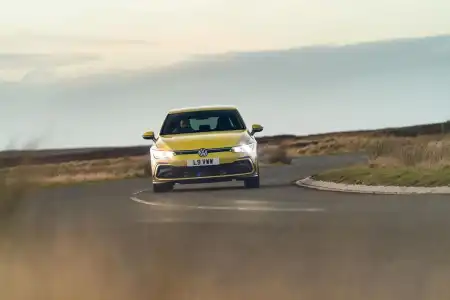 Ride Handling
VW's Golf has always had excellent traction and a comfortable ride. But now we're in a tech-obsessed era, a "driving dynamics manager" system keeps an even closer eye on the way the car handles. In layman's terms, the gadgetry makes the traction system communicate with the suspension. This ensures the Volkswagen will be more on the ball at one end of the spectrum, and comfier at the other.
As we've said, we've only driven the Golf in mild hybrid R-Line form so far on English roads, and we can vouch for its ride comfort and precision in corners. It also copes well on damp or frosty roads – and on irregular tarmac.
So, the fact that this car behaves with composure across a range of environments, makes it attractive as a daily driver.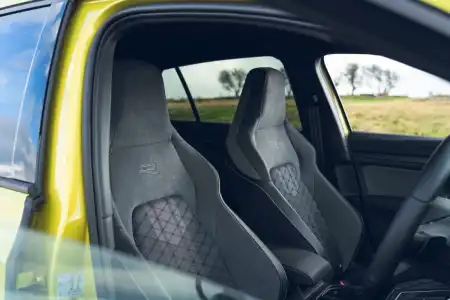 Styling
Well, being a VW, the Golf 8 isn't really going to be permitted to be unrefined. There are no shocks here, and if you're acquainted with the recent Golf range - one of the best compact cars on the auto market - then you kind of know what you're getting into here.
Inside the hatch, an attractive interior finish compliments exceptional insulation. There's far more tech than before (more on this in our "Behind the Wheel" section below), and the seats in this new eighth-generation car are also first-rate - supportive and comfortable, but bolstered to keep you restrained during hard cornering.
There's also a massaging function on some versions of the vehicle. Along with the adaptable mood lighting, the new Golf makes every journey a joy rather than a bore.
In The Car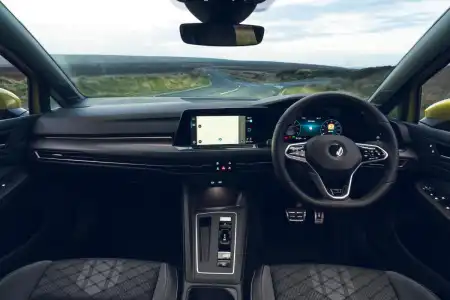 Behind the Wheel
2020's Golf represents a digital revolution in the family car sector, with the apparent aspiration of creating a fresh level of interaction between vehicle and human.
Contemporary instruments form a clear-cut Innovision Cockpit; navigation and online infotainment systems are now interactive; and factory-fitted Car2X communication tech allows the new Golf to connect with its environment to advise about hazards in advance.
Several of the Golf's other systems are not only linked to each other but, due to an online connectivity unit (OCU), they are also joined to the world outside the VW. The OCU features incorporated eSIM links to the German automaker's We Connect and We Connect Plus online services and functions.
Regarding the R-Line grade, on test here, the sporty model brings lavish levels of kit to the line-up and yet more vibrant styling. The R-Line adds chromed pedals, carbon grey styling accents; privacy glass and R-Line side panel and door trims. The car also houses R-Line sports seats and a heated steering wheel.
Space & Practicality
This isn't a big car, but there's still space for five-up – just. To be blunt, though, four adults are more like it in the real world. This tester took his three kids and wife with him on a two-hundred-mile trip, and they were happy enough. So, take from that what you will. At the end of the day, the VW Golf is a compact family hatchback.
As for the boot, the cargo capacity is 380 litres with the seats in position and 1,237 litres with them folded down. What's more, the rear bench splits 60:40 and folds almost flat, while there's a convenient longer loads hatch in the centre.
If you need to transport more than the new Golf can carry, then you just need a bigger car. Simple, right?
This is a motor made for people who don't need to lug around big loads, but who sometimes need to move family members and friends about, as well as the odd big trip or shopping expedition to IKEA.
It's not huge, sure, but it's got more than enough room to live with easily in most run-of-the-mill situations.
Ownership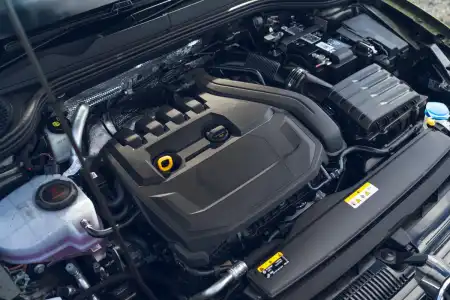 Running Costs
All new Golf 8s offer respectable fuel efficiency. The Golf R-Line 1.5-litre eTSI 150hp does a claimed 48.2mpg combined, while emitting 133g/km of CO2.
However, the thriftiest Golf is the 2.0 TDI. It will do mid to late 60s mpg and CO2 emissions are between 107 and 115g/km. This TDI also uses a superior AdBlue system - it's up to 80 per cent more successful at cutting nitrogen oxide emissions than before. But if it's CO2 emissions that you're worried about, then the GTE plug-in hybrid offers the lowest.
Servicing is carried out at all VW dealerships, meaning you won't have to go far out of your way to get it taken care of, either. Indeed, Volkswagen offers a choice of servicing for your new Golf. You can select Fixed Service or Flexible Service, and the appropriate one depends on how the hatchback is likely to be used.
The Fixed Service regime is suggested for cars that'll do less than 10,000 miles in one year and if the Golf is likely to be used in the undermentioned ways:
Mainly urban driving, brief journeys with regular cold starts
Actions regularly yielding high engine loading – e.g. numerous hill climbs, driving with the car completely loaded - and towing.
Driving with high rpm, heavy acceleration, and hard braking.
Flexible Service is recommended for Golfs with an everyday mileage in excess of 25 miles, where the car is driven frequently and on primarily longer distance trips. The hatchback should be mostly driven at a steady speed with minimum engine and vehicle loading, minimal towing and operated in an efficient way.
In this example, the Golf's on-board computer informs you by means of a dashboard display, when the car needs a service. A bunch of engine sensors monitors the Golf's oil pressure, oil level, oil temperature and brake pad wear to determine when a service is required. With the Flexible method, the car can cover anywhere between 10,000 and 20,000 miles or two years (whichever comes sooner) in between oil changes.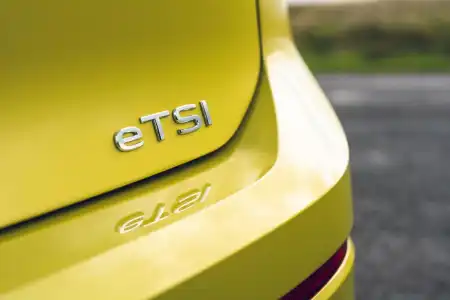 Quality & Reliability
There are not any significant concerns when it comes to VW. The majority of the manufacturer's creations have an admirable reputation for quality, and they've proven themselves over prolonged periods regarding reliability. As damaging as 'Dieselgate' was for VWs public relations, its vehicles never really suffered from any issues.
The new Golf has a three-year or 60,000-mile mechanical warranty. Furthermore, the car comes with a three-year paint guarantee and a 12-year body protection surety. You also get a year's membership of Volkswagen Assistance when you buy your new Golf 8. This contains European breakdown cover, too. What's more, you can extend the cover for a small cost.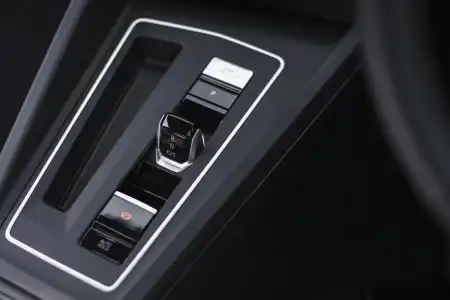 Safety & Security
There are no areas you should be worried about with regards to security and safety here. The Golf 8 got a five-star Euro NCAP crash safety ranking, demonstrating sound protection scores in all critical categories.
Furthermore, the autonomous emergency braking system, which is part of the Golf's factory-fitted kit, did well and evaded collisions in all test set-ups at low speed.
As with all modern motors, you get a good selection of airbags to shield you in the event of a smash, as well as stability control tech.
Ultimately, if you're anxious about the safety features in the new Golf, you probably shouldn't be on the road. This car is about as safe as vehicles get in this sector, and the testing grades reflect that.

See the latest used Volkswagen Golf offers.
More On This Car
Take one for a spin or order a brochure
Request a Volkswagen Golf brochure
Request a Volkswagen Golf test drive