From £28,600 (including the Government's £2,500 grant)
Pros:
Excellent styling and handling capabilities

Fabulous economy and being a hybrid there will be no range anxiety

Can store power to drive in EV mode through congestion charge areas
Cons:
Expensive price-tag compared to standard Golf GT models

Boot space is compromised

Official combined fuel figures hard to achieve
Buy and save on quality approved and used cars
Introduction
The VW Golf GTE is a conventional looking five-door hatch that offers pure electric driving capabilities but is also powered by a 1.4-litre petrol engine, so if the charge runs low then you will still have plenty of miles in the tank.
The vehicle is available in two trim levels with an Advance model recently introduced and if you think along the lines of the excellent Golf GTI and swap all the red design accents for blue then you are some way to imagining the GTE.
Other design cues include a GTE styling pack with unique shaped bumpers, a rear roof spoiler and side sills, plus blue brake callipers.
On The Road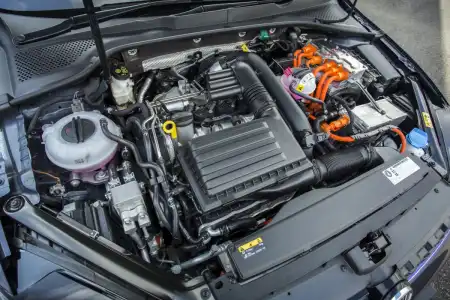 Performance
VW hasn't simply produced any old plug-in hybrid car, they have finely tuned the GTE to deliver outstanding driving dynamics - a 0-62mph dash takes just 7.6 seconds and the handling is as exciting as most other Golf GT models.
Power is courtesy of 150bhp 1.4-litre petrol engine working alongside an electric motor to produce a combined 204PS and on my test car - the standard GTE - that was ample firepower.
The GTE starts up in pure electric mode (providing there is enough charge) and although it has a claimed 31 mile range, 20 to 25 is more realistic and possibly even less in colder weather when the fall in temperature takes its toll on EV range.
It's worth mentioning though that EV-mode doesn't mean milk float-like performance. That's because the Golf GTE can reach 81mph in EV only before a limiter cuts in, and with the petrol engine assisting, the maximum speed is a very respectable 138mph.
The GTE feels very conventional when it comes to performance and handling. Being a GT (Gran Turismo) it is low slung, boasts outstanding road grip and can be thrown with confidence into bends. It is slightly heavier than more conventional Golf GTs but that certainly doesn't hinder performance. It is beautifully balanced with precise steering and all the power you could wish for.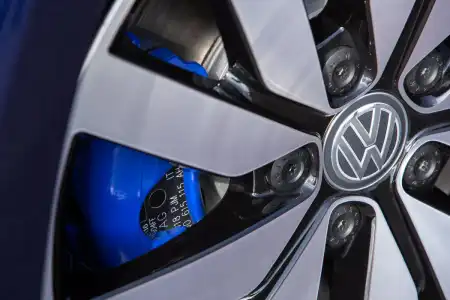 Ride Handling
You would expect any car carrying VW's GT badging to handle well and the GTE does just that.
The car can be driven in a number of modes. In pure EV it behaves very much like the all-electric e-Golf and this is perfect for city centre driving or indeed short commutes. Hybrid mode uses a mix of electric and engine.
There is also a Sports mode or GTE mode as VW calls it which adds a rasping roar to the mix in true GT form. Switching to this option delivers the most exhilarating all-round performance.
A Battery Hold will preserve energy and Battery Charge helps to build extra EV miles on the move. In this mode the engine acts like a generator.
The GTE features a six-speed dual clutch semi automatic gearbox with paddle shifts so the driver has plenty of input and the acceleration through the gears is well-timed and responsive.
It is a car for all driving circumstances. Whilst it is happy on the school run, it can willingly clock up motorway miles in the fast lane (even in EV mode) and then, away from the crowds, it delivers all the GT excitement you could wish for.
And despite all the technology on offer it feels nice and conventional to drive - or at least as conventional as any high-powered Golf GT model ever does!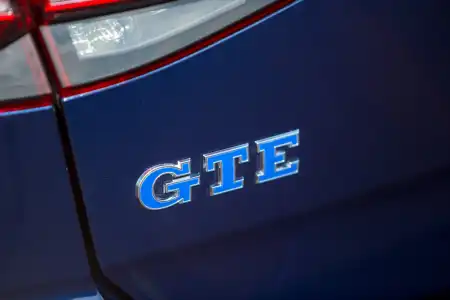 Styling
The VW Golf GTE looks the business inside and out with plenty of distinctive GTE styling cues. As well as the GTE styling pack there is GTE badging, C-shaped LED lights and blue stripes across the grille.
Inside the car all the red trim featured on the sporty GTI is replaced with a cool blue colour. There is a blue stripe in the tartan pattern on the sports seats and black headlining. Bespoke EV features include the ability to identify potential destinations on electric range, plus charging points and the GTE also has an e-manager which allows the driver to preset vehicle charging, as well as interior cooling or heating.
It seems a little strange that such a dynamic-looking car can start up in complete silence and even when the petrol powertrain is in full song, the noise levels are still kept to a minimum.
When it comes to refined driving, the highly effective suspension helps to iron out any road creases and the car is well-insulated against road surface, engine and wind noise. That can all be changed by flicking into GTE mode when the engine roar is a hint at the sharper driving dynamics.
In The Car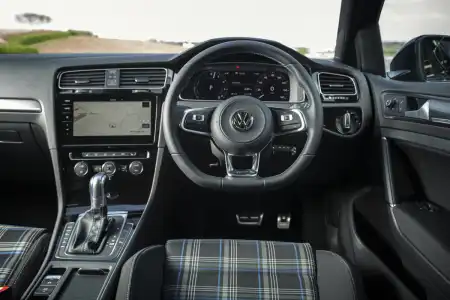 Behind the Wheel
There is a 12.3-inch GTE specific customisable TFT dash which shows all manner of interesting data such as battery range, charge levels, power sources as well as more traditional information. And a Blue Think Blue Trainer system offers driving tips and journey analysis.
Other creature comforts include a smart 8-inch touchscreen, DAB radio, dual zone climate control and full smartphone connectivity via Apple CarPlay or Android Auto plus VW's Car-Net which connects to the Internet on the go.
An upgrade to the Advance trim level sees the introduction of the Discover Navigation infotainment system and Car-Net 'Guide & Inform', plus heated front seats, tinted rear windows and 18-inch wheels.
There is ample seat and steering wheel adjustment within the Golf GTE so it is easy to find the ideal driving position and it's good to see that despite being a plug-in hybrid car with wealth of technical data at your disposal, the interior is not terrifying or ridiculously overcomplicated. Yes, you can see how much power is being regenerated and see how well you are preserving energy, but you can also sit back, put your foot down and get on with 'normal' driving.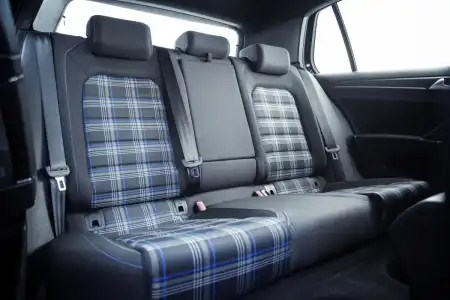 Space & Practicality
As the VW Golf GTE is a plug-in hybrid vehicle there has been some compromises when it comes to space. For example the positioning of the 8.7kWh lithium-ion battery beneath the back seats in the area usually reserved for the fuel tank has seen a reduction in capacity from 50 to 40 litres. In addition, the boot capacity is lowered by 108 litres to 272 litres. The maximum load space is also less at 1,162 compared to 1,270 on a standard Golf GTI.
Elsewhere though the GTE is much like any other Golf with ample space for a couple of adults of the taller variety in the back without any complaints about leg, head or shoulder room.
When it comes to charging up the Golf GTE, owners can use a standard household mains which takes three hours 40 minutes or a fast charge wall-box when the time is cut to two-and-a-quarter hours.
The car's charge point is neatly hidden beneath the VW badge on the grille.
Ownership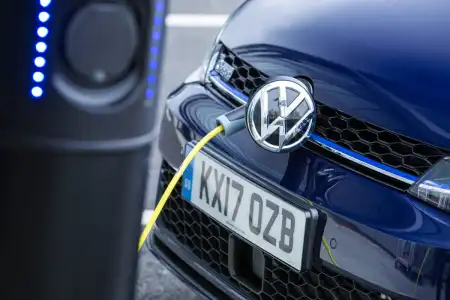 Running Costs
So onto the really important stuff. Clearly the Golf GTE is not a cheap option in the company's line-up, but it has many benefits especially for the business driver
The test car was priced at £28,600. Whilst the official combined fuel figure for the Golf GTE of 166mpg is way off the mark (like all PHEV figures to be fair), we did see an average of just over 70mpg on a lengthy run that involved utilising all the driving modes and that is impressive.
When it comes to annual costs the carbon emissions of 38g/km would result in a first year Vehicle Excise Duty cost of just £10 and £140 after that. The Advance model, priced at £30,100, has CO2 emissions of 40g/km but that would not alter the VED charges.
But the Golf GTE is really aimed at the business driver. With the low CO2 figure it would qualify for a much lower benefit-in-kind tax than any more conventionally powered Golf models.
The Golf GTE is in insurance group 25 (26 for GTE Advance).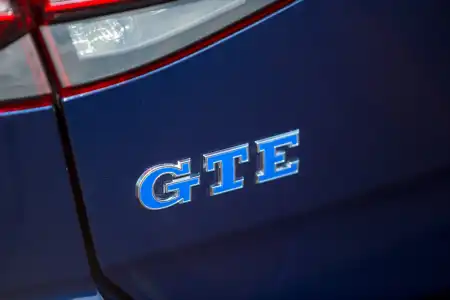 Quality & Reliability
Despite the fact that the VW brand took a hit regarding emissions, but over the years the German marque has built up a great reputation for reliability.
The construction of the Golf GTE feels solid and the materials within the car appear to be of a high quality with soft-touch surfaces and an easily wiped-clean touchscreen.
The doors close with a reassuring thud that is synonymous with the VW name and all the switchgear, upholstery and technology looks like it has been created to survive the test of time.
The Golf GTE is sold with a three year/60,000-mile warranty.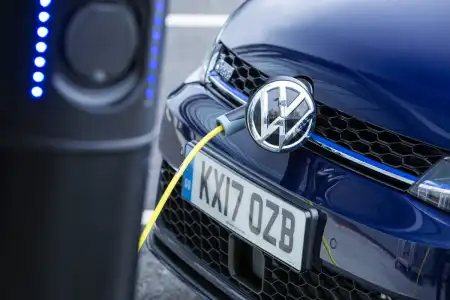 Safety & Security
The VW Golf GTE was awarded the maximum five star rating during Euro NCAP testing and boasts a wealth of safety features and driver aids as standard.
Onboard safety systems include the likes of a Front Assist system that primes the brakes if it senses a collision is imminent. It delivers a visual and audible warning to the driver and if these are ignored and the car is getting too close to the vehicle in front, then the brakes will be applied.
More traditional safety systems include numerous airbags, stability control, anti-lock brakes, a driver alert system and adaptive cruise control.
In addition, the Golf GTE is available for the first time with Traffic Jam Assist which is a form of semi-autonomous driving up to speeds of 37mph.
All these highly advanced systems are designed to protect occupants and pedestrians and also help prevent accidents before they happen.

See the latest used Volkswagen Golf offers.
Buy and save on quality approved and used cars