Pros:
Comfortable, spacious and great to drive

Generously equipped with clutter-free, classy interiorr

Excellent safety specifications
Cons:
Not as dynamic to drive as a BMW or Jaguar saloon

Rear head room limited for six footers

No diesel option and no plans for one either
More On This Car
Take one for a spin or order a brochure
Request a Volvo S60 brochure
Request a Volvo S60 test drive
Introduction
The S60 is Volvo's saloon car to accompany the recently launched V60 estate model. It is the first car to be built in the US - a country renowned for its love affair with the sedan (or saloon as we refer to it).
The Swedish manufacturer, respected globally for its safety record, describes the S60 as the most 'dynamically handling Volvo it's ever made' so it has a lot to live up to with rivals listed as the BMW 3 Series, Jaguar XE and Audi A4.
The S60 certainly has aggressive, dynamic styling and at launch there is just the high specification R-Design Edition launch model, but this will be joined by R-design Plus, luxurious Inscription Plus and performance orientated Polestar Engineered versions.
On The Road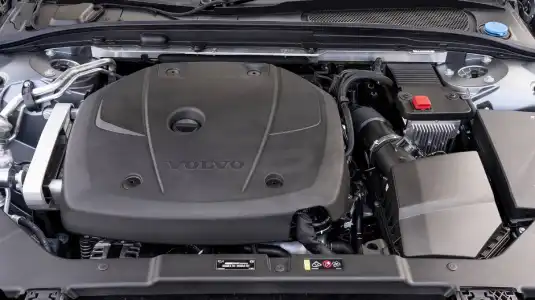 Performance
Every S60 is powered by a version of Volvo's 2.0-litre, four-cylinder, Drive-E petrol engine. The engine range comprises a 250hp T5 petrol (at launch) and 390hp T8 Twin Engine and 405hp T8 Twin Engine Polestar Engineered petrol-electric hybrid versions. There will be a T6 petrol and the possibility of a T6 Twin Engine petrol-electric hybrid unit later on. Note though, there's no diesel and no plans to introduce one.
All cars feature an eight-speed automatic transmission and petrol versions are front-wheel-drive, while hybrids are all-wheel-drive.
Our S60 test car in R-Design Edition was the T5 250hp FWD automatic, which is likely to account for about 85 per cent of sales. It had 350Nm of torque and could power its way to 62mph from a standing start in just 6.5 seconds, topping out at 145mph.
The S60 certainly feels dynamic to drive. The acceleration through the gears, with steering wheel-mounted paddles, is perfectly timed and there are different driving modes to sharpen up the handling even further. Eco, Comfort and Individual are for when you are driving with a sensible head on - switch across to dynamic for a more exhilarating experience.
Our test route in Scotland offered the S60 plenty of opportunity to show off its true credentials with sweeping mountain and valley roads and it didn't disappoint. The acceleration was instant with rapid reactions and it fired through the bends gripping the Tarmac like glue. It's billed as dynamic and it lives up to all the hype.
There is a Pilot Assist system that will accelerate, brake and steer the car - this worked very well when we tested it on a motorway.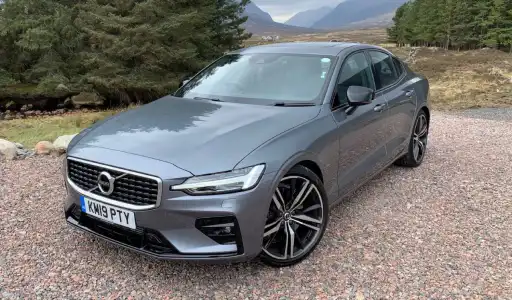 Ride Handling
There is nothing worse than driving a car with the blistering pace and fire-power the S60 possesses that lacks decent composure, ride and handling. Thankfully the S60 is beautifully balanced and, with its sleek streamlined design, body sway is minimal no matter how fast bends are attacked.
The car is built on the company's exceptionally versatile SPA (Scalable Product Architecture) platform which also underpins the award-winning S90, V60, V90, XC60 and XC90.
The S60 has double wishbone front suspension and an integral link rear axle - this offers dynamic yet predictable handling with a smooth, controlled ride. The benefits of this type of suspension are increased grip, better directional stability, limited boy roll and improved comfort. The S60 is a car that you soon feel very comfortable and confident driving, although the suspension can be a little stiff at times as is often the case with sportier saloons.
It's worth noting that the Polestar Engineered models will offer the most focused dynamics benefitting from the expertise of Polestar, which is the company's electric-performance arm.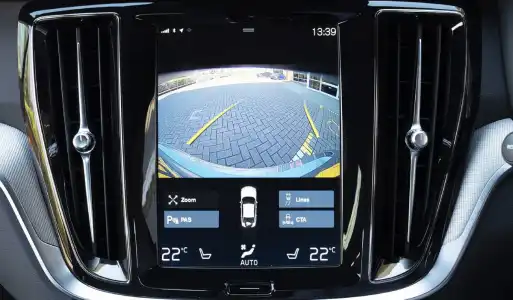 Styling
There's no denying the fact that the Volvo S60 is a great looking car and it's nice to have a quality alternative to the bigger-selling BMWs, Audis and Jaguars. Stand-out design cues on the four-door S60 R Design model include high gloss back exterior trim, twin exhaust pipes, full LED headlights with T-shaped daytime running lights, a black front grille with metal surround, distinctive taillights and alloy wheels ranging in size from 18 to 20 inches. Our car featured a tilt and slide panoramic sunroof with sun curtain as a £1,200 option and the larger matt black 20-inch alloys adding £850 to the cost.
Move inside and the minimalist interior oozes class with premium natural materials. The upright tablet-styled, nine-inch Sensus touchscreen control system allows the cabin to be free of too many buttons and switches. And unlike some rival manufacturer's systems, the Volvo set-up is simple to operate on the move with short-cuts to many functions such as climate control and navigation.
When it comes to driving refinement, the S60 can certainly compete with the big guns from the premium brands. The cabin is beautifully insulated against any engine, road surface or wind noise and if there is any sign of outside sounds filtering through, the superb 15-speaker Bower & Wilkins audio system is on hand to drown it out.
And the car won't be unsettled by any uneven roads either as that highly efficient suspension system smooths out the roughest surfaces along the way - even on larger wheels.
In The Car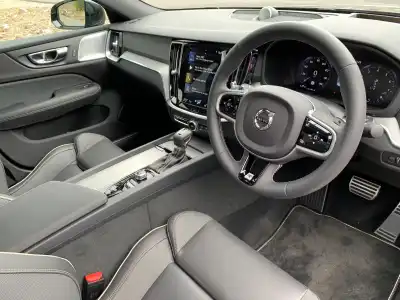 Behind the Wheel
It's quick and simple to get a perfectly comfortable driving position in the S60 with electrically-adjustable part Nappa-leather seats complete with lumbar support, and the steering wheel has full reach and rake adjustment too.
Once settled, all the controls, dials and readouts are ideally positioned for ease of use and despite the minimalist approach, there's a generous array of on-board technology to explore. Features on the test car included the impressive Sensus touchscreen system that works like a tablet or smartphone with pinch, zoom and swipe functions. A voice-activated control system is also fitted as standard and you can use this to change the temperature or adjust the radio station without taking your hands off the wheel.
There is full smartphone integration via Apple CarPlay or Android Auto and the S60 can also be turned into a mobile WiFi hotspot via a mobile phone or the built-in car modem and a SIM car with data allowance. This will allow passengers to connect their devices to the internet via the car.
In addition, there is an easy-to-programme navigation system, heated seats, a heated steering wheel, a rearview camera, adaptive cruise control, front and rear parking sensors and a 12.3-inch drivers information display that can be altered according to taste.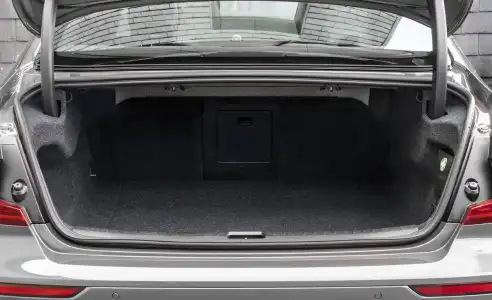 Space & Practicality
The S60 is a mid-sized premium four-door saloon and it has a decent amount of space for back seat passengers. The legroom is very generous, but on the downside, the dynamic design of the car with its sloping roof does impact slightly upon rear headroom. It will be fine for anyone under six foot but could ruffle the curls on anyone taller.
The boot can cater for 440 litres of luggage and our car featured a Convenience Pack that introduced power folding 60:40 split rear seats for £400.
Volvo has made clever use of the cabin space within the car with plenty of storage compartments. There are deeply lined door pockets, front cup holders, a practically-sized glovebox, a covered tray, a central compartment with the front USBs, nets in the seat backs and a fold-down rear armrest with cupholders and a tray.
The powered tailgate, which is hands-free, is really useful when approaching the car laden down with the weekly shopping.
The S60 is fitted with Isofix fixtures to the two outer rear seats for securing child seats.
Ownership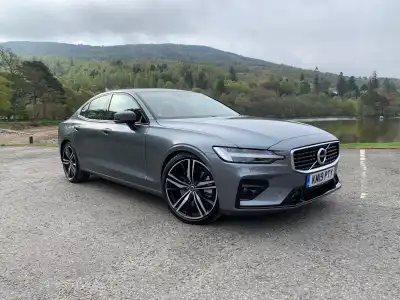 Running Costs
Although the Volvo S60 is to be sold in different trim levels, we currently have the price for the R-Design Edition version that we drove. This car is priced from £37,920, but there is a range of optional extras available that can be added to the mix.
Our test car featured a Convenience Pack, along with a panoramic sunroof, special alloys, a spare wheel and jack, plus Metallic paint and that meant the final price crept up to £41,210.
When it comes to running costs, the car could deliver a combined fuel economy of 35.3-39.8mpg (WLTP) with carbon emissions of 155g/km. This would result in a first-year Vehicle Excise Duty charge of £530 dropping down to £145 the following year.
And the S60 is likely to hold onto its value as residual value experts CAP have estimated that the T5 R-Design Edition that we drove will be worth 46 per cent of its original new price after three years and 30,000 miles.
This estimation from CAP means low finance costs with the car available from £299 a month via both PCP and PCH. This is based on a £7,650 deposit and 48-month contract on the PCP and £4,522 initial rental and 18-month contract for PCH. Both deals are limited to 10,000 miles per annum.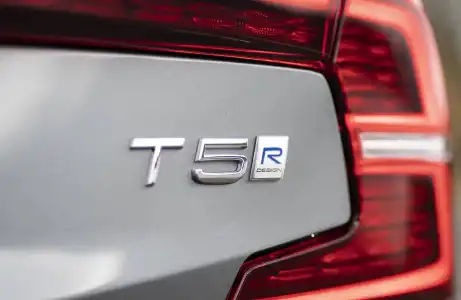 Quality & Reliability
Volvo is a company that has a five-star rating when it comes to reliability and build quality. And there is little reason to think that the all-new S60 will cause owners any problems.
It has a very solid build and the interior oozes quality throughout from the supportive seats right through to the switchgear.
And Volvo is also doing its bit for the planet too by using recycled plastic materials in their new models.
The car comes with a three-year, 60,000-mile warranty and there is also three years' Volvo Assistance cover with free breakdown and recovery assistance anywhere in Europe. This plan can be extended by 12 months for £99 or it is automatically extended if the car is serviced at a Volvo retailer.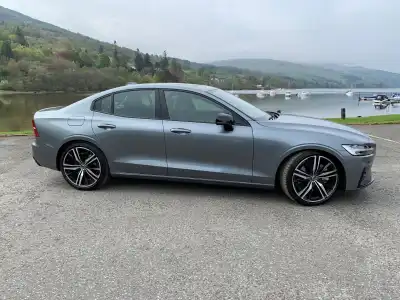 Safety & Security
Like its V60 estate sibling, the S60 gets the maximum five stars for safety by Euro NCAP thanks to the wide range of safety features and driver assistance aids.
The S60 includes Volvo's City Safety suite of collision-avoidance aids. These include automatic emergency braking which works day or night and detects vehicles, pedestrians, cyclists or large animals in front of the car. It warns the driver if a collision is likely and will automatically apply maximum braking force with steering assistance if necessary to avoid a collision.
There is Oncoming Collision Mitigation, which is a world first in the mid-size saloon sector, and it uses a radar and camera (just like City Safety) and reacts to avoid vehicles travelling towards you.
There is Run-Off Road Mitigation that automatically tightens seat belts if the car leaves the road and the Pilot Assist system that will accelerate, brake and steer the vehicle keeping it in its own lane.
Every car also gets Volvo On Call that allows you to control various functions from a mobile phone, smartwatch or tablet, including temperature settings, setting the sat-nav before leaving, locking or unlocking the car, flashing the headlights and sounding to horn to help find the vehicle and even downloading trip details for the past 100 days for company driver's convenience.
Volvo On Call can also be used in emergency situations. For example, if the seatbelt pretensioner is activated or an airbag deployed, an operator will contact the car and can send the emergency services to the exact GPS position. It can also be used to contact roadside assistance if you have a puncture.
Finally, there's no doubting Volvo's commitment to developing safe cars. As part of its Vision 2020 scheme, it has set a target whereby no-one will be killed or seriously injured in a new Volvo car by 2020.
More On This Car
Take one for a spin or order a brochure
Request a Volvo S60 brochure
Request a Volvo S60 test drive