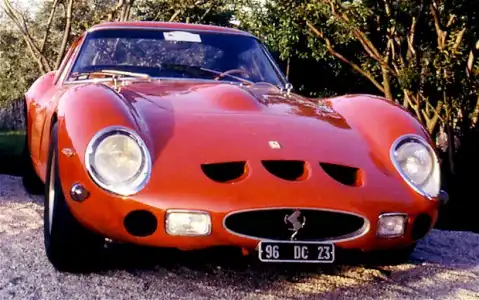 More On This Car
Take one for a spin or order a brochure
Request a Ferrari brochure
Request a Ferrari test drive
A classic Ferrari has become the most expensive car ever sold in Britain after it changed hands for £20.2 million. Only 39 models were built between 1962 and 1964 and this particular model is believed to have been sold by British businessman Jon Hunt who bought it back in 2008 for £15.7 million. John Collins, chairman of classic Ferrari specialist Talacrest, confirmed the GTO's sale but refused to reveal if it was Mr Hunt's model.
The Ferrari 250 GTO sold privately for £20 million was built in September 1963 and enjoyed an illustrious racing career. It made its motorsport debut in the 1963 Tour de France road race, finishing second while being driven by Carlo Maria Abate and Lucien Bianchi. The sports car (number 5095) went on to win three competitions in 1964, the Rallye de Picardie, Rallye du Limousin and Les Andelys hillclimb. It continued to race and appear at shows before it was bought by Lee Kun-hee, the chairman of Korean electronics giant Samsung, in 1996. Mr Lee held on to the Ferrari until 2007 when he sold it to British property developer William Ainscough with Mr Hunt paying £15.7million for it the following year.
The Ferrari 250 GTO is the second most expensive car ever sold in the world after a 1936 Bugatti Type 57SC which went for 'between £20 and £26million' in 2010.
More On This Car
Take one for a spin or order a brochure
Request a Ferrari brochure
Request a Ferrari test drive