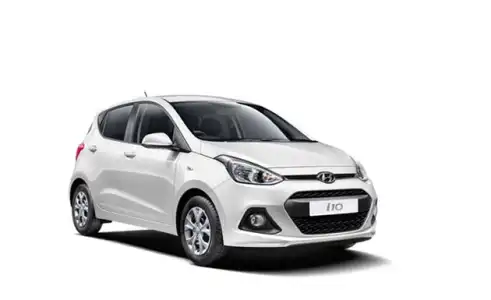 More On This Car
Take one for a spin or order a brochure
Hyundai 0% APR Conditional Sale Plans encourage motorists to rummage for loose change in their pockets and choose from a fantastic range of vehicles – so get rummaging. The Hyundai i10 SE 1.0, for example, is available for thirty-six payments of £129 plus a £4,966 deposit. The total cost is £9,610 after which the motorists owns it outright. This city car's strengths include the confident handling, five-door layout and pleasing specification that includes air-conditioning, four electric windows and remote central locking. The i10 Premium 1.0 is available too. This higher-spec trim adds fourteen-inch alloy wheels, Bluetooth, voice recognition and LED running lights. 0% finance terms include the £5,306 deposit that is followed by thirty-six monthly instalments of £139. That ensures the total required in loose change is £10,310. And there is more. The i20 Style 1.2 is a supermini class vehicle rather than a city car. It is therefore slightly longer/wider and has a larger boot for any coins that cannot be squeezed into a pocket (295-litres compared to 250-litres). As such, it suits those that need a small car that excels in urban areas, but want more room and equipment. The i20 Style, after all, has a colour reversing camera in the rear-view mirror, parking sensors and automatic lights. All for a £6,496 deposit plus thirty-six payments of £169 (total £12,580).
Hyundai i30 0% APR Finance And Hyundai i40 Tourer 0% APR Finance
The manufacturer has larger offerings too. The i30 Classic 1.4, for example, is a small family class five-door hatchback with pleasing styling, plenty of equipment and sure-footed handling. Terms include the £8,046 deposit plus thirty-six instalments of £199 (total £15,210). This workhorse is also available in higher-spec Active and Style trims. The former adds cruise control and alloy wheels whereas the latter has automatic headlights/windscreen wipers too. And there is bigger still. The Hyundai i40 Tourer 1.7 CRDi 136PS Blue Drive Premium is a large family class estate with one of the most spacious boots in its class. Capacity is 553-litres rising to 1,719 once the rear seats – that have leather upholstery – are folded flat into the luxuriously equipped cabin. It is also surprisingly fuel efficient for a large estate as it averages 65.7mpg. Terms include the £13,091 deposit that is followed by thirty-six payments of £349. The total is £25,655 which represents excellent value for such a capable car. Best hunt through those pockets.
More On This Car
Take one for a spin or order a brochure