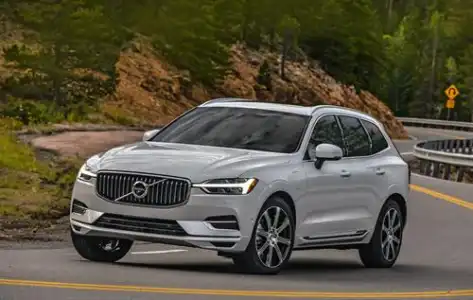 More On This Car
Take one for a spin or order a brochure
Request a Volvo XC60 brochure
Request a Volvo XC60 test drive
Euro NCAP crash test results
The Volvo XC60 has been crowned Best In Class, Large Off-Road, Vehicle and Best Overall Performer 2017 for safety following a series of crash tests, Euro NCAP confirmed. The safety body, therefore, gave this robust machine its maximum, 5 star, overall rating. The categories of protection summarised via the rating are:
Adult occupant – 98%
Child occupant – 87%
Pedestrian – 76%
Safety assist – 95%
Adult occupant – 98%
The XC60 struck a barrier at 40mph for its frontal, offset, collision test. This replicated a head-on collision with an oncoming vehicle of comparable weight. Crash test dummy sensor readings then revealed adults are well protected in such scenarios.
Euro NCAP concluded the passenger compartment "remained stable" throughout the offset collision, for instance. There is "good protection" for the driver's knees and femurs, "good protection" for all the front passenger's critical body parts, and evidence that motorists of varying proportions benefit in a similar fashion.
Child occupant – 87%
The XC60 was hit by a barrier at 30mph for its side impact test. This replicated being t-boned at a junction. Protection is "good for all critical body parts" of a child, the safety body confirmed.
The vehicle earned further plaudits for its passenger airbag deactivation switch. It enables a rear-facing child seat to be fitted to the passenger seat safely. Without it, the airbag might knock the child seat from its optimum position if there is a crash.
Pedestrian – 76%
The Volvo hit a crash test dummy for its pedestrian protection test. Experts then inspected the dummy for simulated wounds. Euro NCAP concluded that the bonnet "provides predominantly good or adequate protection to the head". The bumper scored maximum points.
Safety assist – 95%
The Euro NCAP safety assist category relates to features that minimise the risk of collision (among other things). Consider the autonomous emergency braking test, for example. It required the vehicle to brake automatically - as if the person behind the wheel failed to react to a hazard ahead – in the following circumstances:
Driving toward a stationary vehicle (18 to 50mph)
Closing on a slower vehicle (18 to 50mph)
Following a car that brakes suddenly (31mph)
Euro NCAP concluded: "The autonomous emergency braking system scored maximum points when tested at highway speeds". Furthermore, collisions were avoided "at every test speed and in all scenarios".
Volvo welcomes recognition
Malin Ekholm, Volvo Cars Safety Centre Vice President, said: "We are proud that our ongoing commitment to innovating new safety features has been recognised with a Euro NCAP, Best in Class, award". XC60 is a step toward the company's goal that nobody be killed or seriously hurt in any of its new cars by 2020, he stated.
More On This Car
Take one for a spin or order a brochure
Request a Volvo XC60 brochure
Request a Volvo XC60 test drive