Pros:
Smooth gear changes

Interior is good quality

The infotainment system is easy to use
Cons:
Ride comfort isn't the best

Not that engaging

Expensive, especially with higher trims
More On This Car
Take one for a spin or order a brochure
Request a DS DS 4 brochure
Request a DS DS 4 test drive
Introduction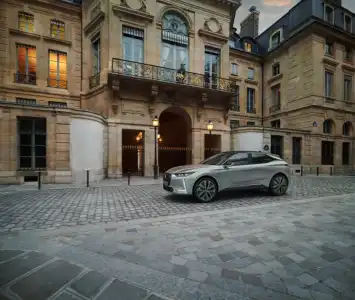 Turning Citroen into a premium brand was never going to be realistic. So, the decision to split the DS brand off into an independent badge was always the way forward.
Nevertheless, it hasn't worked so far. To date, most of the models have still been a bit 'Citroenny', albeit a little posher. But the new DS 4 is the first from a new generation. It's built on a fresh architecture that will enable a fully-electric version a couple of years from now and bring improvements to the kit offered in all variants.
There's a choice of five engines from DS's PureTech range: the petrols are the three-cylinder 130 (131PS) and two four-cylinders, the 180 (181PS) and the 225 (224PS). There's also a diesel – the BlueHDi 130 – a four-cylinder turbo (131PS).
Alternatively, you can opt for the plug-in hybrid called the E-Tense 225 – a four-cylinder turbocharged petrol producing 224PS.
Regarding grades, the selection is a bit confusing as there are three variants of the DS 4 to choose from, which have a total of eight trims.
Standard DS 4 focuses on luxury, with more chrome styling. With this, Bastille Plus is the entry-level trim, offering 17-inch alloys, LED headlights and rear parking sensors. Trocadero is next, adding 19-inch alloys, SatNav, keyless entry and start, front parking sensors, SatNav plus an additional touchscreen and voice-control, plus a reversing camera. Then Rivoli adds acoustic windows and DS Drive Assist, while 3D LED rear lights are added to the top-spec La Premiere trim.
Performance Line is the sporty variant, with athletic bumpers and styling, including black wheels, to offer a more aggressive stance. As standard, you get 19-inch alloys and a 10-inch touchscreen, as well as a seven-inch digital instrument display. Performance Line Plus adds matrix LED lights, DS Iris and a heads-up display.
Finally, Cross is for those who want something of an SUV feel, even though it's not an SUV, offering a roof-rack, skid plates and the odd bit of interior trim that feels more off-roady. The Trocadero and Rivoli trims have comparable equipment levels to the standard DS 4.
On The Road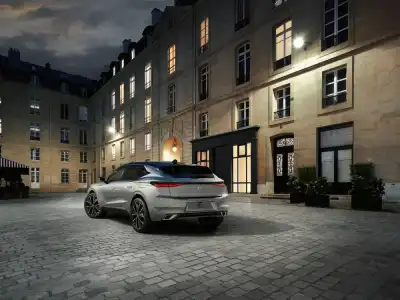 Performance
Our road test is with the Rivoli-trimmed E-Tense, the model with the best acceleration. It has plenty of torque, a trademark of electric cars, surging away from the line at a standing start.
It doesn't feel particularly wild, although it's still reasonably pokey, getting from 0-62mph in 7.7-seconds. Instead, it seems more at home as a relaxed cruiser, wafting along. The quietness, especially in all-electric mode, no doubt aids this impression.
The gearbox is a tad frustrating, as it never seems to change gear when you think it's going to. Mind you; it's smooth enough when it does. A paddle shift is offered, too.
We have tested the petrols but can't recommend them. They feel underpowered, though the diesels may be an option for long-distance drivers who will end up hamstrung by the small battery capacity.

Ride Handling
One benefit of the hybrid is that it includes Active Scan as standard (optional elsewhere on the range). This probes the road ahead to adjust the DS 4's dampers to ensure that it's set up optimally for every centimetre of tarmac it goes over.
It works well enough – but only in Comfort mode. Turn on the Sport setting, and you'll feel it tighten up quite a bit, but this DS isn't an agile car.
We had 20-inch wheels fitted to our model, but the smaller 19-inch wheels don't solve the problem. As a result, the DS 4 still feels skittish over rougher road surfaces and relatively too firm over potholes. And, in all modes, there's too much body roll to give you enough confidence to test its limits in the bends.
Performance-seekers will feel disappointed, but this car is more aimed at those who want to relax behind the wheel.
There isn't a lot of wind noise or vibration from the tyres, though, so DS has done a decent job here.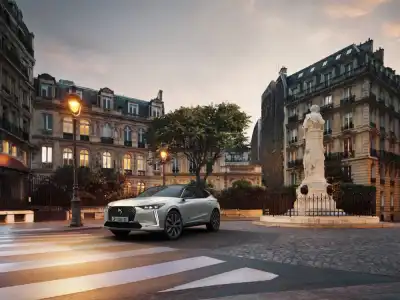 Styling
The DS 4's looks are very distinctive, with an aggressive and angled design. It's got very few curves, with the front appearing raised with a prominent grille, thin-looking headlights and sabretooth-like side-lights.
The side of the car truly shows off the slope of the roofline, while creases on the doors loosely resemble the lines of the DS logo. Around the back, it has a minimalist feel, with thin taillights and a slight protrusion on the rear bumper and two tailpipes.

In The Car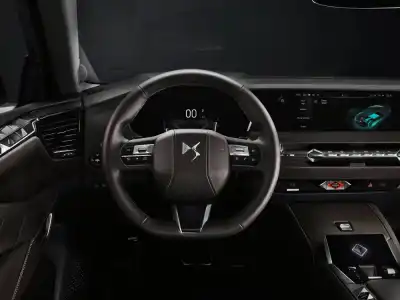 Behind the Wheel
The DS 4's interior is excellent.
A lot depends on the trim you choose, with options for leather, Nappa or Alcantara available, although entry-level has to make do with cloth seats. There are soft, plush surfaces, though hard scratchy plastics are present in places you won't spend much time looking at.
A seven-inch digital display replaces physical instruments, and it's also rather informative.
The infotainment system is new – and a massive improvement over its predecessor. It is intuitive to use and is responsive with clear, crisp graphics. Sadly, although you can customise menus, the physical controls for the climate control are incorporated within them, too. This makes adjusting the cabin temperature on the move more challenging. You can set shortcuts via a second screen on higher trims, though, which makes life a bit easier, while they're fitted with an informative head-up display, too.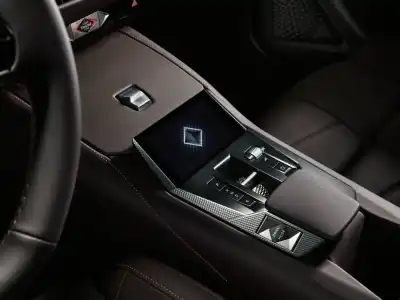 Space & Practicality
There's a lot of space for you to move your arms about in the front, so you don't feel cramped. However, the DS 4 doesn't have adjustable lumbar support, not even as an extra.
In the rear, taller passengers may not like the lack of legroom. The headroom makes up for it, but this means six-footers will feel like they're sitting bolt upright, which isn't the most relaxing for longer journeys. This is reduced further if you choose the optional sunroof.
The door bins aren't the largest, while there's a USB port in the front, along with two cupholders and some storage space in the front armrest.
Despite the batteries eating away at the available space in the boot, you still get 390-litres of cargo capacity (430-litres in non-hybrids). This expands to 1,230-litres with the rear seats down.

Ownership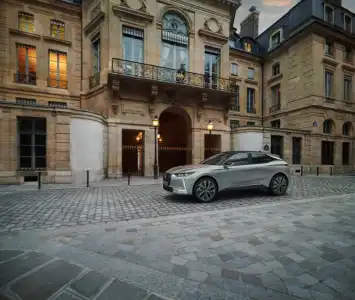 Running Costs
The hybrid has an electric-only range of 38-miles, thanks to the 12.4kWh battery. That said, you should expect less than this in the real world. Combined with the engine, the car will manage 217mpg if you keep the battery topped up.
A CO2 figure of 30g/km means low Benefit in Kind tax (BiK), which will appeal to company car owners.
The diesel manages a claimed 59mpg (126g/km CO2), while the PureTech 130 achieves 47mpg (136g/km of CO2). The 180 does 43mpg (147g/km CO2), and the 225 will do just under 43mpg (149g/km CO2).
Servicing is quite expensive through the main dealers, costing between £225 and £375 depending on what needs doing.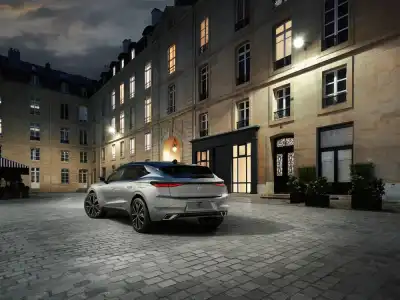 Quality & Reliability
The DS 4 certainly feels like it's a quality product that is well built.
It is the first model properly built by DS from the ground up (i.e., not by Citroen), so the reliability of older DS cars may not be an accurate indicator.
Nevertheless, Citroen itself has improved quite a bit recently.
A three-year, 60,000-mile warranty is included, while the hybrid battery is covered up to 100,000-miles for eight years.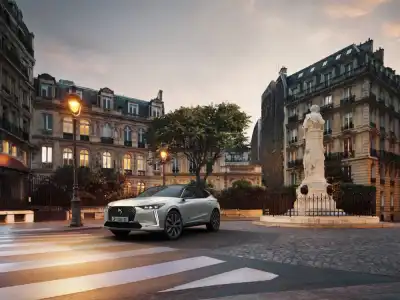 Safety & Security
It is tricky to gauge how well the DS 4 will do in terms of safety.
The DS 3 Crossback was tested in 2019, earning a four-star mark. It was rated at 87% for adults, 86% for children, and 63% for safety assists. With an optional safety pack fitted, these figures were bumped up to 96%, 86% and 76%, respectively, enough to ratchet it up to a five-star rating.
We'd hope the DS 4 will score even better.
Safety kit includes drive attention alerts, automatic emergency braking, lane-position assist, and hill-start assist. Mind you, an Advanced Safety Pack – which adds extended traffic sign recognition, rear-cross traffic detection, advanced emergency braking and adaptive cruise control – is available as a £1,000 option.

Summary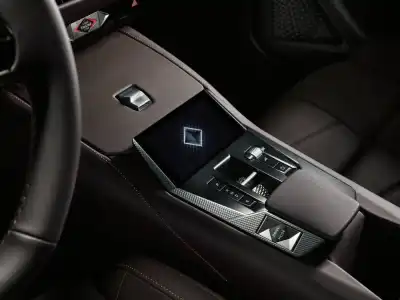 The DS 4 is better than its Citroen-based siblings. But the car still has some way to go to match the premium brands whose rivalry it covets.
The handling is good, if not excellent, while it's not anywhere near as engaging or fun to drive as the German premium brands.
Nevertheless, the DS still offers plenty. And, if you want to stand out from the crowd, this is a worthy contender, offering something different from the generic-looking Euro boxes you see on the roads.
The interior is lovely and classy, and it's comfortable to sit in. Higher trims are on the pricey side, but that might be offset by the savings if you're a company car owner and choose the hybrid.
Another generation or two will probably be needed before the DS 4 truly competes. But, in terms of personality, it's already streets ahead.

More On This Car
Take one for a spin or order a brochure
Request a DS DS 4 brochure
Request a DS DS 4 test drive