Pros:
Lots of fun to drive

Practical

Good range and speedy charging
Cons:
On the large size

Expensive

Divisive looks
More On This Car
Take one for a spin or order a brochure
Request a Kia EV6 brochure
Request a Kia EV6 test drive
Introduction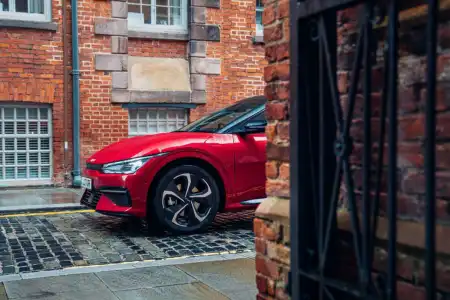 Imagine if Volkswagen hadn't discontinued the Scirocco, modernised its design and put it on steroids. We imagine it'd look a bit like the EV6.
And, if the similarities tell us anything, it's that Kia's new car has got quirky looks and attitude to match. But, if you now have the Scirocco in your mind, just know the EV6 is a lot bigger than it looks.
Indeed, it's constructed on the same platform as the Hyundai Ioniq 5 – itself an excellent (and bigger-than-it-seems) car. And if the Ioniq 5 is anything to go by, we've high hopes for the Kia.
Entry-level trim is 'Air', which includes one motor and rear-wheel drive (226PS, 0-62mph in 7.3-seconds), 19-inch alloy wheels, a 12.3-inch curved driver display, and a 12.3-inch curved touchscreen. UVO Connect, heated seats, a heated steering wheel and vegan leather upholstery, are also included. And let's not forget the high gloss black door mirrors, smart cruise control with stop/go functionality, flush exterior door handles, a start/stop button and smart entry system.
GT-Line adds in Vehicle-2-Load (which means you can use the car to power other things – useful in a power cut), premium 'relaxation seats', black suede seats with white vegan leather bolsters, a wireless phone charger and sporty exterior styling.
GT-Line S adds 20-inch alloys, an augmented reality heads-up display, a powered tailgate, a panoramic sunroof, a Meridian 14-speaker premium sound system, smart parking assist, automatically retractable flush door handles and a host of safety kits.
You can have GT-Line and GT-Line S with four-wheel drive, which ups the power to 321PS and drops the 0-62mph time to 5.4-seconds.
An even spicier GT model will be following soon, too, which will add 21-inch alloys, neon green brake callipers, premium paint and bucket seats. Oh, and 590PS. And 0-62mph in 3.5-seconds. Yikes.
On The Road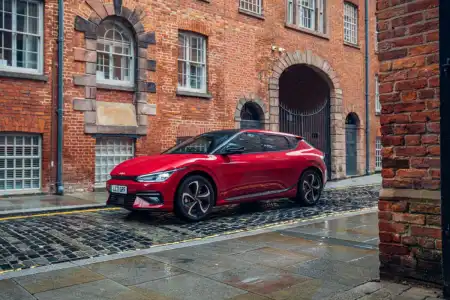 Performance
We've tested the GT-Line trim with all-wheel drive.
It's easy to see where the EV6 diverges from the sister-car Ioniq 5. Whereas the Hyundai is more a comfortable cruiser, the EV6 is keener to get the power down. As a result, it instantly feels like it's trying to be a sports car. Off the line, it's lightning-quick but, once up to speed, it's actually quite relaxing to drive, almost as if it's itching to go fast, but perfectly satisfied once it's there.
There's good acceleration at all speeds, so overtaking isn't an issue, while, in sports mode, it's even more teeth-gritting, increasing throttle sensitivity and beefing up the weight of the steering.
This car really will pull – and feels faster than it is. We're twitching at the thought of what the full-beans GT will be like.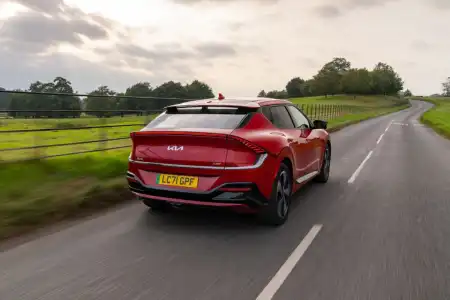 Ride Handling
The EV6 is more of a driver's car than the Ioniq 5. Where the Ioniq 5 is more family-focused, this is more interested in the person behind the wheel.
The steering is more direct, while body roll is well limited in the corners, and you'll have the confidence to throw it around a bend. The ride is quite firm on our 20-inch wheels (you can downgrade to 19-inches, we're told) but never uncomfortable, despite a reasonably stiff suspension setup.
It's intended to be a car that balances comfort with drivability.
However, its personality is somewhat deceptive, lulling you into a sports car frame of mind. But it is still a rather large and heavy vehicle - and, with that in mind, it does have its limits, which are worth reminding yourself of.
It may prove costly if you overconfidently overlook them and get too throttle-happy when approaching a sharp B-road corner.
You have been warned.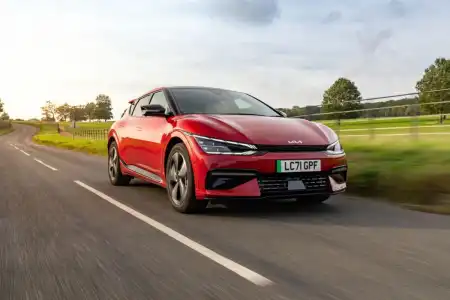 Styling
Earlier, we said it looked like a modernised, enlarged VW Scirocco. Those looks might divide opinion – some will think it's funky and full of character. Some will think it's monstrously ugly.
It's far more similar underneath to an Ioniq 5, though. So if you happen to see one next to an EV6, you'll be able to see the similarities clearly, even though much has been done with the bodywork on both to give them distinct looks and personalities.
The front looks very aggressive, with the front spoiler almost looking like a small snow-plough, broken up by a larger lower grille and enlarged air intakes on either side. The headlights swoop round, merging into the thinned-out main grille.
Around the side, a crease just beneath the door handles gives purpose and poise to the looks, with a sturdy side-skirt that enlarges towards the rear wheels. Meanwhile, the rear window tapers to a point at the roofline towards the back.
The rear has a minimalist look, with plenty of blank space and a sharp and protruding spoiler which is part of the bodywork, rather than stuck on. Running along the top of it is an array of LED lights. A Kia badge sits in the middle of the boot, above the number plate. A more modest spoiler overhangs the rear windows.
In The Car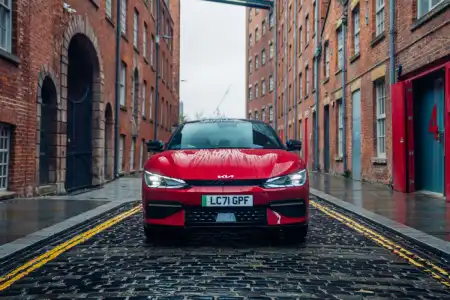 Behind the Wheel
The EV6's interior has a more performance-focused feel to it. Rather than a lounge-like aura of calmness that you might find elsewhere, this makes you think your hair is about to be set ablaze (and with good reason, we might add).
It complements the aggressive exterior look nicely.
Recycled materials feature heavily, along with the vegan-friendly leather and, while the interior won't necessarily trouble the premium brands, it has a quality feel.
The two 12.3-inch screens are clear, while the infotainment system's touchscreen is responsive and intuitive to use.
You get a haptic-touch bar to control various things while, thankfully, physical dials remain to adjust the air conditioning settings.
The steering wheel is funky, too, with spokes only at nine and three o'clock.
Space & Practicality
In the cabin, you feel a sense of being neatly hunkered into a cockpit, but there's still lots of room. In the back, legroom is plentiful, while passengers can move their pins about a bit more thanks to the flat floor.
The sloping roofline may challenge taller adults, but there's still more room than in your average family hatchback, which this is a noticeable size up from. As a result, rear visibility is a bit restricted, not helped by large rear pillars.
The seats are comfortable, while our GT-Line model features a reclining option.
There's loads of storage space, with large door bins, three cupholders, several USB sockets and a big glove compartment. There is a decent amount of space in the centre console and beneath the dashboard, too.
You get 490-litres of space in the boot – 1,300 with the rear seats put away, which fold down at the pull of a lever – although that's less than the 584 to 1587-litres you get on an Ioniq 5.
There's also 20-litres of space under the bonnet (52-litres in the rear-wheel-drive version).
Ownership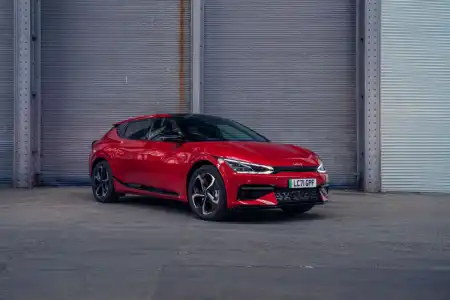 Running Costs
Regardless of the trim and power-train option, you get a 77kWh battery, which manages 328-miles with rear-wheel drive, or 316-miles with four-wheel drive.
Charging, however, is lightning fast. It's capable of a 350kW charging rate, so a 10-80% charge is done in just 18 minutes (admittedly, 350kW chargers aren't that common yet). Likewise, a 50kW charger will do it in just over an hour.
A home wall box will take around 12.5-hours to fully charge.
With no emissions to worry about, it's very tax-efficient, both in terms of free road tax and Benefit In Kind tax for company car owners. It is above the £35,000 threshold for the £2,500 Government electric car grant, though.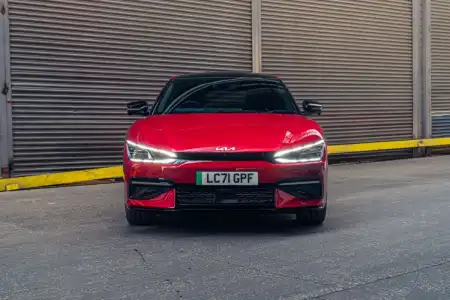 Quality & Reliability
With the EV6 being a new car, we can look to its sister Ioniq 5, which has had very few issues so far.
What's more, Kia is renowned for its fantastic reliability. But, if you're unfortunate enough to have a problem, it's backed by an industry-leading seven-year, 100,000-mile warranty.
Certainly, Kias generally are well put together with attention focused on build quality. Our test car was no different. As a result, it feels like a quality product.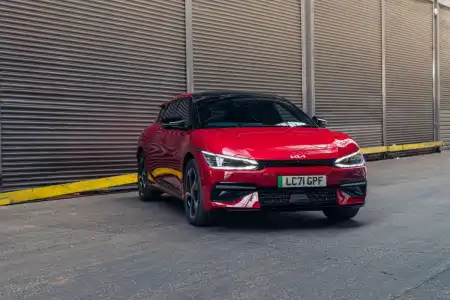 Safety & Security
Being brand-new, Euro NCAP is yet to crash-test an EV6. However, the Ioniq 5 earned a five-star safety rating, scoring 88% for adult occupants, 86% for children and 88% for safety assists. So, the EV6 is likely to achieve similarly well.
The entire range gets a brake assist system, forward collision avoidance, hill-start assist control, highway driving assist, and intelligent speed limit assist. Other kit includes lane follow assist; lane keep assist, driver attention warning, multi-collision brake assist, tyre pressure monitoring and vehicle stability management.
GT-Line and above get blind-spot collision avoidance assist with rear-cross traffic assist, and safe exit assist.
GT-Line S and above get a heads-up display, remote smart park assist, a 360-degree camera, a blind-spot monitor and junction crossing assist.
Summary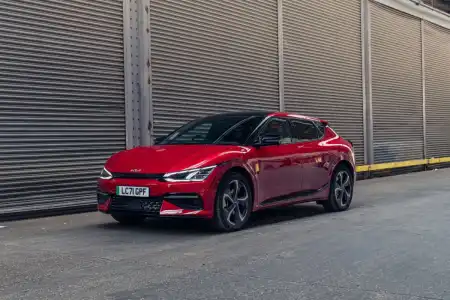 The EV6 is a striking car, both for how it looks and how it goes.
It handles well compared with similarly-sized vehicles and will appeal more to those who want some fun rather than those who just want to go from A to B.
If you want the former, this is the car for you. If you want the latter, the Ioniq 5 is the obvious alternative. If you want true sports car characteristics, though, you'll want to look at a hot-hatch.
Nevertheless, the EV6 is practical, roomy, quiet, well-equipped, and, even if you don't like its looks, you can't deny it's got personality in spades.
Some of its rivals just got a wake-up call.
More On This Car
Take one for a spin or order a brochure
Request a Kia EV6 brochure
Request a Kia EV6 test drive