From £17,595
Pros:
More stylish than many of its more premium rivals

Feels nimble for what is an SUV

Low CO2 emissions for a car of this size
Cons:
6g/km over the 99g/km threshold

High starting price

Petrol engine can sound a little gruff at the top end
More On This Car
Take one for a spin or order a brochure
Request a Mazda CX-3 brochure
Request a Mazda CX-3 test drive
Introduction
Entering in to the small SUV segment is no mean feat – if car makers want success then this is the place to be seen – it is said that small SUVs will soon overtake family hatchback but that's for the future – the present is the Mazda CX-3 – is this the car to propel Mazda in to the mainstream? Only time will tell. Read on to find out whether we rate the newest challenger from Japanese car manufacturer Mazda in the guise of the CX-3…
On The Road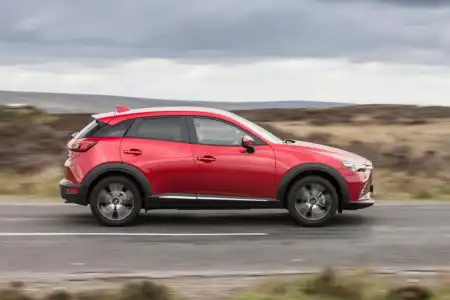 Performance
When it comes to engine choice, there is plenty of it, the Mazda CX-3 comes with one petrol unit with two power outputs, a lower powered version with an output of120PS and a high powered version of 150PS that comes with all-wheel drive and one diesel engine of 105PS that can be chosen with 2WD or AWD.
Recent Mazda vehicles have all been equipped with the new efficiency boosting SKYACTIV technology. This system reduces weight, improves fuel economy and performance. Unlike some rivals, Mazda is not aiming to downsize any time soon – it believes that its current set-up of having the right sized engine with the correct power output is the way forward for the brand.
Let's get down to business - The latest SKYACTIV 2.0-litre petrol engine fitted to the CX-3 has a power output of 120bhp and can complete the benchmark sprint in 9.0 seconds and it will go on to a top speed of 119mph and when mated to an auto 'box it will reach 62mph from a standing start in 9.9 seconds and has a top speed of 116mph. the higher powered 150PS petrol engine will get to 62mph from zero in 8.7 seconds and has a top speed of 124mph.
Fancy a derv powered plant? Well, there is only one unit on offer, it produces 105PS and will reach the benchmark sprint in 10.1 seconds and has a top speed of 110mph while the All-wheel-drive version with the same power is a tad slower and will get from zero to 62mph in 10.5 seconds while the version with the auto 'box is even slower and comes in at 11.7 seconds over the sprint.
Ride Handling
Normally you expect SUVs to be a bit wallowy, uninspiring and just a bit bland, however, there a big but, the Mazda CX-3 is a lot of fun. The super slick six-speed 'box is great fun and you can quick shift if you are driving enthusiastically. Accelerate hard and the petrol engine can sound a little gruff but for the majority of the time, the unit behaves, and propels the little Mazda along nicely. The CX-3 is extremely nimble and agile and is much better than say a VW Tiguan, which is quite a coup for the Japanese car. Based on the Mazda3 chassis, you can feel that it is well set-up, okay so it rides a little higher but by jove it is good fun in SUV terms. As you would expect the 2WD models are lighter but the AWD versions offer a little more traction in challenging conditions. A complaint of ours especially when it comes to SUVs is the steering, however, we were very impressed by the CX-3 – it has very good levels of feedback while the weighting is also very good. This is easily one of the best driving compact SUVs on the market. Mazda has made a corker.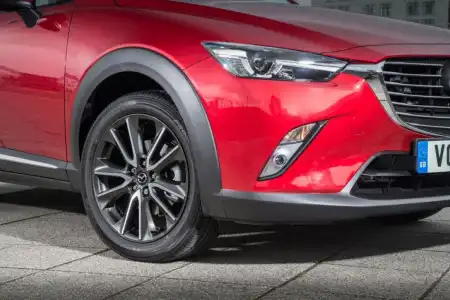 Styling
There is a little roar from the tyres and wind and the most audible noise is the engine but this is only really heard when pushed which is more than acceptable. The cabin is driver focused while the front seats are very comfy. There is plenty of adjustment and there is a good level of bolstering for your back – especially useful on long journeys.
Ride comfort is as the youth of today would say is 'Well-sorted' but that's not it, even though the chassis is top notch and built to suit enthusiastic drivers, there is ample comfort built-in – the suspension soaks up a lot of the lumps and bumps that litter our roads. It truly is a great all-round package.
In The Car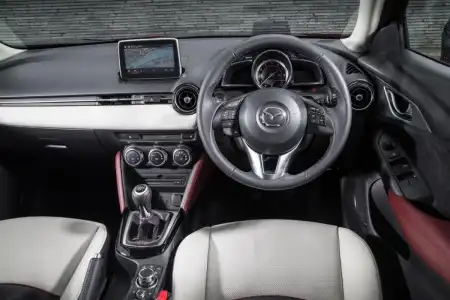 Behind the Wheel
On the inside, the Mazda CX-3 is quite a swish place to spend time in. There are flashes of chrome which certainly brighten up the dash. All Mazda CX-3 cars come with the MZD Connect infotainment and connectivity system including MP3 compatability, Bluetooth connectivity all housed in a seven-inch colour touchscreen.
Even on the standard car, you get tons of kit, which offsets the high starting price a tad. Choose the SE model and buyers receive heated, power-folding door mirrors, come home lights, body-coloured handles and a rear-roof spoiler, 16-inch alloys, an emergency tyre repair kit, halogen headlights and on the inside there is a leather-wrapped steering wheel, and a leather wrapped gear knob, trip computer, electric power steering, a sunglasses holder. One trim up from this SE Nav, adds satnav as one might expect. SE-L is the mid-level trim and boasts additional spec to the SE Nav, which includes heated front seats, automatic climate control while SEL Nav comes with all this plus the satnav.
The top of the range Sport Nav model adds a sportier interior including dark red soft touch with black leatherette inserts, a digital speedo display, a head-up display and a black soft touch meter hood, half leather seats with red piping and smart keyless entry.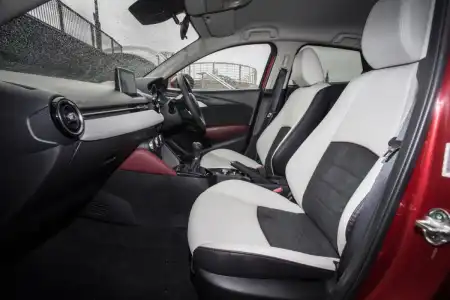 Space & Practicality
On the space and practicality front the Mazda CX-3 is actually quite good. It is slightly larger than Nissan's Juke, which also means it roomier on the inside. However, the CX-3 has a sloping roof almost like a coupe so those over six-foot may not have that much head-room in the rear, although leg-room is pretty decent. Passengers of average height and build have no worries. If you are carrying goods then you'll be pleased to know there is 350 litres of boot space with the seats in place, that's identical to the MINI Countryman. Fold the rear bench and the load space expands to 1,260 litres. Storing nik naks in the Mazda is easily done – the glovebox is of a decent size while the centre console houses a pair of cupholders and a small trinket tray although the door pockets are a little on the small side.
Ownership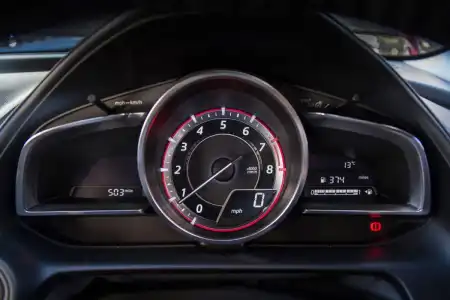 Running Costs
The Japanese maker has been using its SKYACTV technology to improve efficiency and keep weight down
The most cost-effective engine is 1.5-litre SKYACTV-D diesel model when mated to a six-speed manual gearbox. This version offers a claimed 70.6mpg and emits just 105g/km. If you opt for the All-Wheel Drive model then emissions will jump up to 123g/km of CO2 so you have been warned and if you add the automatic 'box to the AWD then emissions will rise again to 136g/km of CO2.
Unfortunately for petrol fans, this engine is not quite as clean as the diesel – the 118bhp two-wheel drive CX-3 emits 137g/km, which is quite high and worse than the equivalent Nissan Juke.
If the CX-3 has similar success to its larger sibling the CX-5 then expect residual values to fare well. Although it is packed with kit, the achilees heel on the Mazda could be the high starting price as the entry level CX-3 is around 3K more than the entry level Nissan Juke.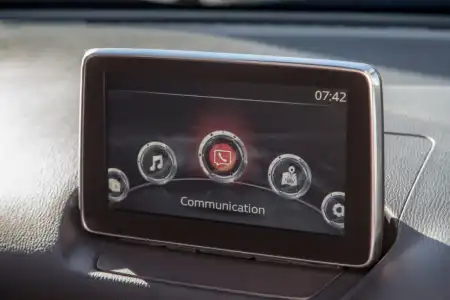 Quality & Reliability
Mazda is well-known for its good reliability record and the compact SUV feels well screwed together. Most of the components have been used previous to this as 80 per cent are shared with the latest iteration of the Mazda2 while the 2.0-litre petrol engine has already been available in the Mazda 3, 6 and CX-5 and has had a clean bill of health.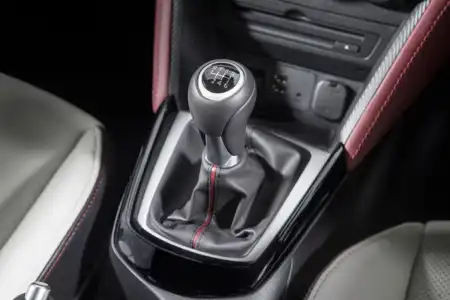 Safety & Security
Safety is a primary concern for the Japanese maker and has put a lot of effort into making the CX-3 a very safe car. As standard it comes with six airbags, stability control and tyre pressure monitoring. Move up to the SE-L trim and it benefits from the addition of lane departure warning and autonomous emergency braking. The top of the range Sport Nav grade adds a heads-up display, reversing camera (handy for parking in tight spaces) and LED headlamps. If you wanted added piece of mind, you could always opt for the all-wheel drive version as it gives added traction in adverse conditions.
More On This Car
Take one for a spin or order a brochure
Request a Mazda CX-3 brochure
Request a Mazda CX-3 test drive