Pros:
Plug-in hybrid is incredibly quiet in most circumstances

Looks fantastic

Impressive economy from all models
Cons:
Rear seats are cramped

No manual gearbox option

Overcomplicated instrument panel is distracting
More On This Car
Take one for a spin or order a brochure
Request a Peugeot 308 brochure
Request a Peugeot 308 test drive
Introduction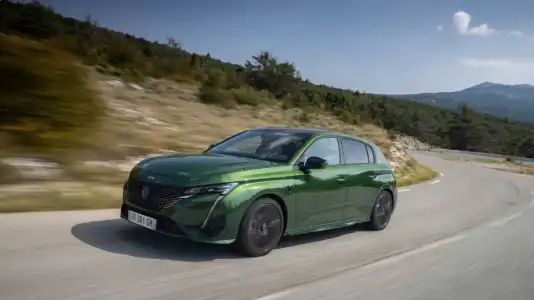 The outgoing 308 marked a shift in Peugeot design, but this new model takes that and turns it up to 11. Sharp lines, dramatic swathes, bold light patterns and a new shield-shaped badge draw the eye to the Peugeot 308, but it's got to do the job of being a family car if it's going to win over the public.
The French firm has thrown everything at it, with a high-tech interior, a completely new infotainment system, 3D digital instruments and a range of engines that includes diesel, petrol and plug-in hybrid options.
The inevitable Peugeot Sport Engineered model will add a sporting edge, too. For now, though, there's a five-door hatchback and elongated estate to choose from.
On The Road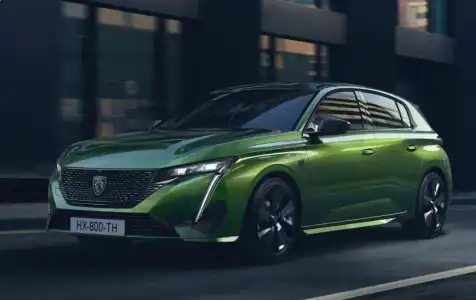 Performance
The plug-in hybrid powertrain in this GT model combines a 1.6-litre petrol engine with a 110hp electric motor. The net result is peak power of 180hp and a torque figure of 360Nm. The instant poke available from the electric motor helps slingshot the 308 to 62mph from a standstill in 7.6 seconds.
Mid-range shove is impressive too, the 308 dropping down a couple of ratios in its eight-speed automatic gearbox before launching itself forwards. There's little delay in the gearbox, which is an improvement over some other Peugeot models.
When you need it, the petrol engine will kick in and provide even more power, especially at higher speeds. Under normal circumstances, it'll barely operate, with the 308 prioritising all-electric driving. The computers work out what's needed at any moment though, seamlessly switching between electric, petrol or hybrid power.
A more powerful plug-in hybrid option with 225hp is available but there's little appreciable difference in performance. Still, there's also little appreciable difference in price, so it might make sense for you.
Those not needing the extra weight and complexity of the plug-in hybrid (or the higher price tag) can stick with a 130hp petrol-powered model. This takes two or three seconds more to hit 62mph, but never feels underpowered. It's no rocket ship, certainly, but there's enough in reserve to keep up with all but the most enthusiastic of traffic.
A diesel model will appeal to those covering long distances, as it's pleasingly frugal, but it's a frustrating drive on anything beyond a flat open road. It's great on a motorway but gets tiresome elsewhere.
All models get the same eight-speed automatic gearbox. There's no manual option at all.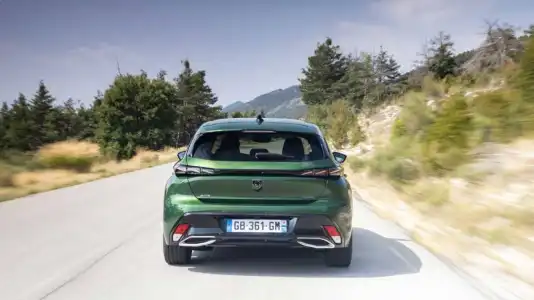 Ride Handling
There's a lot of weight behind the plug-in hybrid, thanks mostly to the addition of an electric motor and a 12.4kWh battery pack. The lightest petrol model weighs 345kg less than the portliest plug-in.
That makes the petrol-powered 308 a more engaging drive, with less body roll and a more finely balanced chassis. The front end dives into the corners with more eagerness, providing more confidence. The plug-in hybrid is by no means bad, ut the extra mass shows itself as the tyres give way earlier and the nose takes a little longer to react to inputs.
Truth be told, they're both good but stop short of being as engaging as more sportily tuned rivals.
However, few will match the ride quality. Even on the 18-inch wheels and rubber-band tyres of the test model, the 308 smoothed potholes in town with ease and made the motorway sections of southern France a pleasure. Ok, French roads tend to be better than the UK's, but we sought out rougher sections and there was nothing that would cause us to be concerned about the car once it arrives on these shores.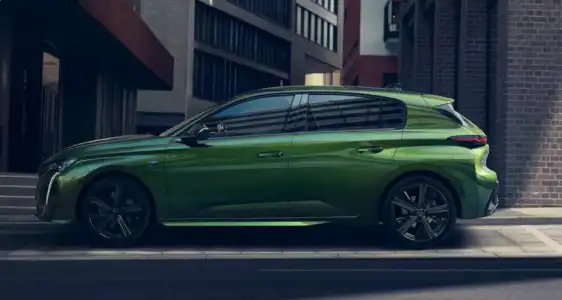 Styling
This is definitely a tale of two cars. The petrol-powered 308 is smooth and refined for the most part, but the three-cylinder engine gets raucous and rumbly under anything beyond gentle acceleration. When cruising at motorway speeds, there's a grumble from the front of the car that makes its way through to the cabin, although it's not intrusive. With just 1340hp to pull the car along, an incline on the motorway means a drop of a gear or two, and the noise returns to break up the peace, though. The same can be said for the diesel model, with little difference beyond a different engine note.
In contrast, the plug-in hybrid is, for the most part, a pinnacle of refinement. As you would expect, when running under pure-electric power it's near-silent and continues to offer a smooth and isolated ride right up to motorway speeds. With a 12.4kWh battery pack, you can do that for around 35 miles (official figures aren't ready yet) but, even once the battery is depleted, the car will still operate as a regular hybrid.
The 1.6-litre engine, relatively quiet when being helped by the electric motor, turns into a vocal monster that shatters the calm when it's called upon in anger. Still, that'll only ever be an issue during overtaking moves or similar circumstances, so hopefully won't be a significant issue.
In The Car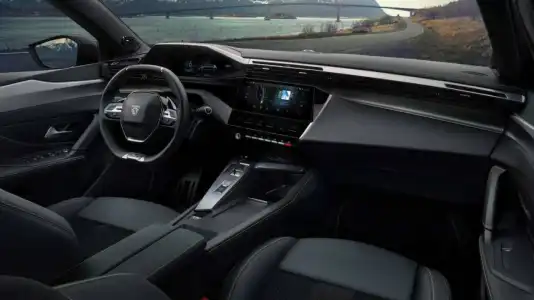 Behind the Wheel
You're not going to mistake the cabin of the 308 for anything else. The angular dashboard, full of straight lines and contrasting surfaces sweeps from side to side. It's attention-grabbing and impressive, and mostly works well.
Peugeot is persevering with its so-called i-cockpit, which places the instrument panel in a small binnacle above a tiny steering wheel. On a personal level, I've always got on with this but I know others who haven't. This time it's not quite so well resolved as previous versions, as there was no position I could find where the whole panel was visible.
The panel itself is full of bright, sharp, colourful graphics. It looks incredible, with multiple layers on GT models giving a 3D effect, but it's incredibly difficult to use. The overwhelming amount of information provided in a small space, with little regard to clarity, makes it impossible to assimilate the information rapidly while driving.
There's a new 10-inch infotainment system, behind a smartphone-esque glossy touchscreen. It's a huge step forward from Peugeot's old systems, although still has quite a confusing menu system. Happily, on Allure trim and above (so the second rung up the ladder) you can programme a row of six panels with shortcuts to any part of the system. This genius facility means you'll have instant access to any feature you use frequently with just one finger tap.
It's a slow system though, with a few glitches. Still, there's plenty of time for Peugeot to resolve those issues before it hits the UK, and every model gets Android Auto and Apple CarPlay.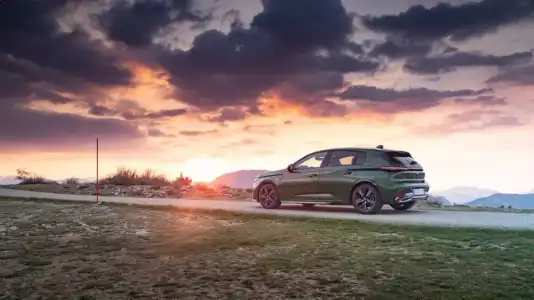 Space & Practicality
There's plenty of room in the front of the 308, with some excellent seats supporting you as you lounge in comfort. The steering wheel and seats offer a wide range of adjustments, so you should have no problem getting comfortable.
Large door bins, centre cubby holes, cupholders and a flat smartphone-sized recess (with a wireless charging pad on some models) means you should have plenty of storage for your bits and pieces. The glovebox is a good size, but expect that to shrink massively on right-hand drive cars for the UK, as it does on all other cars from the brand.
The rear seats are less impressive. The knee room is tight, and headroom is less than generous, making the 308 a poorer choice for families than, say, a Skoda Octavia, Kia Ceed, Ford Focus or SEAT Leon.
The rear seats split and fold to reveal a boot that's rather more impressive. It can't get close to the Skoda Octavia's 600-litre boot, but the 412 litres it does provide is larger than the rest of the rivals listed above.
A longer wheelbase estate car will be available, with 608 litres of capacity, mostly thanks to it being 27cm longer than the hatchback.
Ownership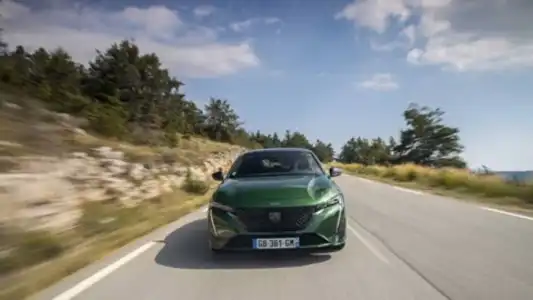 Running Costs
Early price lists suggest that the 308 will be broadly similar to its rivals, as far as sticker prices go. Discounts, depreciation and so on will see lease rates and finance costs vary, and any figures out now may change by the time the car arrives in the UK.
Once purchased, it'll be the plug-in hybrid models that set you back the least in running costs. Official economy figures of up to 281mpg aren't to be sniffed at, although your results will depend on your driving patterns. Despite some rather binary driving while testing the plug-in hybrid GT, we returned 122.8mpg.
In contrast, the diesel managed 50.4mpg and the petrol a still pleasing 38.7mpg, against official figures of up to 65.4 and 52.1mpg respectively. Those official figures will be for the most economical versions, so expect less from a large-wheeled, well equipped GT model.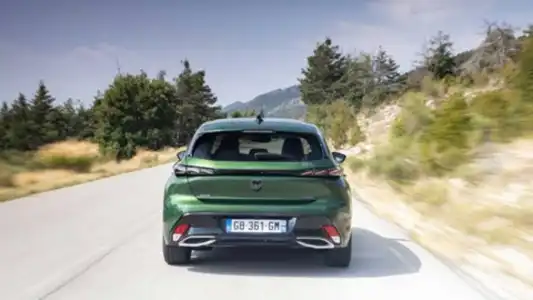 Quality & Reliability
Peugeot provides a three-year warranty for its cars,although it's limited to just 60,000 miles. That's some way short of the likes of Toyota (up to 10 years and 100,000 miles) or Kia (seven years and 100,000 miles) but competitive against many rivals. For hybrid models, it ups the cover for the battery pack to eight years and 100,000 miles.
There shouldn't be too many unusual problems, as the basis of the car is the tried and tested EMP2 platform that's shared across Citroen, DS and Vauxhall as well as Peugeot. Likewise, the engines are in use across countless different cars, so any niggles will have been ironed out.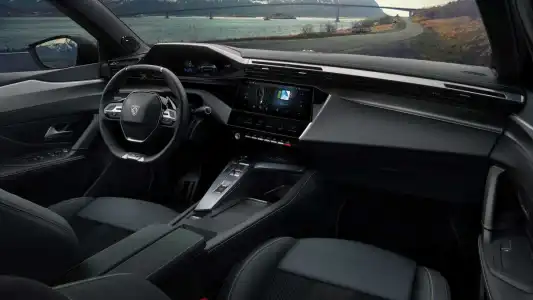 Safety & Security
Every Peugeot 308 gets a smattering of safety tech, including automatic emergency braking, lane-keeping assist, driver fatigue monitoring, traffic sign recognition, rear parking sensors and programmable cruises control and speed limiter. However, you need to move up the grades for what many consider to be essential.
Allure models receive automatic emergency braking that works at night, detecting both pedestrians and cyclists as well as vehicles, a reversing camera and parking sensors at both ends of the car.
The sweet spot in the range, Allure Premium, adds rear cross-traffic alert, adaptive cruise control and blind-spot warnings.
All models receive a Thatcham Category 1 approved alarm system.
Summary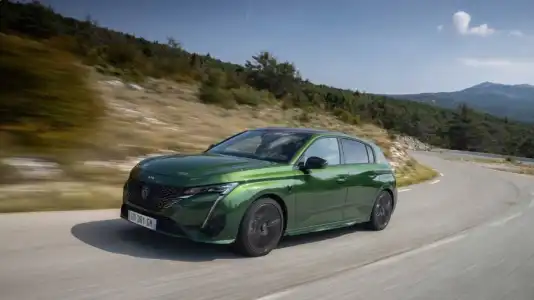 The Peugeot 308 offers impressive style matched by a refined drive and comfortable ride. It's also frugal, especially in plug-in hybrid flavour, but the rear seats are cramped and there are more entertaining cars to drive.
More On This Car
Take one for a spin or order a brochure
Request a Peugeot 308 brochure
Request a Peugeot 308 test drive