Pros:
Hushed to drive

Smooth and comfortable

Quick from a standstill in that electric vehicle way
Cons:
Won't be up-to-the-minute for long

Enjoyable, sure, but not thrilling

Competitors might be better value
More On This Car
Take one for a spin or order a brochure
Request a Renault Zoe brochure
Request a Renault Zoe test drive
Introduction
The updated Renault Zoe is recharged and refreshed for 2020 and even comes with an attractive price-tag. It is likely therefore to give punters the option of a reasonably-sized electric hatch in the Renault range while an all-new electronic flagship offering is being thought up. But that doesn't mean you should rule the model out as a worthwhile option now. Knowing Renault as we do, this should be a vehicle that now takes the fight to the Mini Electric and Peugeot e-208 - and could even do a better job than both.
On The Road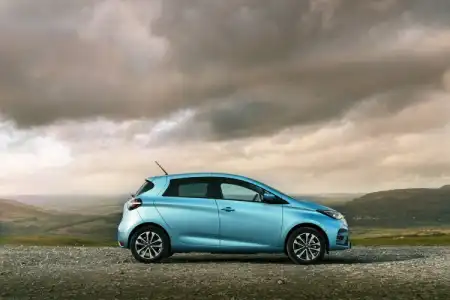 Performance
There are just a handful of components in the drivetrain of the Renault Zoe, so we're not going to get into specifics here. There are very few mechanical elements in an electric vehicle, and the simplicity is a likeable aspect. In terms of performance, what most drivers will worry about is the range and how frequently you need to charge the car. But electric hatchbacks like the Zoe do have this pleasing spurt of acceleration available from little or no speed whatsoever. This is because electrical clout is triggered instantly. There's fundamentally no delay between pushing down on the pedal and power being sent to the ground – and there's also no torque accumulation. It makes these cars a bit of a laugh to drive, and they shock quite a few people with their knack for bursting off their marks.
Yes, we know - you want to get to the range bit of this review. Well, it's officially recorded as up to 242-miles, but if you can get, say, 233-miles on a single charge in the summer and 150 miles in the battery-draining colder months, then you'll be doing alright out of it.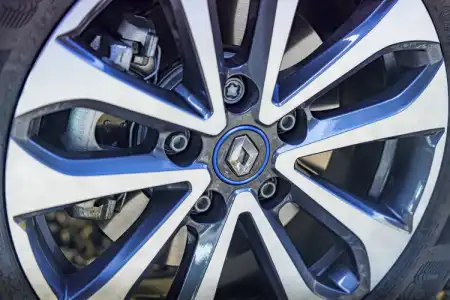 Ride Handling
Here's where the fact that this car is a Renault pays off. It's comfy, muted (partly, thanks to a near-zero powertrain blare) and rides with the stability and composure of a Clio. The Zoe feels remarkably grown-up and refined in the way it drives and handles; comparable in a sense to the way the Mini Electric does, but over a more extensive footprint. And along with the interior materials and its light steering, the French hatchback feels like a quality machine.
Batteries do give extra weight that you can sense in bends when motoring with a little more enthusiasm, but that isn't what this vehicle is about. While it's still enjoyable enough to drive, it's going to be manoeuvred more calmly in a less than calm environment – namely towns and cities. In these locations, you can't push lady luck. So, the fact that this Zoe behaves with composure and finesse at low speeds, or in humdrum scenarios, makes it appealing as a daily car.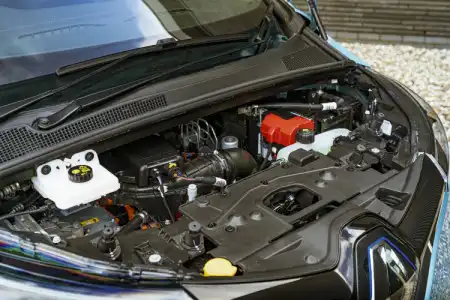 Styling
Well, being a Renault, it isn't going to be allowed to be crude. There are no bombshells here, and if you're acquainted with the Zoe - one of the best compact electric cars on the market – then you sort of know what you're letting yourself in for. Inside the French ride, an attractive interior finish compliments good insulation. What's more, the lack of sound from an internal combustion engine helps make this car feel even more sophisticated than a 'regular' Renault hatchback.
In a world where huge sums of money are spent on cutting the noise levels caused by combustion units, the advantages of a pure electric power source smack you right around the chops when you drive the new Zoe. It makes for a soothing drive, so long as you don't need to take a trip that exceeds the limits of its range, of course.
In The Car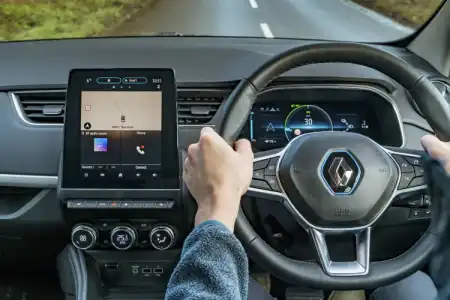 Behind the Wheel
It is more of the same good taste behind the wheel of the new Zoe. Everything is laid out where you'd hope to find it, and the switchgear is all effortless to use. It feels assuring and comfy, and you never get any feelings of exasperation from the ergonomics - something that's not always the case in modern motors. Despite the developments in technology and engineering, sometimes automotive designers still forget to place things where they should be – even in hatchbacks many more times as costly as this latest Zoe.
Everything you touch in the cabin – excluding some hard to reach areas – feels pleasing and made with a specific standard in mind.
The GT Line R135 Z.E. 50 grade, driven for this review, comes with a height and reach adjustable steering wheel, a 10-inch customisable driver's display, a synthetic leather steering wheel and semi-recycled, partially man-made leather seats. There's also an E-shifter gear selector with B-mode for increased regenerative braking and one-pedal driving. This will satisfy most customers' needs.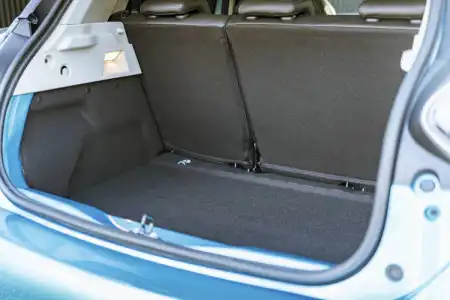 Space & Practicality
For the most part, there's no drawback in terms of room and practicality for selecting this electric hatchback over a standard Renault hatch. There's ample space for the driver and front-seat passenger – and enough room for a couple in the back. At a push, you could even get three kids in the rear. Headroom is less generous than in a Peugeot e-208, but knee room is better than you'll find in the Mini Electric. The new Zoe has a remarkably generous boot, as well. It is deep and trounces the Mini Electric's, and just about outdoes the e-208's load area.
Therefore, if you need to carry around more than the Zoe can transport, you probably need a bigger car. This is a vehicle made for people who don't necessarily want to haul around large loads, but who sometimes need to move family members and friends about, as well as have enough room for the weekly supermarket shop. It is not huge, sure, but it's got more than enough cabin and cargo capacity to live with effortlessly in most daily situations.
Ownership
Running Costs
No longer will you need to splash out a fistful of notes when you fill up your motor with fuel. Of course, the drawback to this is that it takes a lot longer to fill up than a diesel or petrol car. You could find yourself spending hours filling up this hatchback rather than a couple of minutes – though some chargers can now send the battery to 80 per cent charge from nothing in just 45-minutes.
Price-wise, the Zoe is cheaper to buy than the Mini Electric, Peugeot's e-208 and even the Nissan Leaf, but it's marginally dearer than the bigger, albeit less well-made, MG ZS EV. A £3000 government grant can also be claimed when purchasing an electric vehicle, irrespective of its spec. Servicing can be carried out at all Renault dealerships, meaning that you shouldn't have to go very far out of your way to get it maintained, either. This is handy, considering the car's electric range – especially in winter!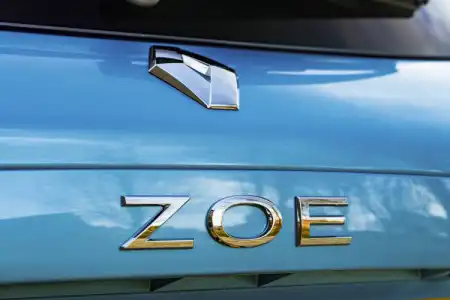 Quality & Reliability
There have been some concerns regarding Renault's dependability in car reliability surveys, although, the majority of the French firm's products have a good enough reputation for quality. What's more, you get a five-year warranty with all Renaults. Of course, the benefit of the Zoe is that with so few moving parts, you're unlikely to do battle with failures in the powertrain as often as you would in a conventionally powered vehicle - with its larger number of moving (and consequently, wearing) components. Question marks over the long-term trustworthiness of batteries remain, but electrically powered cars are more likely to be changed like appliances than internal combustion-engined autos. You should chill out though anyway because the Zoe's battery is covered by a separate eight-year/100,000-mile warranty.As with any new electric car, I'd be surprised if anyone kept this car longer than the lease deal or finance agreement. This is only because technology in this area is now moving so rapidly that they'll most likely want to upgrade.
Safety & Security
You might be a little worried when it comes down to the safety element of this car. You see, the Euro NCAP crash-test gurus haven't assessed 2020's Zoe yet. That said, you get a selection of airbags to protect you in the event of a collision, as well as technical aids. Ultimately, if you're anxious about the safety features in the new Zoe, you probably shouldn't be driving at all. As for security, all cars retailed in the E.U. must be equipped with an immobiliser, so it shouldn't be possible to drive the electrified French hatchback away without a key.
More On This Car
Take one for a spin or order a brochure
Request a Renault Zoe brochure
Request a Renault Zoe test drive