Pros:
Longer range than rivals

Nice interior

Fairly large boot
Cons:
Rear headroom is limited

Still quite expensive

Awful safety rating
Secure your test drive today
Request a Renault Zoe test drive
Introduction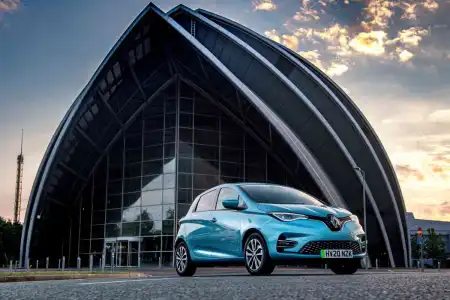 The Renault Zoe is a small, all-electric car designed to be offered on a budget.
We use the word 'budget' lightly given the price, but then all-electric vehicles are more expensive than their combustion-engine counterparts, so the term must be seen in context.
Nevertheless, the Zoe's intended to undercut rivals, which it mostly does.
Although it's one of the oldest electric cars on the market, it's been revised and refined over time to keep up with the competition.
It's been the best-selling electric car in Europe, but, given its age, it will be discontinued by Renault in the next year or so.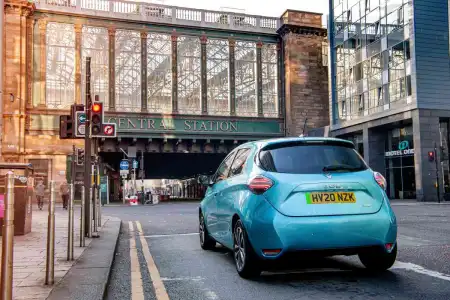 The Zoe looks like your typical Renault, so, unlike some electric cars, you'd struggle to notice at a glance that this is any different.
The front is stylish, with a sizeable Renault badge in the middle and a prominent indentation that runs along to the headlights. The lower grille has more indentations on either side, providing room for two air intakes.
The side features sporty creases running along the top of the doors and through the door handles, while a modest side skirt creates an athletic stance.
Around the back, it's more bulbous, with large, rounded bumpers and diamond-shaped headlights.
The interior is smart. It's not the height of luxury but looks better than challengers like the Nissan Leaf.
The large 9.3-inch tablet sits on the dashboard, and even the cloth upholstery – grey and covered with black dots – is used well and makes it looks nice. But, of course, you'd never know that much of it is made from recycled materials.
The steering wheel, gear lever, various dials, and air vents are given a lick of silver, which adds to the quality feel, although there are plenty of cheaper plastics. Thankfully, it's such an excellent design that you won't notice or mind them.
The infotainment screen is responsive, intuitive, and has clear graphics, with shortcut buttons along the bottom.
You also get a digital instrument arrangement in place of the analogue dials, which displays useful information, including stats on your economy and remaining charge, plus SatNav directions.
One neat feature is you can press a button to display a picture of a leaf, the size of which depends on how economically you're driving.
On The Road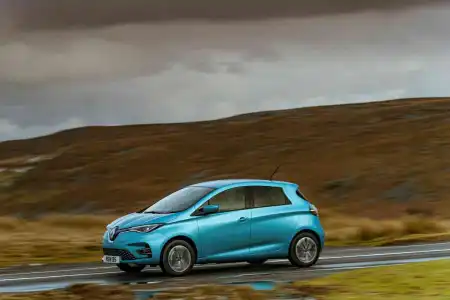 Handling & Performance
The Zoe accelerates well, and, like most electric cars, the power delivery comes as soon as you put your foot on the accelerator.
The French EV gets up to 62mph briskly, which is cool for a small hatchback.
Other opponents are more powerful, but it's unlikely to be much of an issue in a car like this.
Regarding ride comfort, the Zoe performs well, ironing out flaws in the road, and even potholes don't cause the car to thump as you might expect. It sits in the middle between firmness and absorption. Rivals such as the Volkswagen ID.3 are better, while the Fiat 500 has a firmer setup.
In terms of handling, its small size makes it nimble and agile around corners, so it turns into bends with minimal fuss and grips the blacktop well.
The steering is arguably too light for handling enthusiasts, but it has decent precision and enough feedback to satisfy most.
Body lean is reasonably well controlled but inferior to most rivals of similar stature, such as the Fiat 500. But it's okay for darting between traffic on a ring road and taking on the twisty backstreets in town.
One annoying feature is the regenerative braking system, which recovers energy under braking to put a bit of charge back into the batteries. Many early electric cars suffered from inconsistencies here with grasping brakes, making it challenging to judge stopping distances.
The system is adjustable, so you can minimise the effect. But despite updates to the Zoe in the last decade, the regenerative braking is one thing that hasn't improved much.
Road and wind noise is okay, although some competitors do a better job of soundproofing the cabin. It's more noticeable anyway, as no engine noise accompanies it.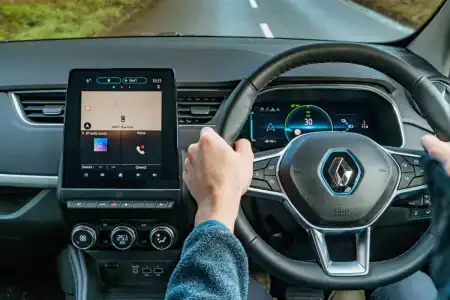 Space & Practicality
For a small hatchback, the Zoe's driving position is relatively high. Unfortunately, the driver's seat can't be lowered, either, which means the tallest of drivers might struggle.
Front visibility is good, and the pillars aren't thick, so looking diagonally or to the side at road junctions isn't a problem. The rear posts are much broader, though, but the reversing camera helps with this.
Despite the rear not having conventional door handles on the outside, it is, in fact, a five-door car. So, there's no need to climb over the front seats to get in and out.
In the back, the roofline dips a bit, which limits the rear headroom. A couple of adults will fit, though not comfortably, while taller passengers will face further challenges in the legroom department. There's still more rear seat space than in some rivals' cars, though.
There's not much storage space inside, although a tray beneath the infotainment screen can accommodate a phone, plus there's room for two cupholders.
The Zoe's boot is on the generous side, and more extensive than the Fiat 500's 338 litres, expanding to 1,225 litres with the rear seats down, which fold away in a 60:40 split.
The boot lip is large, though, so lifting heavier and bulkier items in is a bit difficult. Plus, you're left with a prominent ridge in the floor after folding down the rear seats, which is inconvenient if you try to slide in longer items.
You'll lose a bit of boot space if you choose to have the Bose premium sound system, which is an optional extra.

Ownership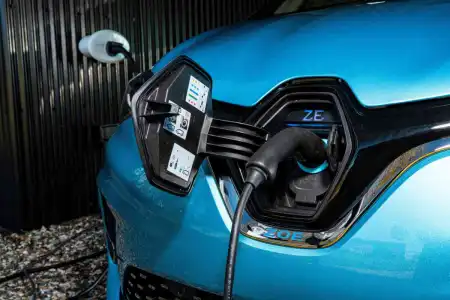 Running Costs
The Renault Zoe has a claimed range of up to 245 miles, although real-world testing suggests lower than this, especially in colder weather.
Drive carefully on a reasonably warm day, and you might get to 230 miles. But a range of under 200 miles is not unexpected, especially given the average British temperature.
Nevertheless, the range is superior to many rivals, although Kia and Volkswagen offer cars that beat it.
It comes with a 52kWh battery, which takes three hours to charge up using a 22kW charger, which is the speed the Zoe is optimised for. However, you can pay extra to enable 50kW charging which will get you from 0-80% in just over an hour.
A 7kW home wall box charger is included with the car; a rare treat not offered by many manufacturers. This will take just under ten hours to get from 0-100%.
Road tax is free, and the zero emissions make it a good contender as a company car, thanks to the low Benefit-in-kind (BIK) tax.
In terms of reliability, Renault is about average, but you do at least get a nice five-year warranty, limited to 100,000 miles. Even better, the mileage limit doesn't apply for the first 24 months.
Three years of roadside assistance is part of the deal, too, while the battery gets its own eight-year, 100,000-mile guarantee.

Verdict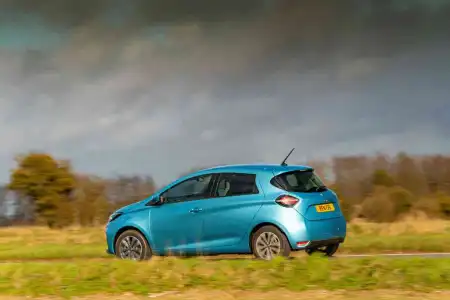 The Renault Zoe is relatively practical, family-friendly, reasonably agile, performs well on the road, and has a nice interior.
However, even though a Volkswagen ID.3 is slightly more expensive at entry-level, it offers more, so it may be worth the extra investment.
Nevertheless, the Zoe has a practical range, is likeable and, as electric cars go, reasonably good value for money.
We can't overlook the zero-star safety rating, though. Yes, it must be taken in context: it wouldn't be for sale if it were unsafe.
But such a score is inconceivable. The ID.3 got five stars, which probably tells you all you need to know.

Secure your test drive today
Request a Renault Zoe test drive