From £20,695
Pros:
Excellent value for money

Healthy engine choice

High quality interior
Cons:
A lot of optional safety kit
Buy and save on quality approved and used cars
Introduction
Skoda's Superb has won a plethora of awards over the last few years, even making it through to the final of World Car of the Year. High praise for an executive hatch starting at just over £20,000.
We took one for a spin to see what all the fuss is about, and how those safety and tech additions compliment a Superb vehicle.
On The Road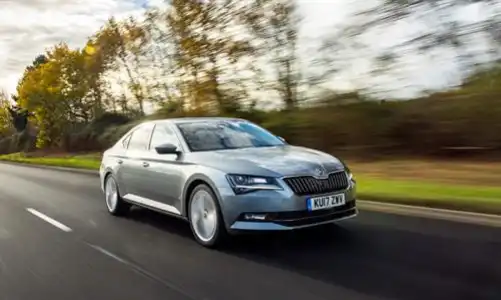 Performance
Fitted with a 1.4-litre turbocharged engine, this Superb makes 148 bhp and gives it a pretty nippy 0-62 time of just 8.8 seconds. This is middle of the road when it comes to performance in the award-winning Skoda, at the top of the range there's a fire-breathing 2.0 TSI with 276 bhp and all-wheel drive. Whilst at the lower end of the spectrum, you'll find a lowly 123 bhp detuned 1.4 TSI.
Company car drivers aren't left out, the full range of VW Audi Group diesels are available, from a 1.6 TDI engine right up to the 4x4 equipped 187 bhp 2.0-litre lump.
All but the four-wheel drive options can be had with either a six-speed manual gearbox or the super slick DSG, as fitted to our car.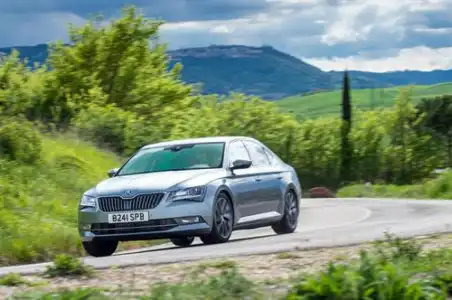 Ride Handling
One of the trick options our Superb had fitted was the Dynamic Chassis control. At £760 it may be a little steep and deemed non-essential, but it certainly has an effect. Changing to 'Comfort' for long sections of motorway cruising and the large Skoda soaks up all the undulations, pockmarks and expansion gaps.
Switch into 'Sport' just as you turn off into the countryside and you'll want to attack the B roads as if you're in a hot hatch. Everything stiffens up nicely, the brakes are sharper and the steering has a heightened sense of urgency about it.
The system may not be as fancy as the magnetic dampers in JLR's stable, but it's well worth having if you enjoy driving.
18-inch alloys meant you wouldn't want to leave it in 'Sport' all the time, especially with the family in tow as it can become a little harsh.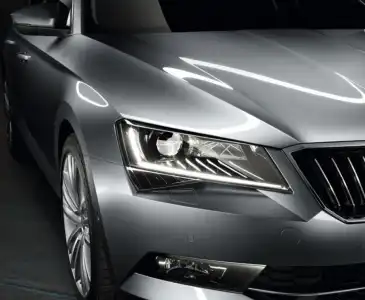 Styling
Even though there have only been mild tweaks to the Superb's interior it still holds its own when compared to the competition.
Greenline trim is the more 'eco' version, emitting less than 100g/km of CO2 with lowered ride height and aerodynamic alloys fitted. Whereas the Sportline totally de-chromes the Superb, turning it into a rather tasty looking saloon fully equipped with sports seats.
On the road, there's a slight amount of wind noise around the mirrors, whilst larger alloys mean less rubber, so road noise will be more noticeable.
If you opt for a manual gearbox then the six-speed is one of the slickest in the market. Auto lovers are equally well looked after with the silky smooth DSG, once up to speed, it has no trouble finding the right cog for the conditions.
In The Car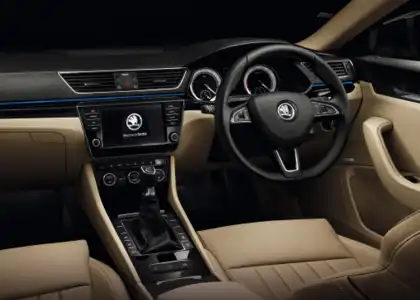 Behind the Wheel
Inside the Superb feels suitably premium, there's more than a hint of Audi about it in fact.
Since the middle of 2017, the Columbus sat nav system (standard on SE L and above) has been upgraded with a larger 9.2-inch touchscreen, it's dubbed 'glass design' and ditches the button clad infotainment system found in lesser models. It's a much cleaner, smarter affair than the old one, it also works with Smartlink+ Skoda's phone app that allows you to set the navigation from your phone as well as playing music, reading text messages etc.
Interior trim can be specced in brown, black or beige leather, as well as a mix of leather and Alcantara. The standard is black cloth if you're in the poverty spec S or SE models.
For music lovers, an optional Canton stereo packs 610 watts through 10 speakers, with a further 200 watt sub in the boot. It's an extra £610 on anything but range topping L&K.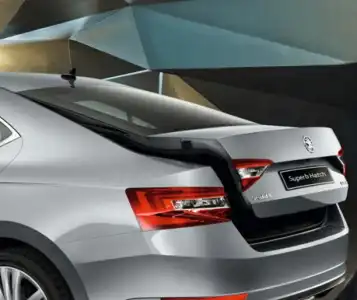 Space & Practicality
Rear seat legroom is massive, a six footer could sit comfortably over a long journey. There's a nice LCD clock in the back of the front seat armrest, and a temperature display depending if the air con is on or not.
You do feel as though there should be heating controls for the rear seat occupants though. Again, it's an optional extra only becoming standard on the range topper.
Boot space measures in at 625 litres. Luggage for a weekend away looks lost in the back of the Superb, in fact, you get 165 litres more than in a Rolls Royce Phantom.
Ownership
Running Costs
Affordability is the name of the game with the Superb, with the range starting at £20,695 there's a price increase of roughly £2,000 between each model.
There are six trims in total; S, SE, SE L, Sportline, L&K, not forgetting the one aimed squarely at company car buyers, the SE Technology.
SE Technology offers an 8 inch sat nav, parking sensors front and back as well as Alcantara & leather upholstery. All for £23,245 with a BIK of 22% on the 1.4 petrol with a manual 'box.
As with all Skoda's these days, the options list is long and granular. You'll probably want to opt for things like Blind Spot Detection (£365), Rear Parking Camera (£355), Heated Windscreen (£305) and Heated Front Seats for those chilly mornings (£255). Figure all that in and you'll need to add an extra £1,280 to a midline trim Superb.
No cost paint options are Candy White, and Energy Blue, everything else is a £575 option, or £900 if you fancy Velvet Red Metallic.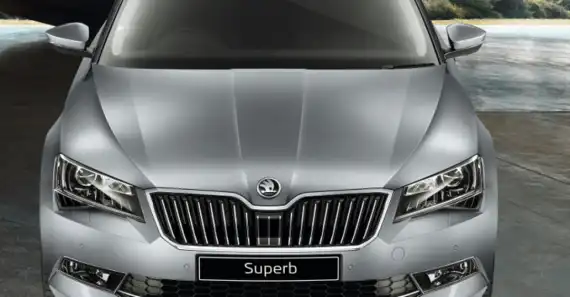 Quality & Reliability
As with Audi, Skoda has completely changed their image over the years, now being seen as a beacon of reliability. In fact, The Telegraph placed Skoda at the top of their dependability table in 2016 and in 2017. Skoda's suffered just 66 problems per 100 cars.
The Superb is well built, with Audi switchgear littering the interior so you should be fine for the long term.
All Skoda's come with a three year 60,000 mile warranty as standard. This can be extended to 5 years and 100,000 miles for £630, or 4 years and 80,000 miles for just £300.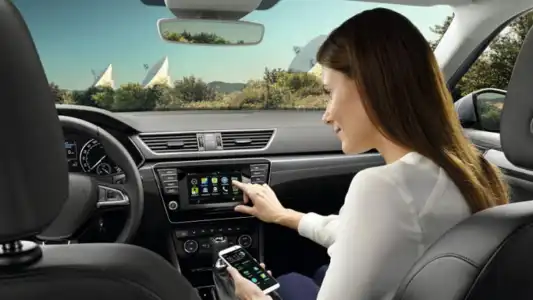 Safety & Security
Skoda have also recently added Care Connect, which is standard on all models. It's most important feature is the automatic emergency call system. It's activated after an accident if the restraint system has been triggered.
The system sets up a voice and data link to an emergency call centre transmitting your exact location.
It can also connect with your smartphone to tell you the vehicles status, if the doors are locked, windows closed etc.
Another addition is the Park Distance Control. Not only does this tell you how far away from others you need to park to minimise car parking dents, but it will also brake the car to a stop if you miss something behind you or in front.
Rear side airbags are optional on all models, these are built into the edges of the rear seats and are a modest £290.
Seven airbags are fitted as standard, including curtain and a driver knee airbag.
Buy and save on quality approved and used cars