From £34,895
Pros:
Loads of safety kit

Comfortable for driver and passengers alike

Very economical
Cons:
Only a 4 seater

Can't have both solar panel and leather

Small boot
More On This Car
Take one for a spin or order a brochure
Request a Toyota Prius brochure
Request a Toyota Prius test drive
Introduction
The one car synonymous with futurism, environmentalism and economy is the Toyota Prius. A car which has now been around for 20 years, believe it or not, and is available in its greatest ever form. A whole new platform, exterior and raft of technology, combine for the 8th addition to the Toyota Hybrid fleet.
Toyota are really leading the pack in terms of hybrid technology, with over 10million hybrid sales worldwide and 1 million in Europe. 32% of Toyota and Lexus sales in 2016 were hybrid models - It's a competitive market, is this new Prius up to the task?
On The Road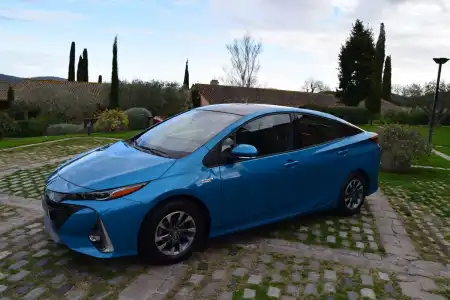 Performance
Toyota won't mind us saying that the Prius is far from quick. Top speed is just 101mph and the 0-60mph run takes 11.1 seconds - but those are two completely irrelevant stats. Don't buy a Prius if you want to blast down the Autobahn or go to the drag strip. Do, however, buy a Prius if you're looking for a dynamic eco-warrior which is still rewarding to drive with some enthusiasm on B-Roads and is certainly not as slow as many 1.0litre city-hatches. It's not quick, but it's not off the pace of non-hybrid competitors either.
The Prius has an all-electric range of 39 miles, which is modest, but impressively the car can remain an EV up until 84mph - which is excellent. When in EV mode the car is very quick to respond to throttle inputs but isn't jerky like some other EVs - such as the Nissan Leaf.
Torque delivery is now spread evenly throughout the rev range, meaning the gearbox isn't switching up and down unnecessarily, allowing a much more linear power delivery - put your foot down and there's no lag what so ever as the Prius starts to pick up speed.
The Prius also benefits from a new 'Toyota New Global Architecture' platform which is said to provide greater rigidity, improved handling precision and an all-important lower centre of gravity. These are often buzzwords thrown about by manufacturers launching a new car, but this new Prius does certainly feel endlessly more capable and solid when being thrown around twisty bends. More on this in the ride & handling section...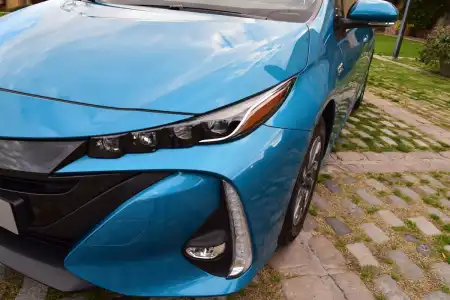 Ride Handling
As mentioned, this new platform does transform the Prius into a car which is still encouraging and rewarding to drive, albeit somewhat slow out the blocks. Carrying pace through the corners doesn't unsettle the Prius - although the tyres do tend to get a little upset and let out a minor shriek when maybe pushed a bit too hard.
On the motorway, the Prius is at one with the road. Making steady progress is no struggle at all for the Prius, which is perfectly comfortable at 70mph - it's (probably) absolutely fine at 80mph too, but we tested the car on public roads and those sorts of ludicrous speeds would be illegal.
The handling is sharp enough and you don't really notice you're driving a car weighing 1,855 kilograms. This is helped by the smaller steering wheel which is predictable and intuitive to operate.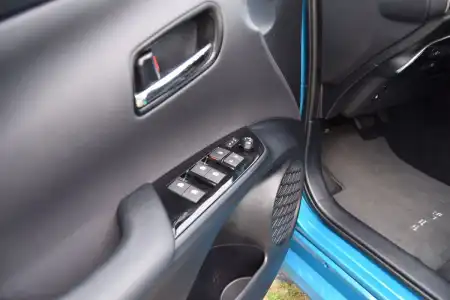 Styling
While in electric mode, at low speeds, there is very little to moan about in terms of road noise and nothing to moan about in terms of engine noise, obviously. Put your foot down and the 1.8 petrol unit kicks in smoothly with a seamless transmission. The petrol engine is not quite so refined though, and combined with the CVT gearbox, the Prius makes a real grumble which isn't really matched by improved performance.
Elsewhere, the tyres keep road noise low, wind noise only picks up the wrong side of the speed limit and all buttons are nice to touch. There's nothing huge to worry about in terms of refinement with this new Prius...
In The Car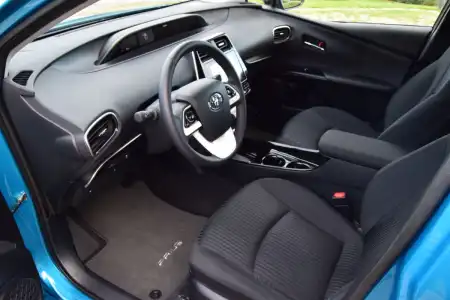 Behind the Wheel
The interior of the Prius has really moved forward with this latest generation. We've all stepped into an uber to be greeted by a stained, grey cloth interior and a somewhat featureless cabin. Now though, the piano black dashboard inserts mask what, in reality, is a lightweight but cheap-feeling plastic nicely. The contrasting white fascia on the lower buttons and the steering wheel are also nice touches. Both of these are no-cost options.
If you're in-market, we'd definitely recommend going for the Business Excel edition with the full leather interior. Ok, leather might not be the most environmentally moral option, but the cloth upholstery really isn't up to standard and the leather steering wheel is standard on both spec levels anyway.
In the Excel edition you also get a 10 speaker JBL sound system which is a notable upgrade on the standard 6-speaker system.
I should say that the touch screen display does take a bit of getting used to and changing the volume can often involve a bit of thumb-flattening prodding at an un-damped 4.2 inch screen. Best to use the wheel mounted controls as much as possible.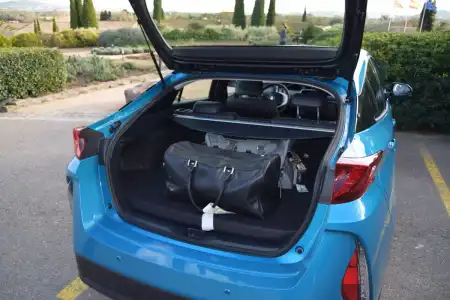 Space & Practicality
Interestingly, Toyota have decided to ditch the middle seat in the rear for the PHV Prius to make room for a bigger battery. It's a bold move, considering the overwhelming majority of private hire cars these days come in some form of a Prius. Toyota insisted that this is ok, though, as the Plug-in Hybrid version isn't suited to users who will be spending hours and hours behind the wheel each day. Uber drivers would be better off with the lighter non-Plug-in model. Instead, Toyota asked current Plug-in owners for things they'd like to sacrifice for more battery, and the central rear seat was top of the list. It makes sense though, as the Prius Plug-in is best used as a short-journey eco-warrior. Dropping the kids at school, on to the supermarket run, then a run to the shopping centre - all tasks that don't usually necessitate a 5 seater, but that's subjective.
Happily we can report that in the cabin you've got loads of leg and head-room (despite the stylish roofline) and the angle of the rear seats is notably comforting. Passengers are sat leaning back with their legs supported, almost bean-bag levels of comfort.
Now, boot space. It's not good. The regular Prius has a healthy 502 litres of boot space, which is easy to live with. The Plug-in has just 360 litres of awkwardly shaped luggage capacity. You'll be surprised just how much space this battery in the rear takes up. The boot floor is lifted above the boot lip, which is odd, although this does include the under floor storage for the charging cables.
Ownership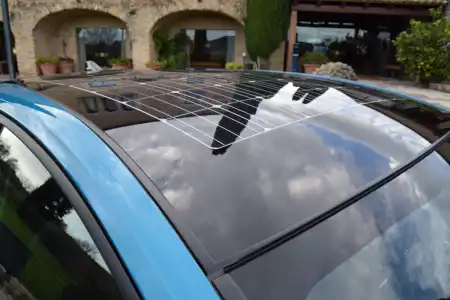 Running Costs
Toyota have quoted a simply unachievable figure of 283mpg from the Prius PHV. On our test route we achieved a more realistic 83mpg although we were driving in far from economical conditions, in fact we were the least economical of the group, with other drivers getting above and beyond the 100mpg mark. We'd love to know the ins and outs of the test conditions that Toyota acquired this questionable 283mpg.
It is common for batterys to underperform in cold weather which is essentially unavoidable as no car can overcome the laws of physics. Instead Toyota have built in battery warmers, which heat up the batterys to optimum temperature allowing the maximum possible performance to as low as minus 20 degrees celsius… clever!
Interestingly the new Prius is available with a solar panel on the roof! Now this can only be paired with the non-leather cars and is a £1,500 optional extra but, in the UK, Toyota say users can expect to receive an extra 1,000 miles worth of charge per year from the solar panel alone.
Lastly, the Prius Plug-in qualifies for a £2,500 government grant when bought new and you also get a smart-charger installed to your home free of… charge.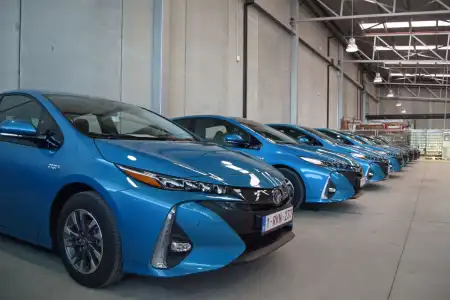 Quality & Reliability
Previous Prius models did have a funny feeling about them. You got the impression that the interior was composed of recycled plastic cups. There was a lot of scratchy, hollow plastic that the PR spin would have you believe is lightweight. This latest model? A vast improvement. Lightweight materials do exist, but are well disguised. As mentioned the piano black and gloss white components, across the dash and wheel respectively, are well executed and easy on the eye. The leather seats are comfortable and not at all squeaky.
A lot of thought and effort has gone into the Prius Plug-in material selection. For example, the boot lid is lined with carbon fibre reinforced plastic. This saves weight and adds rigidity, obviously, but also helps reduce the negative effects of having a huge battery suspended over the rear wheels.
The headlight cluster is also a striking design. The three bulging bubbles encompass LED adaptive headlights which work to focus the headlights in varying ways depending on speed and oncoming objects. This is a clever system that ensure oncoming road users aren't dazzled but the road and roadside are still well illuminated. High quality stuff.
Safety & Security
Plenty of safety kit with this new Prius. Here are a few highlights from the spec list; Emergency Braking System, Automatic Headlight Levelling, Rear View Camera, Front and Rear Sensors, Auto Dimming Mirror, Blind Spot Monitor, Road Sign Assist, Lane Departure Alert and Adaptive Cruise Control… all as standard!
More On This Car
Take one for a spin or order a brochure
Request a Toyota Prius brochure
Request a Toyota Prius test drive