Pros:
Performance and refinement beats the diesels

Nice and comfortable interior

Superb fuel economy
Cons:
Not as sporty as its name suggests

Poor fuel economy when the battery is empty

Unspectacular looks
More On This Car
Take one for a spin or order a brochure
Request a Volkswagen Passat brochure
Request a Volkswagen Passat test drive
Introduction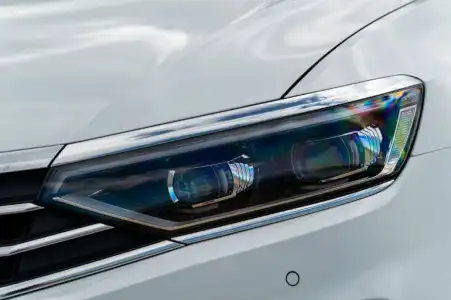 The GTE is the sporty-sounding name for VW's PHEV range, which is gradually being rolled out across the whole fossil-fueled production line.
The original Passat GTE came out in 2015 but had already faced disgruntlement in the Golf GTE due to its similarity to the legendary GTi name. Volkswagen was criticised for making it sound like the former had the performance pedigree of the latter, which, of course, it didn't.
But VW has been a bit more realistic with the Passat and has stayed away from trying to make it sound like it has world-beating performance.
So, with expectations re-aligned, it needs to persuade customers of what's been an all-diesel range in recent years as to why they should go back to petrol.
We're not sure VW will need to try very hard, as the GTE is, on paper, far superior in every way.
The standard GTE, which we're testing, comes with 17-inch alloys, LED headlights, heated electric seats, a sports steering wheel with paddle-shifters, keyless start, SatNav, DAB radio, Bluetooth and an infotainment system which can include an internet package if you want.
You can also choose the GTE Advance, which includes bigger 18-inch alloys, leather seats, LED matrix headlights, an automatic boot, a larger infotainment screen and a digital instrument display. Mind you; these features are also available as optional extras on the standard GTE, which is what we're testing.
Both have the same petrol engine: a 1.4-litre four-cylinder, producing 218PS when combined with the electric motor, fitted to a six-speed dual-clutch automatic.
It's available as a saloon and an estate, although it's the saloon we're driving here.
On The Road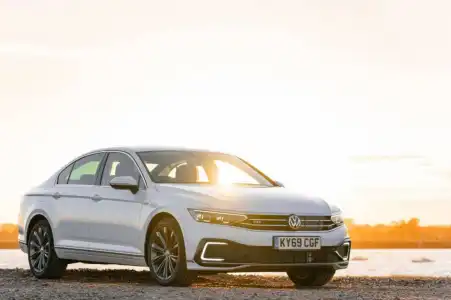 Performance
The GTE's powertrain performs impressively, with 0-62mph dealt with in 7.2-seconds, topping out at 138mph, although the car doesn't feel particularly fast or sporty in terms of the power delivery.
It will run on electric juice alone. In such a scenario, the throttle response and drivability remain more than acceptable, even though its performance is limited when the engine isn't in use, with the 0-62mph time increasing to over 13-seconds. Regenerative braking, meanwhile, helps charge up the batteries when you're slowing down.
When the engine is called into action, it starts smoothly and barely noticeably, with the powertrain's overall performance exceeding the diesels in the range.
Different driving modes can be selected depending on your preference, with E-Mode (purely electric), Hybrid (engine in use when needed), Battery Charge (purely engine) and GTE mode, which will stop the internal combustion lump from shutting down for those that want to keep it active at all times to make the most of the higher performance.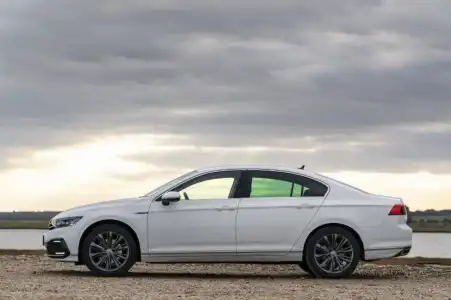 Ride Handling
In terms of suspension setup, the GTE isn't notably different from any of the others in the range, and, in all honesty, you'd be hard pushed to tell the difference.
Despite the extra weight of the batteries, the car still feels stable with a good level of rigidity, although there is a bit of increased body roll in the corners as the car's weight shifts about in the bends under increased g-forces.
Given the historical criticisms of VW's claims about the sporting credentials of the Golf GTE, it's worth noting that Volkswagen professes to have added some extra sportiness to the Passat's setup. But, in truth, we're hard-pressed to tell the difference between it and the regular diesels in the range.
The vehicle grips the road very well, and this is shown in its cornering ability, although if pushed, it tends to understeer on entry, meaning it can be a struggle to point it at the corner exit if you try to throw it around a bend.
The steering isn't particularly responsive, and this limits the feel of the driving experience. So, overall, we're left to conclude that the GTE is a good middle-of-the-road all-rounder, balancing sportiness with comfort without being overly exciting to drive.
Those seeking thrills will be disappointed, but, as a business or family saloon, it's arguably right on point.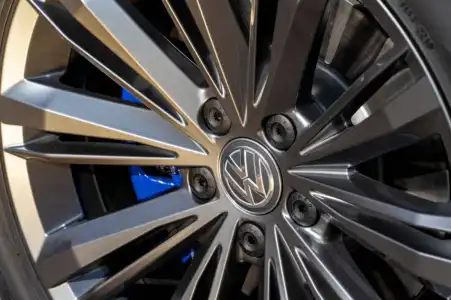 Styling
The Passat has good looks, although the natural horizontal lines of the traditional VW grille look a bit tame compared with some manufacturers, who tend to go for more angular designs nowadays.
Nevertheless, VW has done what it can without compromising its traditional design signature. For example, the lower grille gives a hint of sportiness, merging into the LED C-shaped day-running lights, which are exclusive to the GTE – and the chrome-surround headlights angle around in a pointed way to the side of the car, giving it personality.
Down the side, there are creases by the door handles and lower down to give the shape a bit more presence, while the back is more modest and typically Volkswagen, with two wide chrome-surround exhaust tips. These are similar traits to its predecessor, but VW has at least modernised the look.
In The Car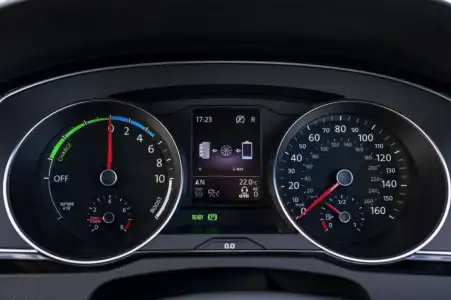 Behind the Wheel
While not a premium brand, Volkswagen has a reputation typical of a German manufacturer and, as result, the GTE's interior is a lovely place to be.
It looks superb, with brushed aluminium breaking up the dark colours nicely, while the infotainment system is clear to read and intuitive to use. It comes with an eight-inch touchscreen, although this is upgradable to the 'pro' version with a 9.2-inch screen.
Our test car is fitted with the latter, which includes the digital instrument display, a digital key and wireless smartphone charger, as a £2,275 optional extra.
The information display shows you how much battery power is available as well as your range and average fuel consumption, although precisely what information is prioritised depends on what driving mode you're in.
While the interior doesn't feel as premium as sister-company Audi – and without doubt deliberately so – it still feels like a quality, well-built product.
VW has resisted the temptation to hide the buttons away in a touchscreen, and the dashboard is well arranged with plenty, though not too many, switches on the steering wheel.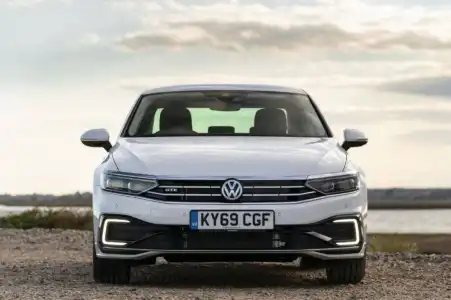 Space & Practicality
There are a couple of cupholders in the centre console in the front, although the glove box is on the small side.
Boot space is plentiful at 402-litres, expanding to 1,613-litres with the rear seats down – they fold away 60/40. Like many saloons, the shape of the boot might prevent you from getting longer, thicker objects in, but of course, you'd just go for the estate version if you need the extra luggage capacity.
Thanks to the batteries, there's no spare wheel under the boot floor, but then that's the price you tend to pay for all the gizmos that provide you with the extra fuel economy.
The seats are comfortable throughout, while in the rear, legroom and headroom are more than adequate.
Ownership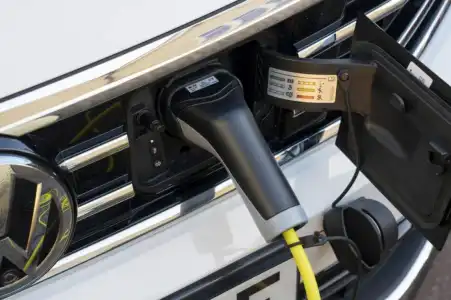 Running Costs
Volkswagen claims figures of 271.4mpg for the Passat GTE, with CO2 emissions of 24g/km, which will appeal to company car owners.
The German car will run on electric power alone for a claimed 37 miles if you're keen to cut the CO2 to zero, while the battery can be fully charged in around three to three-and-a-half hours from empty.
Expect well under 40mpg if you run out of electricity, however.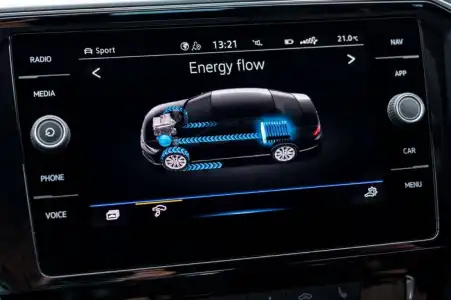 Quality & Reliability
Being German and proud of its build quality, VWs aren't the cheapest of brands when it comes to maintenance or servicing, but you won't be paying exorbitant amounts of money to keep it on the road.
German manufacturers live off their historic reputation for build quality. Still, more and more reliability and customer satisfaction surveys have shown that this is no longer the case in recent years.
Nevertheless, Volkswagens come with three-year warranties up to 60,000 miles for peace of mind.
What's more, the first two years of the warranty have unlimited mileage, so if you find you've done more than 60,000 miles by month 23 and have an issue, you'll still be covered (if you're quick).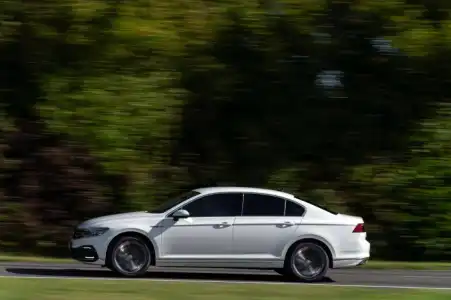 Safety & Security
Euro NCAP hasn't crash-tested a Passat since 2014, but, back then, it earned a five-star rating, scoring 85% for adults, 87% for children and 76% for safety assists.
The same car wouldn't score as highly today as Euro NCAP has raised the bar to take into account that more manufacturers are adding in autonomous safety equipment.
Nevertheless, there's no reason to think the Passat has gone backwards in this regard. Indeed, the Golf, ID.3 and ID.4 are the last three VWs tested, and they all got five stars.
In terms of kit, the Passat comes with adaptive cruise control, Driver Alert System, dynamic road sign display, lane assist, traffic jam assist and emergency assist, with front and rear parking sensors all as standard.
Euro NCAP prefers manufacturers to offer safety devices as standard and will penalise those that only offer them as optional extras, so there's every confidence the Passat will score highly when it's next tested.
Summary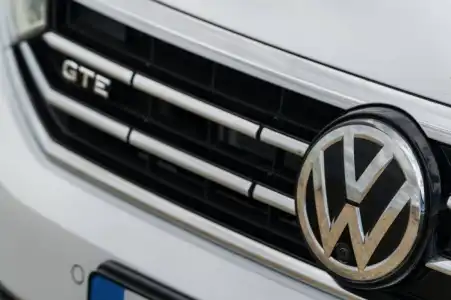 Overall, the GTE is a good contender – very good at many things without being utterly brilliant at any of them.
It's not spectacular – it has sporty characteristics without being especially athletic, luxurious touches without being overly opulent, and handles well without being particularly exciting.
However, VW has done a fine job. The hybrid powertrain is an attractive proposition – much more so than the alternative diesels – and, as a result, the GTE deservedly tops the Passat range.
Even when more PHEV saloons come to the UK, we're confident that the Passat will more than hold its own.
More On This Car
Take one for a spin or order a brochure
Request a Volkswagen Passat brochure
Request a Volkswagen Passat test drive