Birmingham Clean Air Zone Explained: Charges, Location and Exemptions
Birmingham Clean Air Zone daily charges, how to pay, plus exemptions for workers and local residents.
The Birmingham Clean Air Zone Launched on 1st June 2021 to help create a cleaner, healthier, less polluted city. You pay a charge to enter parts of the city if your vehicle has high carbon emissions to help lessen the impact motorists have on the environment. Clean air zones have been set up to encourage people to leave high polluting vehicles at home, purchase cleaner alternatives or go on public transport.
Birmingham Clean Air Zone charges
Birmingham Clean Air Zone charges apply 24 hours a day, every day of the year. You pay if your car, taxi, van, coach, bus, lorry or other vehicle cannot meet its applicable emission standard which is Euro 4 for a petrol car, for or Euro 6 for a diesel car. The cost is £8 a day for a car, taxi, or small van rising to £50 for a larger vehicle such as a coach over 3.5 tonnes.
Birmingham Clean Air Zone Map
The Birmingham Clean Air Zone covers all roads within the A4540 Middleway Ring Road. However, it excludes the Ring Road itself.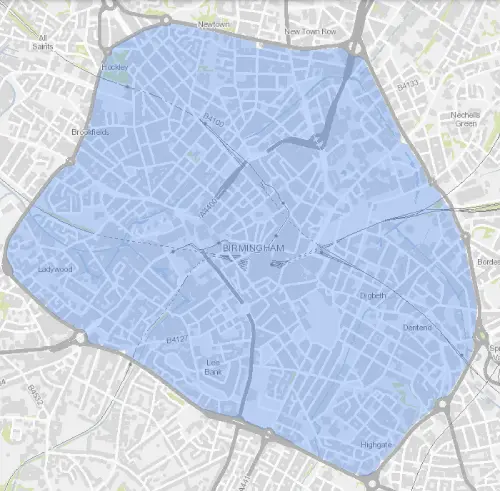 How to pay
The Clean Air Zone Birmingham does not include toll booths at the roadside. Instead, the automatic number plate recognition camera system sees your vehicle, calculates its carbon emissions, then charges you if required. You can pay via the internet at www.gov.uk/clean-air-zones. However, if you forget to pay there is a £120 penalty. This falls to £60 if you settle within a fortnight.
Exemptions
Birmingham Clean Air Zone exemptions let you enter for free with a vehicle that respects the next criteria:
The Diesel engine cars have to meet at least the Euro 6 standard
The Petrol engine cars have to meet at least the Euro 4 standard
The Gas engine cars have to meet at least the Euro 6 standard
The Fully electric or Hydrogen fuel cell cars are all exempt from the CAZ fees
The Hybrid diesel/petrol engine cars have to meet the diesel/petrol conditions from above