Oxford Zero-Emission Zone, Location, Charges and How To Pay
Oxford Zero Emission Zone daily charge, and area of operation
Britain's first Zero Emission Zone Launched in Oxford on February 28th, 2022 as a pilot scheme tasked with reducing the pollution that causes health issues. As the name suggests, only drivers in clean, zero-emission, fully electric vehicles will be able to enter for free. Motorists in petrol, diesel, and hybrid vehicles will be charged according to how much pollution they emit.
Oxford Zero-Emission charges
Oxford zero-emission zone charges apply from 7 am to 7 pm every day, most vehicles will need to pay a daily charge depending on their emissions if used in the pilot area. However, the scheme does not ban any vehicles from being used in the zone. Charges don't apply to vehicles that are parked within the zone and do not move.
Oxford Zero-Emission map
The Oxford zero-emission zone covers Bonn Square, Queen Street, Cornmarket Street, part of Market Street, Ship Street, St Michael's Street, New Inn Hall Street, and Shoe Lane.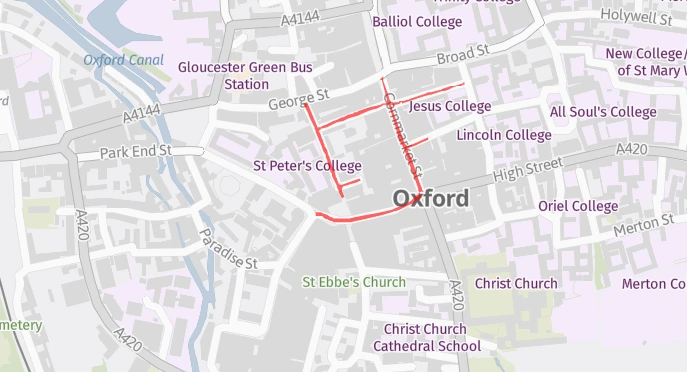 How to pay
Drivers of zero emission vehicles will not be charged to drive in the zone, but drivers of all petrol and diesel vehicles, including hybrids, will be charged from £2 to £10 per day, with automatic number plate recognition cameras used to enforce the new rules. you can pay the charges online up to 6 days in advance, on the day the vehicle is driven in the zone or or in the following six days.
Exemptions and discounts
Zero emission vehicles (such as fully electric motorcycles, cars and vans) can be used in the ZEZ without incurring a daily charge. You do not need to apply for a discount or exemption if your vehicle is zero emission.
Discounts are available for:
Blue Badge holders
Disabled tax vehicles
Selected low emission hybrid private hire and Hackney carriage vehicles
Residents in the zero emission zone
Health or care workers
Community transport vehicles
Businesses in the zero emission zone
Students in financial hardship moving in or out of the zero emission zone
You can apply for discounts via the internet on the Oxford City Council website.