Bradford Clean Air Zone Explained: Charges, Location and Exemptions
Bradford Clean Air Zone daily charges, how to pay, plus exemptions for workers and local residents.
Bradford has launched its Clean Air Zone that will penalise only commercial vehicle drivers whose vehicles don't meet certain emission criteria. From 26th September 2022, your vehicle will be charged to enter the zone if it is deemed to be non- compliant. Check if your vehicle will be charged for using the Clean Air Zone checker above.
Bradford Clean Air Zone charges
Charges for driving in Bradford's Clean Air Zone will apply daily from midnight to midnight, 7 days a week, all year round. The daily charges apply for both entering and driving inside the Clean Air Zone. If your vehicle doesn't meet the compliance criteria and you haven't been granted an exemption. The cost will be £7 a day for smaller vehicles such as your car, £9 per day for LGVs and minibuses, £50 per day for vehicles such as HGVs, buses and coaches.
Bradford Clean Air Zone Map
The Clean Air Zone is designed to improve air quality in areas where it is deemed to be so poor its dangerous. The full map of what area is covered is below.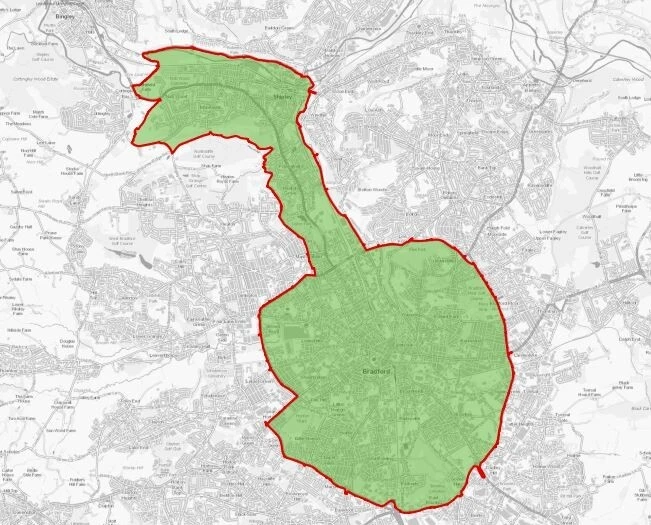 The Bradford zone covers the area inside the coloured map as well as the Bradford outer ring road. It also extends out along the Aire valley corridor, Manningham Lane/Bradford Road and Canal Road area to include Shipley and Saltaire.
How to pay
Payment should be made www.gov.uk/clean-air-zones or you can also call the National Contact Centre on 0300 029 8888. You can pay 6 days before the day of your visit, on the day of your visit or up to 6 days after the day of your visit.
Exemptions
Bradford Clean Air Zone exemptions let you enter for free with a vehicle that respects the next criteria:
The Diesel engine cars have to meet at least the Euro 6 standard
The Petrol engine cars have to meet at least the Euro 4 standard